100 Nigerian Christians killed in April by Fulani militants, Boko Haram: NGO report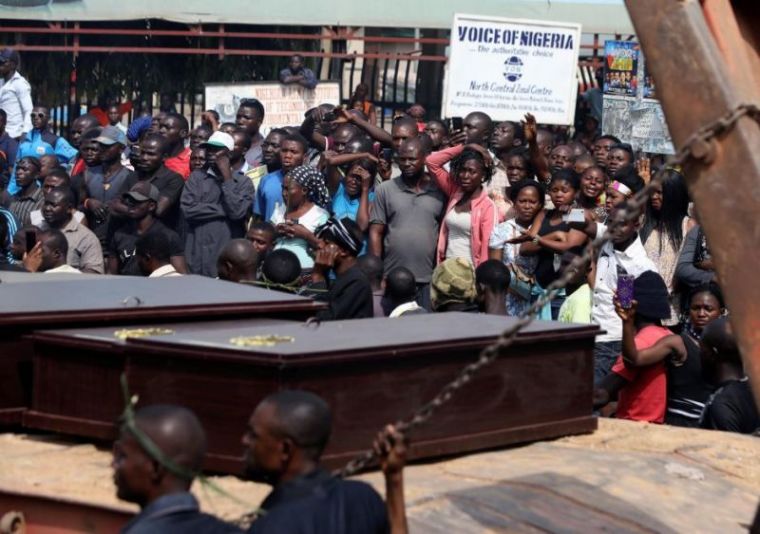 At least 100 Christians in Nigeria were killed and hundreds of others injured in April, according to a human rights watchdog group warning that Fulani attacks against Christian farming communities seem to be spreading further south.
The Anambra-based nongovernmental organization known as the International Society for Civil Liberties & the Rule of Law (Intersociety) released a special report this week stating that the 100 Christians were killed by Fulani herdsmen and armed jihadist groups like Boko Haram in April.
The report details that between 750–800 Christians have been killed by armed jihadist groups in the African nation during the first four months of 2019.
Of those killings, the NGO states that about 550 to as many as 600 killings were perpetrated by Fulani Islamic militias associated with the Miyetti Allah Cattle Breeders Association of Nigeria MACBAN, a federally registered group that advocates for Fulani pastoralists whom critics have called for to be labeled as a "terror" organization.  
"In the just past four months of 2019 (January–April), the jihadist group had butchered 550–600 Christians with hundreds of homes and dozens of churches torched or destroyed," the NGO reports.
The other 200 killings thus far in 2019, Intersociety reports, have been carried out by Islamic extremist group Boko Haram and the Islamic State in West Africa, which has terrorized northeastern Nigeria, parts of Niger, Chad, and Cameroon. 
While estimates on the number of people killed in societal violence in Nigeria often vary, Intersociety board chairman Emeka Umeagbalasi, a Christian criminologist and human rights activist, told The Christian Post that the numbers the organization presents are based on "empirical" evidence that can be defended in court.
While attacks on Christian farming communities over the last several years have largely occurred in the country's Middle Belt as Fulani herders from the north have migrated, the report warns that victims in the southeast Anambra state and southern Delta state were also included in the latest round of killings in April.  
"The latest round of anti-Christian killings or massacres in the country not only translates to a monthly average of 180–200 in the past four months, with daily average of six to seven Christian deaths, but the killings are steadily creeping toward the Southern part of Nigeria, particularly the Southeast and South-south; capable of igniting 'holy war' and intertribal cleansing," the report reads.
On April 12, suspected Fulani militants were reported to have stormed a farm settlement in West Anambra and killed six people while injuring 30 others. The extremists were also said to have killed people, burned houses and raped women.
The Guardian reports that as many as 11 people were killed by herdsmen attacks against farming communities in Delta in early April, leading a state official to ask Buhari and other office holders to help stop Fulani attacks against innocent people on farmlands in the state.
The report also highlights more killings in the Kajuru Local Government Area of the Kaduna State, an area that has been plagued by killings in recent months.
On April 8, the NGO reports that at least 22 Christians were killed in an attack carried out by suspected Fulani extremists. The Punch reports that two Christian boys were beaten while on their way home from the market last week in Kajuru after the body of a Hausa Fulani boy was discovered. One boy was taken to the hospital where he later died.
Intersociety has long criticized the federal government's inability to hold perpetrators of the attacks accountable.
The Intersociety report was highly critical of MACBAN, an organization that the Christian Association of Nigeria had previously called on President Muhammadu Buhari, a Fulani himself, to prosecute.
"MACBAN also has Muhammadu Buhari as its lifetime patron," the Intersociety report stresses. "Totality of these has emboldened the group and escalated its jihadist activities which have risen alarmingly since June 2015 a month after Mr. Buhari became the president of Nigeria."
According to the International Crisis Group, Buhari and his aides have rejected any notion that he is complicit in Fulani attacks. The nonprofit research organization adds that such a charge of pro-Fulani bias on Buhari's part is "unsustainable" due to the Buhari government's inability to quell the escalation of banditry and killings in the predominantly Muslim Zamfara state.
But still some advocates for the Christian communities think the government is "culpable."
"These communities and villages have been displaced and ransacked and you see Fulani imposing themselves in that community," Stephen Enada, co-founder of the International Committee on Nigeria, previously told CP. "They are not arrested or being persecuted. Rather, it is just government inaction showing us that government is culpable."
Intersociety had previously reported that Fulani extremists were responsible for the death of about 2,400 Christians in 2018.
Most recently, over a dozen Christians were killed by Fulani extremists during an infant's dedication service in Nasarawa on Palm Sunday.
Violence between Muslim Fulani extremists and predominantly Christian farming communities in the Middle Belt has largely been described by the federal government, international media and prominent human rights groups as a "herder-farmer" conflict over land rights.
But Christian advocates in or from Nigeria have warned that the conflict has taken on a religious element in recent years and that calling it a farmer-herder conflict simplifies the catastrophic incidents.
While herder communities have been victimized in attacks or reprisals carried out by militants and teens from farming communities, Umeagbalasi estimates that there is about one reprisal attack from a farming community for every 20 attacks committed by Fulani extremists.
Jack McCaslin, a research associate for the Council on Foreign Relations, wrote in a recent op-ed that while violence in Nigeria might fall along ethnic and religious lines, it is "not necessarily driven by those distinctions."
But when it comes to Fulani violence against Christian farming communities, Umeagbalasi believes that calling it a "farmer-herder clash" is a "false claim" perpetuated by the Nigerian government.
"The government further down-plays, trivializes and stigmatizes the pure Christian genocide as 'herders-farmers clashes' and stops at nothing in censoring and gagging media reports of the butcheries," the Intersociety report reads, adding that the Nigerian government only accounts for no less than 980 Christian deaths since August 2015.
Intersociety reports that there have been at least 6,000 Christian deaths and destruction of over 1,000 churches at the hands of Fulani extremists between June 2015 and December 2018.
The U.S. Commission on International Religious Freedom has recommended that the U.S. State Department designate Nigeria as a "country of particular concern" for religious freedom. In its 2019 annual report, USCIRF stated that ethnic and religious identity in Nigeria is often "intertwined" in the context of societal conflicts. 
"The dynamic of the religious and ethnic violence — and where and how religion and ethnicity overlap — is highly localized," the USCIRF report explains. 
As for Boko Haram, also known as the Islamic State in West Africa, it continues its terror on villages in the Lake Chad area.
In late April, it was reported that suspected Boko Haram militants killed about 25 people returning from a wedding in the Kuda-Kaya village in Adamawa state.