'19 Kids & Counting's' Jill Duggar Labor and Delivery Plan: Focus on Scripture, Inspirational Songs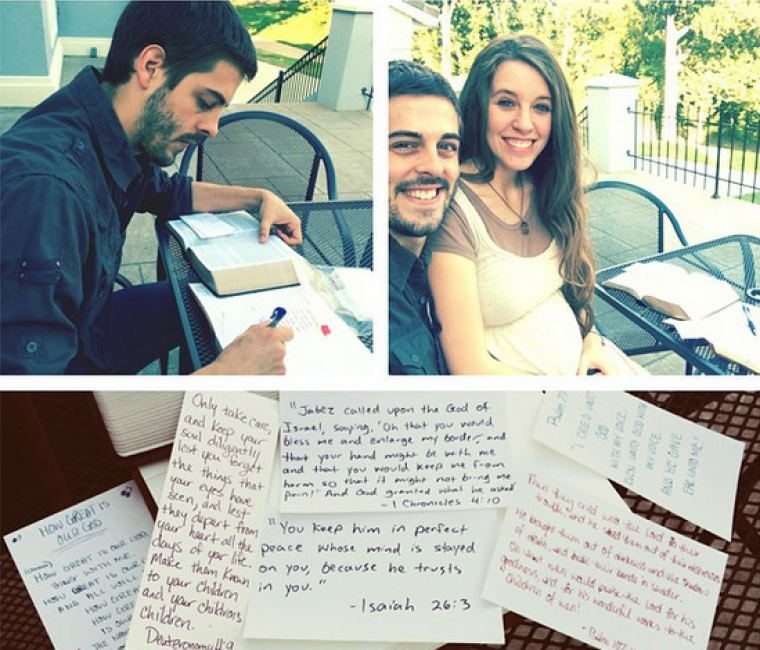 Jill Duggar and husband Derick Dillard are preparing for their first child in a unique way—by writing out Bible verses for support and encouragement during labor and delivery.
Duggar became pregnant just weeks after saying "I do" to Dillard; the couple made a vow to accept any and all children God chose to bless them with. And they are prepping for labor and delivery by writing out encouraging Bible verses to focus on during labor and delivery. Duggar posted a photo of her work online, along with an updated photo of her pregnancy progression.
Some of the verses included Isaiah 26:3, which reads: "You will keep in perfect peace those whose minds are steadfast, because they trust in You." And 1 Chronicles 4:10, "Jabez cried out to the God of Israel, 'Oh, that You would bless me and enlarge my territory! Let Your hand be with me, and keep me from harm so that I will be free from pain.' And God granted this request."
The cards also include lyrics from songs, including "How Great Is Our God" and "I Will Serve Thee."
Duggar and Dillard plan to raise their son or daughter in a Christian environment, and it is clear that they intend to bring their child into the world in the same type of environment. They hope to have their first child at home, perhaps with the assistance of mom Michelle and sister Jessa, who is a midwife-in-training. Jill has also attended the births of her nephews and niece, so she is familiar with what to expect with a home delivery.
"Well, ultimately, we want to be an example for them," Dillard told The Christian Post about his hopes for their children. "For a daughter, I want to show her how a man should treat her, just like Jill's dad did for her. And just be the best dad I can to both my sons and daughters and really purpose to teach them the Word of God early on and pray that they will come to the Lord early in life."