2016 GMA Dove Award Nominees: Hillsong, Lecrae, Lauren Daigle Up for Artist of the Year (List)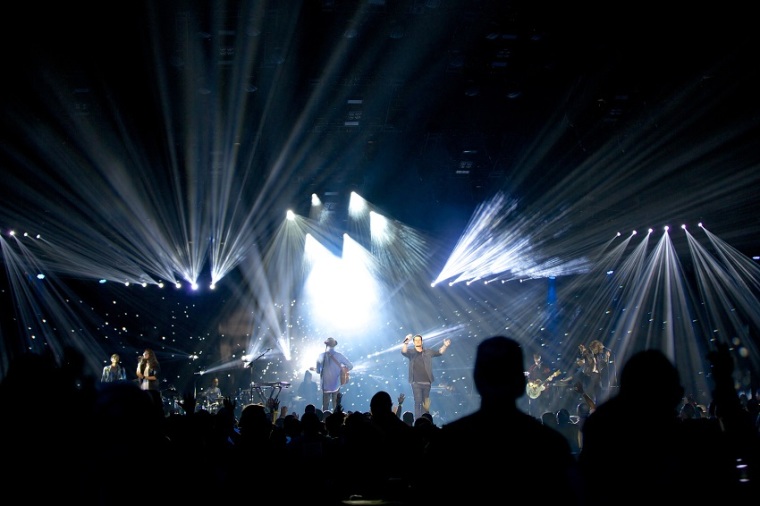 The 47th annual GMA Dove Awards announced this year's list of nominees Wednesday and among those recognized in multiple categories are some of Christian music's biggest names.
The prestigious category for Artist of the Year highlights Hillsong United, Lecrae, Tobymac, for KING & COUNTRY and Lauren Daigle. Other categories that will be awarded are New Artist of the Year, Worship Song of the Year, and Album of the Year (separated by genres).
Christian songwriter Jason Ingram has garnered the most nominations with seven; Daigle has six, and both Hillsong UNITED and Chris Tomlin follow with five nominations each.
The theme for the 2016 Dove Awards is "Love Amplified," which speaks to the collective power of unity when Christians come together with one voice.
The award show is set for Oct. 11 in the Allen Arena at Lipscomb University in Nashville, Tennessee. The show will be broascast on TBN Oct. 16, reaching over 100 million viewers in the U.S. and around the world.
Voting for the final winners will run from Aug. 23–30.
This year's nominees and categories include:
Artist of the Year
for King and Country, Word Entertainment
Hillsong United, Hillsong Music Australia/Sparrow Records
Lauren Daigle, Centricity Music
Lecrae, Reach Records
Tobymac, ForeFront records
New Artist of the Year
Hollyn, Gotee Records
Jordan Feliz, Centricity Music
Stars Go Dim, Word Entertainment
Travis Greene, RCA Inspiration
We Are Messengers, Word Entertainment
Traditional Gospel Album of the Year
Everyday Jesus — Anthony Brown & group therAPy, (producers) Leonard S. Scott, Bryant S. Scott, Anthony Brown and VaShawn Mitchell
We Give You Praise — Chicago Mass Choir, (producers) Percy Gray, Jr., Demetrius Banks, Cornelius Doles Felicia Welch and Feranda Williamson
WAP New Era — James Hall Worship & Praise, (producers) James Hall, Troy Chambers and Kevin Bond
Powerful — Japan Mass Choir, (producer) DA Johnson
Level Next — John P. Kee, (producer) John P. Kee
Rap and Hip-Hop Album of the Year
Uncomfortable — Andy Mineo, (producers 42 North, Alex Medina, Black Knight, Daniel Steele, Dirty Rice, Elhae, Gabriel Lambirth, Gawvi, Illmind, Jon Bellion
Therapy Session — NF, (producers) Tommee Profitt, David Garcia, The720
Church Clothes 3 – Lecrae, (producers) Black Knight, Epikh Pro, GAWVI, Mykalife, Ryan Righteous, S1
This Time Around – Tedashii, (producers) Gabriel Azucena, Jamaal "Elhae" Jones, Crystal "Crystal Nicole" Johnson-Pompey, John "The Kracken" Williams
Forward — Flame, (producers) SPEC, Courtney Orlando, G. Roc
Rock/Contemporary Album of the Year
Cities — Live in New York City — Anberlin, (producer) Aaron Sprinkle
Sound Of The Saints — Audio Adrenaline, (producers), Seth Mosley, Joshua Silverberg, Nick Baumhardt
Dead Man Walking — John Tibbs, (producer) Ben Shive
The Wonderlands: Sunlight & Shadows — Jon Foreman, (producers) Tyler Strickland, Anton Patzner, Neal Avron, Keith Tutt, Aaron Roche, Dan Brigham Jeremy Lutito, Jason Morant
Surrender — Kutless, (producer) Aaron Sprinkle
Pop/Contemporary Recorded Song of the Year
"My Story" — Big Daddy Weave, (writers) Mike Weaver, Jason Ingram
"Just Be Held" — Casting Crowns, (writers) Mark Hall, Bernie Herms, Matthew West
"Good Good Father" — Chris Tomlin, (writers) Pat Barrett, Tony Brown
"Tell Your Heart To Beat Again" — Danny Gokey, (writers) Jordan Feliz, Colby Wedgeworth, Joshua Silverberg
"Trust In You" — Lauren Daigle, (writers) Paul Mabury, Michael Farren, Lauren Daigle
Southern Gospel Recorded Song of the Year
"Jesus Changed Everything" — Ernie Haase & Signature Sound, (writers) Ernie Haase, Wayne Haun, Joel Lindsey
"Jesus Gave Me Water" — Gaither Vocal Band, (writer) Lucie E. Campbell
"I Am Blessed" — Karen Peck & New River, (writers) Karen Peck Gooch, Kenna West, Michael Farren
"Keep On" — Perrys, (writers) Wayne Haun, Joel Lindsey
"Jesus, The One" — The Hoppers, (writer) Paula Stefanovich
Worship Song of the Year
"No Longer Slaves" (writers) Jonathan David Helser, Brian Johnson, Joel Case (publisher) Bethel Music Publishing
"Good Good Father" — (writers)Jonathan David Helser, Brian Johnson, Joel Case (publisher) Bethel Music Publishing
"Touch the Sky" — (writers) Joel Houston, Dylan Thomas, Michael Guy Chislett, (publisher Hillsong Music Publishing
"We Believe" — (writers) Travis Ryan, Richie Fike, Matt Hooper, (publishers) Integrity Worship Music, Integrity's Praise! Music, Life Worship, Travis Ryan Music
"Even So Come" — (writers) Jess Cates, Jason Ingram, Chris Tomlin (publisher S. D. G. Publishing, Sixsteps Songs, Worship Together Music, Open Hands Music, So Essential Tunes, Lily Makes Music
For more categories and information on the 47th Annual GMA Dove Awards, visit www.doveawards.com.