33-Y-O American Hostage Has 3 Days to Live Unless Demands Met, Declares Al-Qaeda Affiliate in Yemen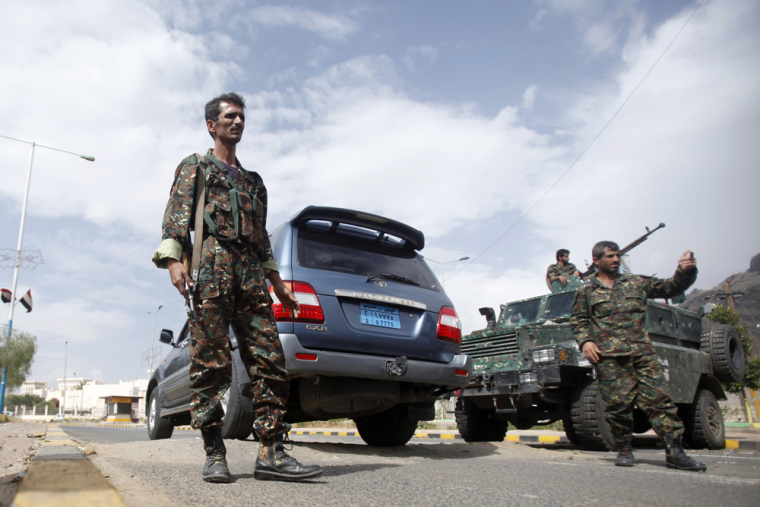 A 33-year-old American photojournalist kidnapped in September 2013 in Yemen by an al-Qaeda affiliate has appeared in a video, asking for any help that can be offered to save his life. The U.S. government has been told that he will be killed in three days time, unless demands for his release are met.
"It's now been well over a year since I've been kidnapped in Sanaa," Luke Somers says in the video, released on Thursday. "Basically, I'm looking for any help that can get me out of this situation. I'm certain that my life is in danger. So as I sit here now, I ask, if anything can be done, please let it be done. Thank you very much."
The video was obtained through U.S. terrorism monitor SITE Intelligence Group. It was not made known what specific demands the al-Qaeda in the Arab Peninsula group has asked for, but the militants have said they will kill Somers in three days time if they are not met.
The photojournalist was reportedly kidnapped in September 2013 in the Yemeni capital of Sanaa, while doing freelance work for the Yemen Times.
Fox News reported that American operation forces managed to free eight captives in a remote corner of Yemen's Hadramawt province in October, but Somers was apparently moved to another location before the raid.
Several Americans captured by Islamic militants have lost their lives in recent months, including Peter Kassig, Jim Foley and Steven Sotloff, who were murdered by terror group ISIS, active in Iraq and Syria.
Earlier this week, Egyptian militant group Ansar Beit al-Maqdis claimed responsibility for the murder of another American, 58-year-old Texan William Haderson, who was killed in a carjacking in August.
Somers' video also included local al-Qaeda official Al-Ansi accusing America of crimes in the Muslim world, and mentioned the ongoing airstrikes operation against ISIS in Iraq and Syria.
Al-Ansi also criticized President Barack Obama for his "latest foolish action," in the "failed operation" in Hadramawt, noting that a number of mujahedeen, or Islamic holy warriors, were killed in the raid.
He repeated that the U.S. has three days to meet the demands for Somers, or else "the American hostage held by us will meet his inevitable fate."
The White House has not yet commented on the release of the video or the terror group's demands.