4 Charged in Shooting Deaths of Hattiesburg, Mississippi Police Officers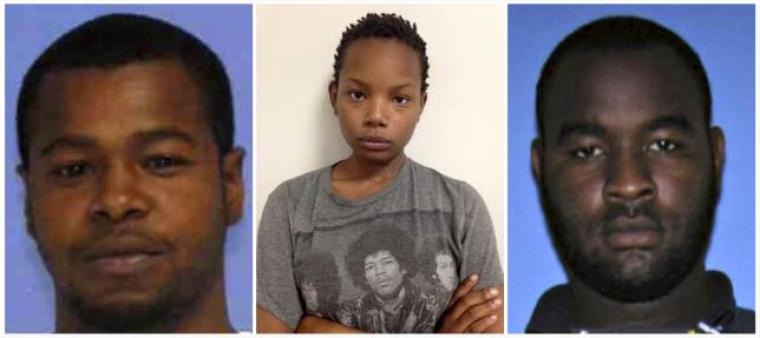 Law enforcement officials in Mississippi have arrested four suspects in the fatal shooting of two police officers in Hattiesburg on Saturday.
Officers Benjamin Deen, 34, and Liquori Tate, 24, were reportedly gunned down during a routine traffic stop in southern Mississippi at around 8:30 pm on Saturday. While details surrounding the shooting are still unclear, four people are in custody and at least two are facing capital murder charges.
Joanie Calloway, 22, is charged with two counts of capital murder and Marvin Banks, 29, also faces two counts of capital murder along with charges of grand theft auto and being a felon in possession of a firearm.
Bank's brother, Curtis Banks, 26, is charged with two counts of accessory after the fact of capital murder and Cornelius Clark, 28, is charged with obstruction of justice. All four are expected to make initial court appearances at the Forest County Justice Court on Monday.
"We were able to catch these individuals and keep our promise to the officers' families with the public's help," Hattiesburg mayor, Johnny L. DuPree, said at a news conference on Sunday.
The Hattiesburg Police Department could not be reached for comment.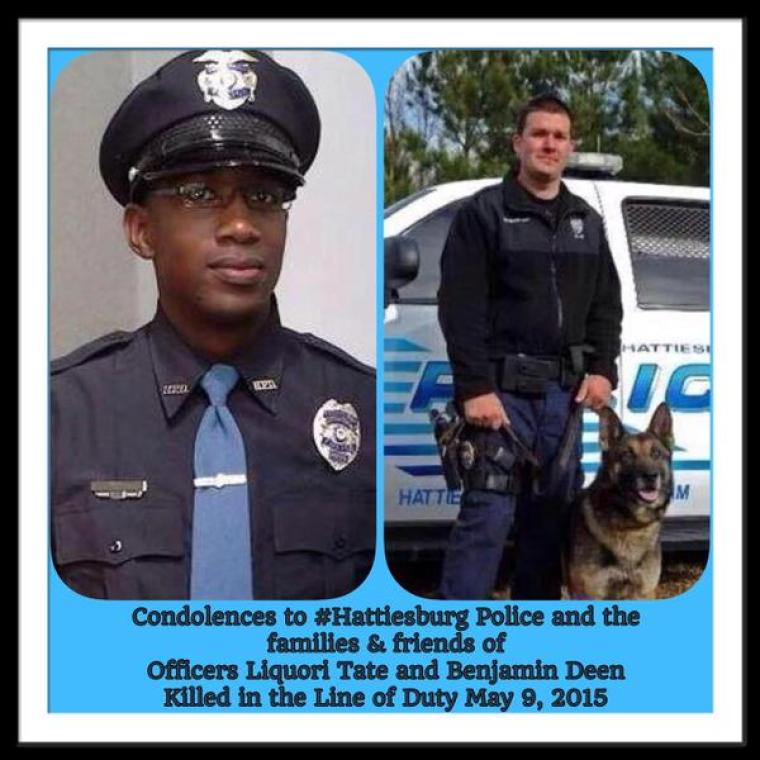 Investigators are still trying to determine what exactly transpired in the moments leading up to the shooting deaths of Officers Deen and Tate, who are the first Hattiesburg police officers to die in the line of duty in more than 30 years, CNN reported.
Authorities say the incident occurred after Officer Deen pulled over a 2000 Gold Cadillac Escalade in an industrial area. He wanted to search the vehicle, in which Ms. Calloway was in the driver's seat and Marvin Banks was a passenger, so he radioed for backup.
"Officer Deen apparently saw something that triggered his request for backup, so Officer Tate arrived on the scene after [Deen's] request for backup and based on that you have the ensuing pistol or weapon being drawn by Marvin Banks and he actually shot the two officers," Mayor DuPree said yesterday.
Authorities say the suspects fled the scene and stole a police cruiser before using it as a getaway car. They were arrested along with Curtis and Clark early Sunday.
Local residents Tamika Mills and Pearnell Roberts discovered the wounded officers on the ground. According to the Clarion Ledger, one of the officers asked Roberts, "Am I dying? I know I'm dying. Just hand me my walkie-talkie."
Both officers were transported to a nearby hospital where they were pronounced dead.
"This should remind us to thank all law enforcement for their unwavering service to protect and serve. May God keep them all in the hollow of his hand," Mississippi Gov. Phil Bryant said.
Officer Deen was a K-9 officer who was named "officer of the year" in 2012 and he leaves behind a wife and two children.
Officer Tate was single and graduated from the police academy less than a year ago.
"I am now a Police Officer. I would like to thank God, the Police Academy, the Police Department, my family, friends, and love ones," he proudly wrote via a Facebook post in June last year.
Jarvis Thompson, Tate's childhood friend, said Tate genuinely wanted to use his role within the police force to make a positive difference, particularly in the wake of racial unrest throughout the United States and ongoing protests about police brutality.
"He wanted to become an officer because we've seen so much of our peers get killed or end up in jail," Thompson, 24, told The Disptach. "He was talking all the time about how he wanted to do better and make the place better."
Instead of celebrating Mother's Day yesterday, Youlander Ross, Tate's mother was mourning the death of her son alongside loved ones.
"They took my baby away," a weeping Ross told NBC News.
On Sunday, Tate's father, Ronald Tate, created a memorial fundraiser in honor of his late son which raised just over $1000 of its $25,000 goal by Monday morning.
"Man, oh God, I can't begin to explain to you what that does to a parent," Ronald told the Los Angeles Times. "You know, that just killed me, that took my time – the clocks, the hands – everything stopped moving. Sleep don't matter no more, food don't matter no more. I haven't eaten, I haven't slept, my body don't care. All the things you think matter in life … all of that went out the door. It stopped me, it stopped my time, nothing matters no more. If I could have traded everything I could in that minute to get my son back, I would have."
Members of the community honored the officers with prayer during a Mother's Day service at New Hope Baptist Church. Vigils were also held across town.
"It's sad. It's just a tragedy, going from one mother to another," said Dorothy Thompson, wife of the pastor. "Every day is a bad day (for violence), but especially on a day like today."
A memorial for both officers was planned for Monday afternoon at the Lake Terrace Convention Center in Hattiesburg.
The fatal shooting came one day after a funeral was held for New York Police Department officer, Brian Moore, 25, who was shot in the head while on patrol in Queens on May 2. The suspect, Demetrius Blackwell, was arrested shortly after the shooting.