4 messages demonstrators shared at the 2020 March on Washington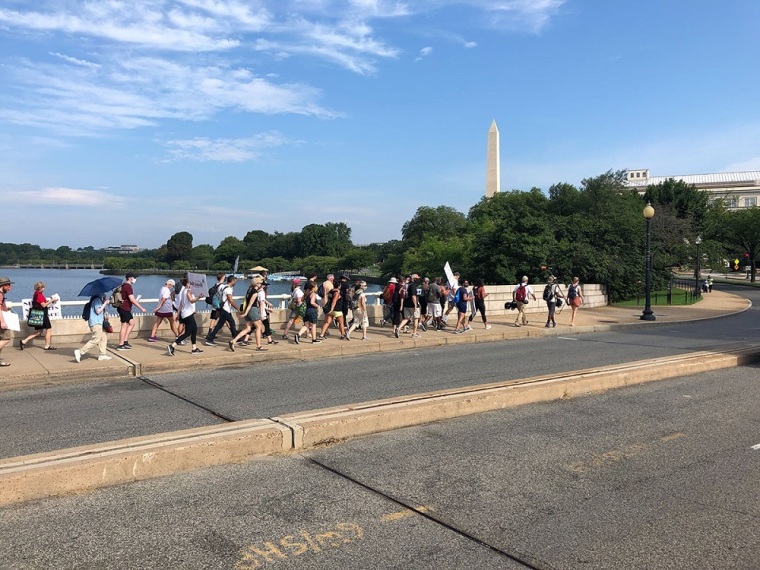 White evangelical pastor calls for defeat of 'most radical president,' reparations
While many people drove or flew in for the march, Minnesota white evangelical Pastor Doug Pagitt was among dozens who walked in a 130-mile, nine-day pilgrimage that led from the Charlottesville, Virginia, into Black Lives Matter plaza in the nation's capital for the march. 
"We know that there is a long walk that white faith leaders and white faith communities need to do in this country," Pagitt, the pastor of Solomon's Porch in South Minneapolis who co-authored a Time op-ed with Al Sharpton this week, told the crowd as he spoke from the podium. 
While many conservative white evangelical leaders were in attendance at the White House Friday night for Trump's RNC acceptance speech, Pagitt is among a few progressive Christian leaders actively working to encourage Christians to vote against a president who enjoyed a strong majority of the white evangelical vote in 2016.  
"My feeling is that white people of faith will not only join you in this push but will join you in the march on the ballot box on election day," Pagitt assured the audience. "We are committed to bringing faith, hope and love, to bring about a change on election day, to remove the most radical president in this country." 
Over the past several years, Pagitt has led political rallies across the country through his movement Vote Common Good. The protests are aimed at encouraging Christians to vote against Trump and Republican officeholders.
This month, Vote Common Good joined up with other progressive faith groups, including Shane Claiborne's Red Letter Christians, to organize Walk the Walk 2020: A Faith Pilgrimage of Race Reckoning, Resolve and Love. 
The walk was launched out of Charlottesville, where a white nationalist rally turned deadly in 2017.
"Pilgrimages are a historic part of many faith traditions, including the Christian traditions. We were asked by a number of black clergies to take more seriously the role of engaging more churches and white communities in the racial reckoning," Pagitt told The Christian Post. 
"This was right after George Floyd's murder and they feel like every time someone has to speak out for black lives, it has to be black communities. White communities go silent or step back. They asked us to step up."
The pastor said hundreds of people have joined in the walk throughout the nine days. Some, he said, walked with the group for a day, while others have walked the entire trip. 
"We wanted to start in Charlottesville because Virginia is really the center of the slave narrative in this country and white preference and anti-blackness are still rooted in this country not dealing with its original commitment to using slave labor and indigenous lands for profit," Pagitt said.
The Walk the Walk movement has three "demands" from the three levels of government: pass an expanded Voting Rights Act, fund reparations efforts for black and indigenous communities, and redirect "funds from the criminal justice and immigrant detention machine to invest in education, transportation, and health care for black, brown, Asian/Pacific Islander, and indigenous communities."
"We think at the government level and even church and nonprofit levels, we need to take more seriously the history of how we ended up with the places and the money and resources that are at our disposal," Pagitt told CP. "Often those have come from black and brown communities who haven't shared evenly in it."
"It's almost like a family that has an inheritance and we know that things haven't been shared fairly in this country," he continued. "So what we are looking for is for that which is owed to groups of people and that it would be returned to them. It can happen in a variety of ways."
Pagitt called for churches on the Sunday after election day in November to consider funding "programs or individuals to help redistribute the money that their church members have back into their communities."
"We also think that the federal government and state governments need to consider a way to do much more redistribution for black and brown communities that have been inversely affected," Pagitt asserted. 
"This is one of those moments where people haven't thought a lot about it, right? Somebody will hear 'reparations' and they'll say, 'I don't even know what that is. How could we even do that?'" 
Pagitt argues that the No. 1 response to the idea of reparations is: "how could we even do that?"
"We're calling for the moment of [considering] how it could be possible," he said. "As people of faith, we live in a space of finding that which is possible, believing that there is something more possible than the world we are currently living in." 
Vote Common Good plans to host rallies in six swing states leading up to Nov. 3.