4 messages demonstrators shared at the 2020 March on Washington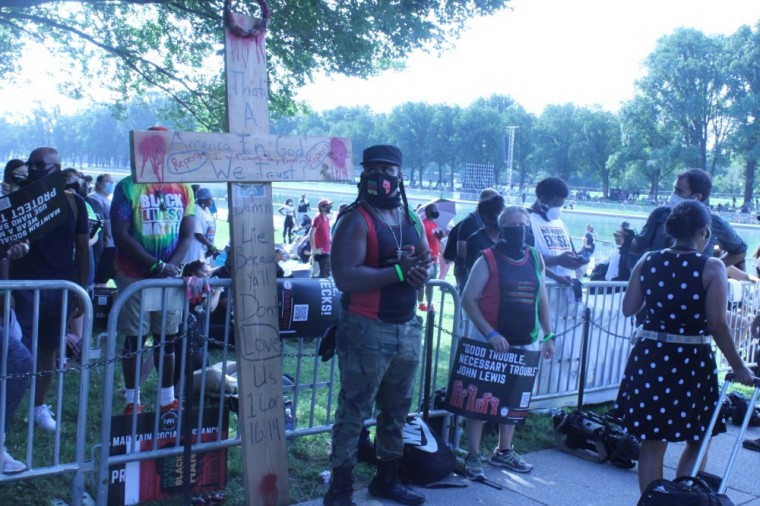 Ex-prisoner carries his cross as he shares his testimony
Twenty-eight-year-old Denorver Garrett arrived in Washington Thursday night after driving down from his home in Cincinnati, Ohio.  
Unlike others who arrived early on the National Mall for the rally Friday morning, Garrett wasn't carrying a sign or a flag. He was carrying a large wooden cross that was taller than he is. 
"This is my cross. These are my insecurities, my emotions," he told The Christian Post. 
Garrett said that he has been involved in some form with the justice system since he was 8 years old. After he graduated from high school, he was charged in 2010 with aggravated robbery and spent four years in prison. 
"I was one of the young black boys that got lost in the system," he said. "When I was locked up, I saw a lot of [messed up] stuff. [Correctional officers] calling my friends n******. One of my friends got in a fight and a CO came in and hit him in the eye with a police baton. My brothers went through police brutality."
About halfway through his stint, he said authorities tried to slap him with a rape charge over an incident that happened when he was 15. Facing the possibility of being labeled as a sex offender, Garrett said he contemplated killing himself. But before he could, God saved him. 
"I was about to kill myself in the midst of all that. I was going to take a razor to my wrist and God told me to go to Isaiah 42:7. I am asking God, 'Why am I in prison,'" he explained. "In the Scripture, it says, 'to open up the eyes, bring out the prisoner from inside.'"
From there, Garrett said he gave his life to Christ, a decision that changed his life for the better. He was released from prison in 2014 and the rape charge was dropped.
"I am going to carry my cross," he said. "That is what I have been doing. I did four years in prison. I got to go graduate college and got to go play college football. Due to insecurities, I will carry my cross."
Garret has carried that cross with him as he has participated in protests and demonstrations to "bring unity and try to open up and spark some conversations" in what he calls "racist" parts of Cincinnati as well as other parts of rural America. 
On his cross that he takes to those demonstrations, a dollar bill is nailed. 
"I think it is very hypocritical for us to say 'In God We Trust,' but America don't love us," Garrett remarked, referring to the injustices faced by the African American community throughout history and the present. 
"God is moving. God is always in control. We may not like what we see, but some stuff that is happening right now in America is old wounds that we never talked about. A lot of people don't like to talk about racism and they don't like to talk about slavery." 
"Me being African American, my ancestors went through that. So it is still going to affect me," he continued. "It helps to have a conversation and to talk. That is why I go to these rural areas, to bring up the conversation. Everybody deserves to know about Christ, even racist people. I used to be racist toward white cops. Then, God changed my heart."
While he has no problem saying the words "black lives matter" and believes it should not be a controversial phrase, Garrett said he doesn't openly support the political movement known as Black Lives Matter even though he sympathizes with the aim. 
"Politically, I don't support the movement," he said. "There is power in saying black lives matter. But do I believe in destroying stuff and believe in all that? Me personally, I don't believe in destroying stuff. But at the same time, can you understand why people are doing that? Martin Luther King said people riot because people are not being heard." 
"What I do is I go to these protests and when they are rioting and doing crazy stuff, I try to bring unity and tell them, 'We don't have to get physical,'" he said. 
Being a Christian, Garrett explained that a number of organizations, including Black Lives Matter, have asked him to join. 
"People in Cincinnati asked me to be a part of BLM,  the political side. Because of what I believe in, I can't," he said.