4 messages demonstrators shared at the 2020 March on Washington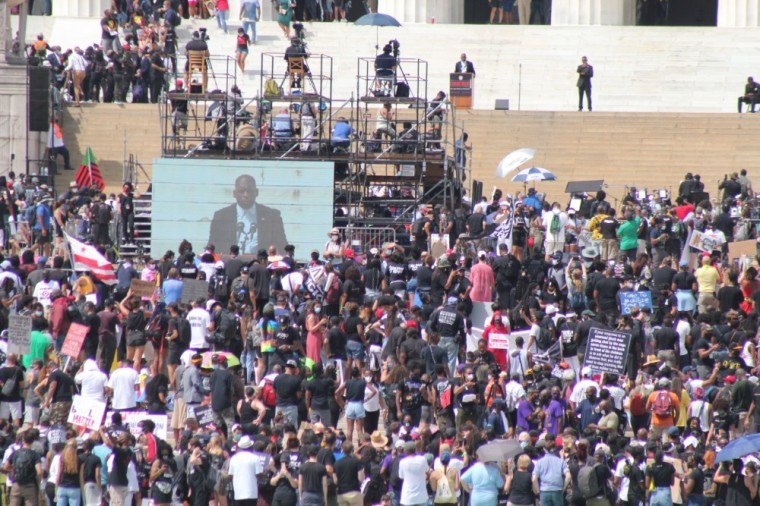 Jamal Bryant: We can't allow white evangelicals to paralyze us
Outspoken Georgia megachurch Pastor Jamal Bryant, a critic of President Donald Trump, delivered a fiery address from the Lincoln Memorial podium Friday morning. He criticized white evangelicals who say they can't support the movement's agenda.
"It was Harriet Tubman who said, 'I freed thousands of slaves but I would have freed hundreds more if they knew they slaves," the 49-year-old pastor of New Birth Missionary Baptist Church said of the legendary abolitionist. 
"I only thought about that when I saw the slaves on TV this week endorsing Donald Trump," he added, referring to the Republican National Convention. "I said, 'If only they knew they were slaves, they could have been rendered free.' We cannot remain paralyzed."
Bryant, who delivered a eulogy at Freddie Gray's funeral in 2015 and has in the past criticized pastors who have engaged with the Trump administration, told the crowd that they "cannot allow white evangelicals to paralyze us" by "saying that they cannot support our agenda because they are for pro-life." 
"Don't tell me you are for pro-life and white evangelicals are silent when black people are dying in the street like dogs," Bryant argued. "We cannot be paralyzed. The black church, you cannot be paralyzed, saying that you are not going to support Black Lives Matter because of three fearless black sisters who happen to be lesbian."
"We got to love our LGBTQ community, realizing that those are our sons and those are our daughters," he added. "We cannot be paralyzed."
The word choice of "paralyzed" is a reference to the police shooting of 29-year-old African American Jacob Blake on Sunday. He was hit by four of seven shots fired into his back by police in Kenosha, Wisconsin, when he resisted arrest and is now paralyzed from the waist down. 
"Today, while it is that you stand, Jacob finds himself paralyzed from the waist down," Bryant said. "Not from these steps. Dr. King said that we as a people, should not find ourselves caught in the 'paralysis of analysis.' In other words, our coming together is in vain if we just talk about the problem but don't chart a course toward the solution." 
Bryant also contended that the black community can't be "paralyzed wondering whether or not we are going to support the very first black female vice president in the United States," referring to Democrat vice-presidential nominee Kamala Harris. 
"She wants to make sure that we get rid of privatized prisons, that there are no more mandatory minimums and marijuana is no longer an illegal substance," Bryant explained. "We cannot be paralyzed knowing that she graduated just a few miles from here, from the original [Howard University.] Those of us who are products of HBCUs, you ought to be making some noise right now, knowing that it can develop and what it can deliver."
"There is something about us that understands that we stand today with our brother Jacob realizing that even if we find ourselves paralyzed and you force us to crawl, we are like butterflies," he continued. "Because butterflies only have two options. They crawl and then they fly. We understand in this hour, this is the hour for black people to fly."