Freddie Gray Hailed as a 'Martyr' at Funeral by Rev. Jesse Jackson; Youth Choir Member 'Loved Church,' Says Maryland Congressman (Video)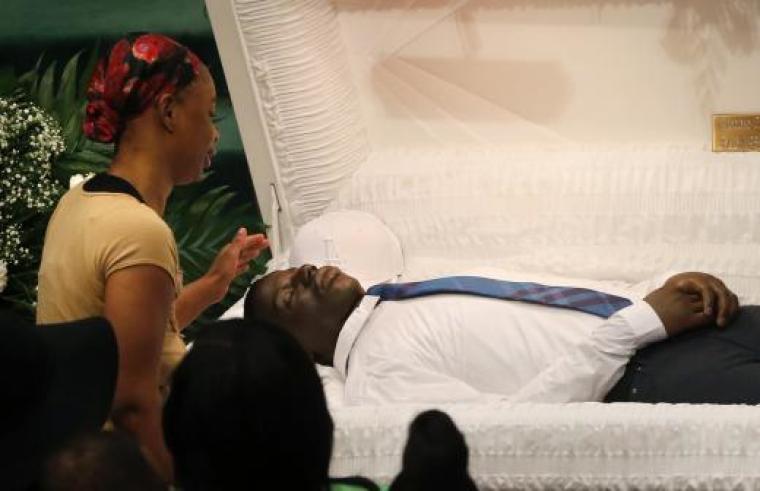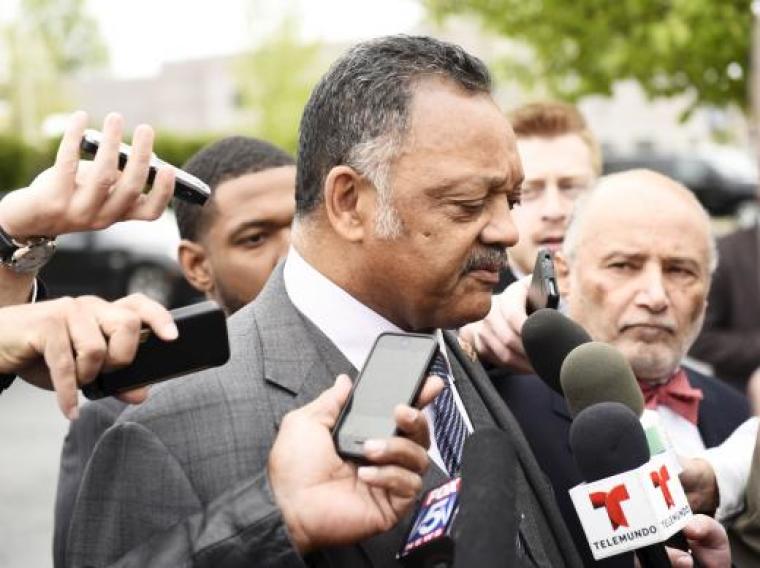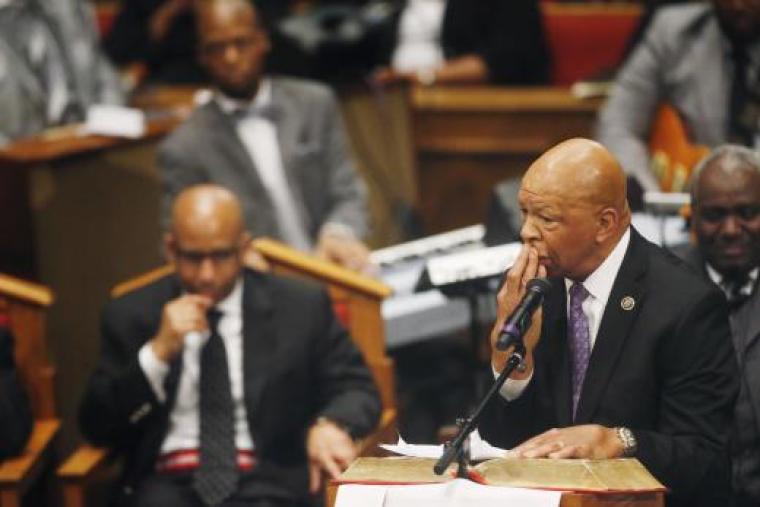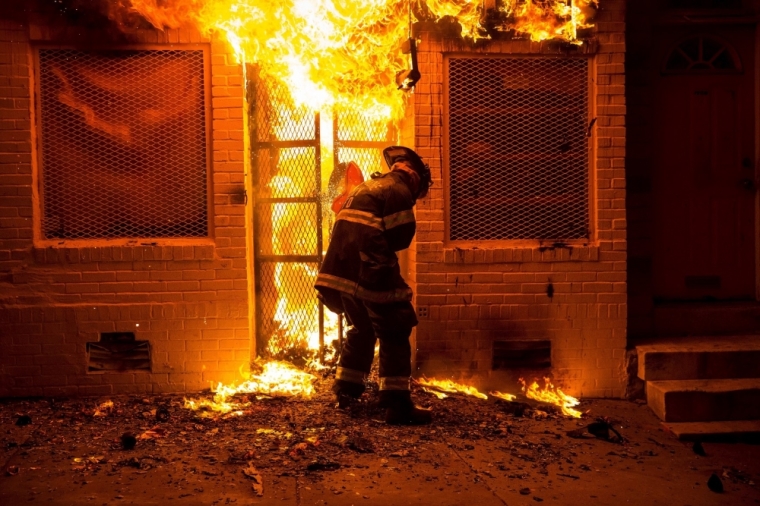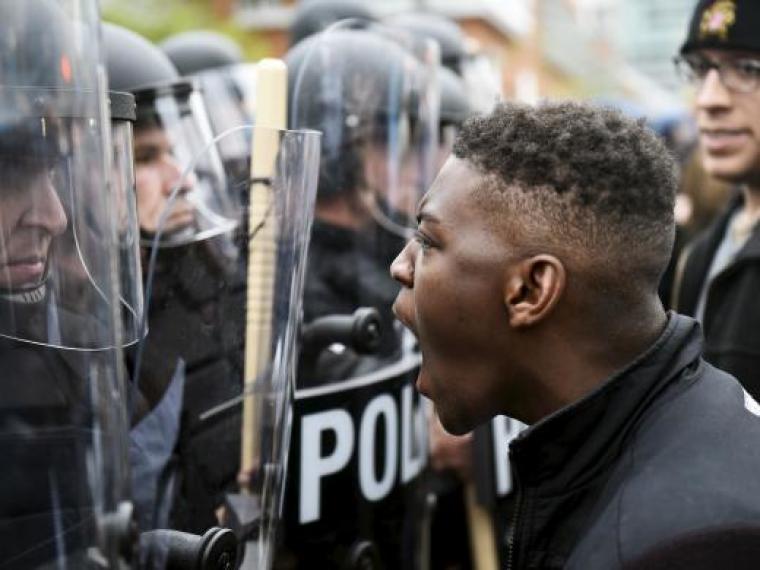 View Photos
Freddie Gray, the Baltimore man who died last week while in police custody, was laid to rest after an emotional funeral service on Monday where Christian leaders hailed him as a "martyr."
The suspicious death of Gray, 25, on April 19, has sparked nationwide protests and calls for justice after it was revealed that he was fatally injured while being taken into custody by police in West Baltimore on April 12 on weapons charges.
According to his family, his larynx was crushed and his spinal cord was "80 percent severed at his neck," as he rode in a police paddy wagon and he slipped into a coma before dying one week later.
"The Baltimore police became the pallbearers of an alive man and turned the paddy wagon into a tomb stone," Rainbow Push Coalition founder Rev. Jesse Jackson said from the pulpit at New Shiloh Baptist Church in West Baltimore, while looking down at Gray's white casket.
He continued: "We're here because we feel threatened, all of our sons are at risk … there's too much killing, too much hatred, too much violence, too much fear. In this community, he was more than a citizen, he was a martyr."
A large crowd, including loved ones, religious leaders, White House officials and families of others who have died in similar high profile cases, gathered at the church to pay their respects to Gray's family. Upon entering the church, a woman believed to be Gray's mother began sobbing uncontrollably and reportedly cried out, "Oh my baby, my baby!"
Gray, who joined the church in 2001, had been a member of the youth choir and was also a junior usher when he was 11.
"He loved church," Democratic Congressman Elijah Cummings of Maryland, said during the service.
The Rev. Jamal Bryant of Baltimore led the emotional service with an impassioned eulogy and prayed for healing amid civil unrest. Ongoing protests have triggered what experts are now calling the worst riots in decades. On Monday, at least 500 National Guard troops were deployed to ease violent clashes between police and activists.
"Jesus does something. He lifts up His hand and He changes the position of healing ... every other time that Jesus has healed, it has always been a lateral move," said Bryant. "He would reach His hand out. But when we find ourselves in this narrative for the very first time in sacred Scripture, Jesus lifts His hand up and when He lifts His hands up He touches the casket.
He continued: "I'm praying to God that God will lay His hand on everything that has been trying to keep black people in a box. I don't know whether I'm talking about [the] redefining of zip codes or gentrification, or whether I'm talking about a prison pipeline or inadequate public schools. But whatever the box that has been placed around the life and the future of young, black babies in this city, I'm praying God, put Your hand on the box."
Gray was arrested on April 12 on possession of a switchblade and the events that led to his death remain a point of contention.
Baltimore police officers who participated in the arrested have been placed on paid leave pending an investigation.
"They have completely cooperated with the investigation from day one," Michael Davey, an attorney for the officers involved, recently told reporters.
MSNBC reported Tuesday that Gray had been arrested as many as 18 times prior to his arrest earlier this month.
Another person who was inside the prisoner transport van carrying Gray is a witness in the investigation, however, their name has not been made public.
"Freddie's death is going to light a match ... not of looting and burning, but of awesome change," Bishop Walter Thomas said at the service. "The protests around his death serves, in a sense, as a defibrillator to start the heartbeat of change in this city."
Police, who have released limited information, claim Gray initially ran when they spotted him and they arrested him within minutes after they found a knife in his pocket. Investigators have not shared what transpired inside of the paddy van.
Attorneys for Gray's family suggest that he might've been illegally pursued, and an autopsy has revealed that he died from a severe spinal cord injury.
Gray's family recently condemned the violent protests while calling for justice.
"My family wants to say, 'Can y'all please, please stop the violence,'" Gray's twin sister, Fredericka, said on Saturday. "Freddie Gray would not want this."
The White House is yet to release an official statement on Gray's death.
Gray's death is just the latest in a string of high-profile cases involving black men who have been killed by white police officers.
Earlier this month, a rally was held in North Charleston, South Carolina, for Walter Scott, a 50-year-old unarmed black father of four, who was shot in the back at least six times by a white police officer.
Last year, the shooting death of 18-year-old Michael Brown, who had just committed a strong-arm robbery in Ferguson, Missouri, while he was intoxicated on "12 nanograms/ML of Delta-9-THC," twice the legal limit in state's where marijuana is legal, triggered nationwide protests. The 2012 killing of Florida teen Trayvon Martin and the 2014 chokehold death of Staten Island resident Eric Garner are further examples of cases that have divided the nation and sparked civil unrest.
The Christian Post contacted Attorney Billy Murphy for comment by he did not respond by press time.