5 bipartisan accomplishments of the 115th Congress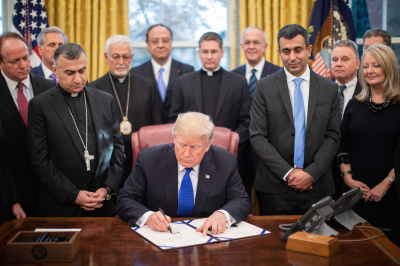 Genocide relief
Also in December, Trump signed a bill that supporters say will boost the U.S. efforts to aid Christians and other religious minorities who were victimized by the Islamic State's genocide in Iraq and Syria that began in 2014.
The bipartisan legislation took nearly two years to pass through Congress after it was introduced by Rep. Chris Smith, R-N.J., in January 2017. The legislation failed to pass in the 114th Congress but passed unanimously through the Senate and the House in the final months of 2018.
The legislation authorizes the U.S. government to fund nonprofits (including faith-based groups), charities and NGO's who are directly involved in providing humanitarian and recovery aid to Christians and other religious minorities communities displaced from their ancient homelands in Iraq and Syria.  
The legislation also directs the U.S. government to address humanitarian needs that could force even more religious minorities to flee from the region. The legislation also calls on the State Department to aid entities looking to hold Islamic State terrorists accountable for their crimes against humanity. .
Concerns were raised by Iraqi Christian leaders earlier in the year that Christian communities were still not receiving aid from the U.S. government despite the Trump administration's promise to bypass the United Nations to provide aid directly to groups working with persecuted Christians in Iraq and Syria.
"There has been a noticeable change since August with the arrival of the special envoy from the vice president to oversee the aid program in Northern Iraq," Bashar Warda, the Chaldean Catholic Archbishop of Erbil, Iraq told The Christian Post last month. "Aid has begun to move into the affected towns and people are beginning to see a difference. We are still waiting for some of the most important projects which we put forward but I understand that we will begin to see funding for these programs before Christmas from the joint program of USAID and the Knights of Columbus."