5 films highlighting Christian faith topics coming fall 2019
5 films highlighting Christian faith topics coming fall 2019
"The Two Popes"
Release Date: Nov. 27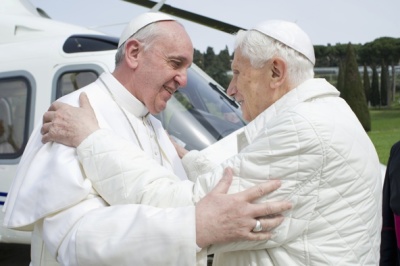 Netflix is gearing up to release "The Two Popes," a film by Academy Award-nominated director Fernando Meirelles and three-time Academy Award-nominated screenwriter Anthony McCarten. The movie is based on the transition between Pope Benedict XVI and Pope Francis at a historic turning point in the Catholic Church.
Starring Anthony Hopkins and Jonathan Pryce the movie follows a frustrated Cardinal Bergoglio (Pryce) who requests permission to retire in 2012 from Pope Benedict (Hopkins).
"Instead, facing scandal and self-doubt, the introspective Pope Benedict summons his harshest critic and future successor to Rome to reveal a secret that would shake the foundations of the Catholic Church. Behind Vatican walls, a struggle commences between both tradition and progress, guilt and forgiveness, as these two very different men confront elements from their pasts in order to find common ground and forge a future for a billion followers around the world," the film's synopsis reads. 
Joining Pryce and Hopkins are Juan Minujín as the young Bergoglio, along with Cristina Banegas and María Ucedo.
McCarten's play, "The Pope," was the original script for "The Two Popes," according to Netflix. The play debuted at the Royal & Derngate Theatre in Northampton, England, in 2017. McCarten also wrote a book about the dramatic transition titled, The Pope: Francis, Benedict, and the Decision That Shook the World, that was published in January.
According to Variety, "The Two Popes" was "an unexpected hit" at its premiere at the Telluride Film Festival due to its humor and the stellar performances of the two lead actors.
"The Two Popes" will be in select theaters on Nov. 27 and on Netflix Dec. 20.