5 reactions to Trump's 'go back' tweets to Democratic congresswomen
Inappropriate, yes, but racist?
Christian radio host Michael Brown of the Line of Fire program said while the president's tweets were inaccurate (since only one of the congresswomen was born outside the U.S.) and inappropriate, they weren't exactly racist.
"America has opened the door to people like Ilhan Omar, whose family escaped from the hellhole that Somalia has become. And America has given Omar and other immigrants like her incredible opportunities to succeed and flourish," Brown argued.
"In Trump's perception, Omar and her political colleagues are biting the hand that feeds them, showing ungratefulness rather than appreciation and criticism rather than gratitude."
He further contended that "a racist would not say, 'Then come back here once you help fix these other countries.'"
"If America is so terrible and you have the solutions, then go improve these other countries that are in such terrible shape. And once you've transformed those nations, then by all means, get back over here and show us a better way."
Brown did not defend the language and offensiveness of Trump's tweets.
Some senators avoid, defend
Republican senators, meanwhile, are either ducking questions or defending Trump when asked to respond to the tweets.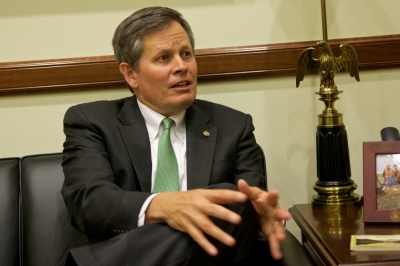 "Montanans are sick and tired of listening to anti-American, anti-Semite, radical Democrats trash our country and our ideals. This is America. We're the greatest country in the world," tweeted Senator Steve Daines, R-Montana, on Monday, adding that he stood with the president.
When asked by an NBC reporter in Boston if the president's tweets constituted racism, Sen. Mitt Romney, R-Utah, replied, "that's all I've got, thanks."
Offering the most vocal defense of President Trump, however, was Senator Lindsay Graham, R-South Carolina.
In an interview with Fox & Friends Monday, Graham referred to the Democratic congresswomen as "a bunch of communists" who hate both Israel and the United States, referencing a previous comment Omar once made about American support for the Jewish state in which she said they did so because of "the Benjamins," a remark many saw as bigoted.
"They're anti-Semitic, They're anti-America," Graham said.