5K Superhero Run: Church Raises Money for Clean Drinking Water (VIDEO)
Liquid Church of Morristown, N.J. will be hosting a Superhero 5K run on Saturday, May 11 to raise money to campaign against dirty drinking water across the globe.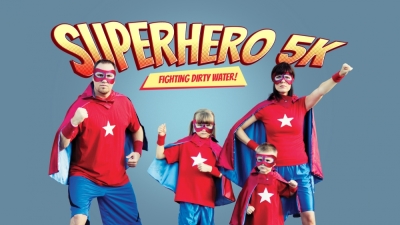 "Our church has a passion for bringing clean water to families in need around the globe," said Tim Lucas, Lead Pastor of the non-denominational Christian church in a press release. "It's time for us to leave our seats and take to the streets to be part of the solution to the global water crisis."
A party will be held at Pioneer Park and will also include a costume contest. The run is to support clean drinking water for all, especially because it is an readily solvable problem.
"Today, 2,000 children under the age of 5 will die from something totally preventable-- dirty water. Currently, 1 in 9 people in the world lack access to clean drinking water putting them at risk for debilitating diarrhea, typhoid, and cholera," the church stated.
The congregation of Liquid already has set up clean water projects in Africa and Central America by drilling and funding over 50 drinking wells in the last four years with $750,000 of donated and raised money.
"This event celebrates the fact that each of us has the power to save a life. You can be a hero by simply coming out to run or walk and join the fight against Dirty Water," said Lucas.
Since 2001, Liquid Church is one of New Jersey's fastest growing houses of worship, with three separate establishments and a congregation of over 2,500.
Other local projects the church recently participated in were extreme makeovers and a reverse offering.
The reverse offering saw the church take the money they collected and give it right back to the congregation, while the extreme makeover saw the church rebuild local shelters after Hurricane Irene damaged and ruined some of the buildings.
Pastor Lucas told CP that he wished to "continue to pioneer new ways to bring the gospel to people."
He also shared why making church a place of importance was so key.
"People gave up on church, but people have not yet given up on God," Lucas stated.