6 Things to Know About Trump's Feud With the NFL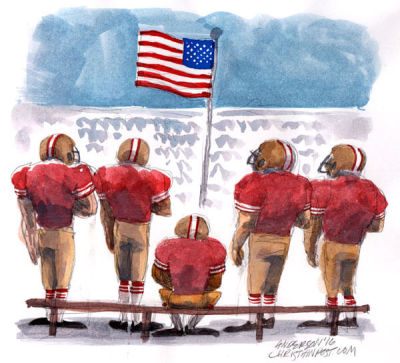 1. Why are some players kneeling during the singing of the "Star Spangled Banner"?
Kaepernick became a hero in the eyes of many and a nuisance in the eyes of some when he gained widespread media attention after he refused to stand during the playing of the national anthem before an August 2016 pre-season game against the Green Bay Packers.
When asked why he sat during the anthem, Kaepernick replied:
"I am not going to stand up to show pride in a flag for a country that oppresses black people and people of color. To me, this is bigger than football and it would be selfish on my part to look the other way. There are bodies in the street and people getting paid leave and getting away with murder."
With that statement, Kaepernick instantly became one of the most polarizing figures in all of sports, even though he wasn't even the starting quarterback on the team at the time.
In a preseason game that was of relatively little importance, Kaepernick seemingly made a rather large political statement.
Since then and before last Friday, a small number of players from other teams joined in taking part in the protest of police brutality against African Americans by either kneeling or sitting during the singing of the national anthem before their games.
Although many onlookers, especially some veterans and military service members, might feel that players' kneeling during the national anthem is disrespectful to the country, military and Old Glory, Baltimore Ravens tight end Benjamin Watson, a devout Christian, explained on Facebook that it's important not to misunderstand the real reason why players are protesting during national anthem protests.
"[D]o not listen to the alternative reasons for the protest that serve to deflect and dismiss the real reasons. The protests were started to bring attention to police brutality and oppression in various forms," Watson, who often speaks and writes out about racial issues, said. "I can understand how you view it as disrespectful. You point of view is valid. Numerous protesters have said that is not their intention yet others have sought to hijack and change their words."
Watson chose to stand during the national anthem before Sunday's game against the Jacksonville Jaguars.