7 Interesting Facts About the Thanksgiving Holiday
Thanksgiving Celebrations That Predate Plymouth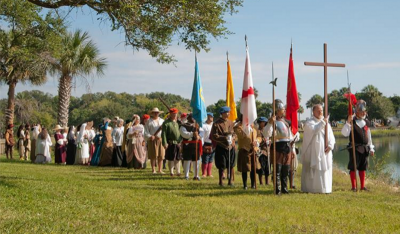 When people think of the first Thanksgiving, generally what comes to mind are images of Pilgrims and Indians eating together in colonial Massachusetts.
Widely considered the "First Thanksgiving," this event took place in November 1621 when the Plymouth colonists and members of the Wampanoag tribe shared in an autumn harvest feast.
However, other parts of the nation also stake claim to celebrating Thanksgiving before the Pilgrims. These places include St. Augustine, Florida (Sept. 8, 1565), San Elizario, Texas (April 20, 1598), and Berkeley Plantation, Virginia (Dec. 4, 1619).