90-Y-O Arnold Abbott Re-Arrested for Feeding Homeless: 'I Believe in the Fatherhood of God, Brotherhood of Man'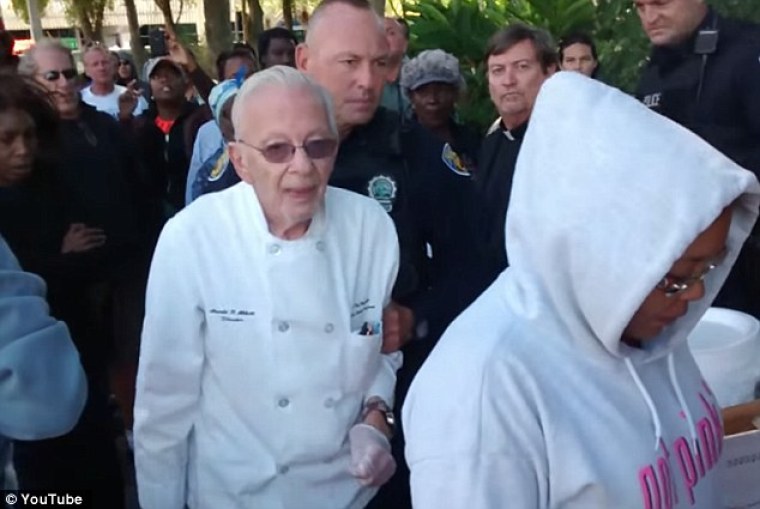 Arnold Abbott, the 90-year-old man who was arrested for feeding the homeless in Fort Lauderdale was re-arrested 24 hours later for the same offense.
"I am both enthused and humbled," Abbott told local10.com after being arrested the first time on Tueday. "The good news is that there is pressure being put on the city of Fort Lauderdale to do something about a law that is not only unfair, it's repressive. We've heard from every continent. The last I heard was from Kenya and Moscow. I've heard from South America, any number of people from Canada, three newspapers from the United Kingdom."
Abbott and two pastors were all arrested on Tuesday for violating a new law that went into effect last week, preventing people from feeding the homeless. All three men face fines of $500 and up to 60 days in jail for their charitable work. And while Abbott has received a lot of support from people around the world, Fort Lauderdale Mayor Jack Seiler is not a fan.
"Mr. Abbott has decided that he doesn't think these individuals should have to have any interaction with government, [but] that they should be fed in the parks. We disagree," Seiler said.
Seiler fully supports the ordinance and says that it is meant to protect the homeless, not punish them in any way or form. Abbott and the pastors had been feeding the homeless for quite some time before the new law went into effect and their arrest. Abbott's story went viral, making him an instant celebrity and garnering fans and support; he has said that he intends to sue the city again to have the law overturned. He sued Fort Lauderdale in 1991 after he was banned from feeding the homeless on the beach. He won that lawsuit.
Abbot has said that he will continue doing whatever is necessary to keep feeding those who need it most.
"These are the poorest of the poor. They have nothing," he said before his first arrest. "They don't have a roof over their heads. How do you turn them away? I don't do things to purposefully aggravate the situation. I'm trying to work with the city. Any human has the right to help his fellow man."
"It's our right to feed people," Abbot said on Wednesday, "it's our First Amendment right and I believe in the fatherhood of God and the brotherhood of man, and we should be allowed to feed our fellow man. I'll fight for the beach as long as there's birth in my body."
Advocates for the homeless have planned a week of protests and marches to bring awareness to the plight of the people from Oct. 31 to Nov. 7, with an online hashtag of #resisthomelesshatelaws.
Watch Tuesday's arrest HERE: