90-Y-O Man Arrested for Feeding Homeless People in Florida; Elderly Gentleman Locked Up With Two Pastors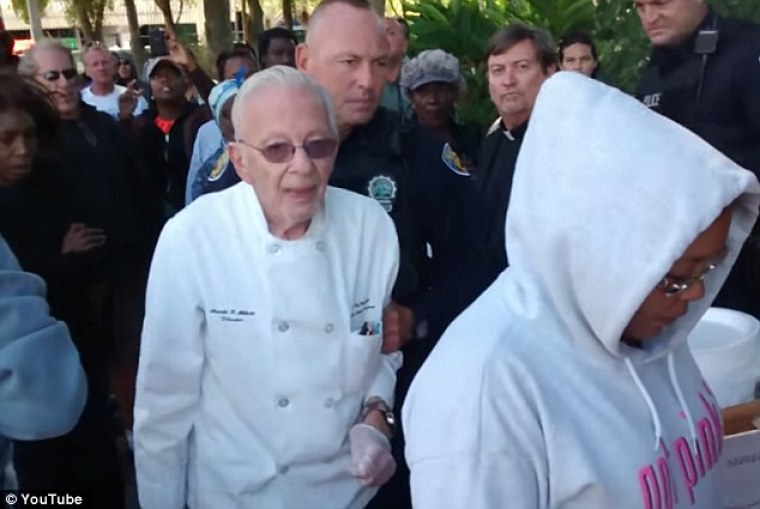 A 90-year-old man and two ministers were arrested this past weekend in Fort Lauderdale for feeding homeless people and breaking a new law banning such practice.
Arnold Abbott, 90, was arrested and charged along with Dwayne Black, pastor of The Sanctuary Church in Fort Lauderdale and Mark Sims of St. Mary Magdalene Episcopal Church in Coral Springs. The three men were working to provide meals for hundreds of the city's poor and homeless every week. However, on this particular Saturday, an officer arrived at the feeding station and reportedly told Abbott to stop what he was doing and "drop that plate right now."
"These are the poorest of the poor," Abbott said. "They have nothing. They don't have a roof over their heads. How do you turn them away? I don't do things to purposefully aggravate the situation. I'm trying to work with the city. Any human has the right to help his fellow man."
Abbott has been a tireless crusader in the fight to feed the poor. In 1991, he sued the City of Fort Lauderdale after he was banned from feeding the homeless on the beach; he won when the court ruled the law banning his action was unconstitutional. But a law that went into effect in the city last week requires groups to be a minimum of 500 feet away from residential properties; food sites are restricted to one per block.
Many have criticized the law as biased against the poor and homeless, denying them the basic right to be fed. Abbott plans to sue the city again in light of the new law and will continue doing the work he feels called to do, even if it means being charged again and again.
"The world IS watching this and judging the U.S. conscience and morality," Andy Castor posted on local10.com. "I'd be pleased to see some Christians practicing their religion."
Abbott and the two pastors each face a $500 fine and up to 60 days in jail.