'A.D. The Bible Continues' Episode 3 Review: The Spirit Arrives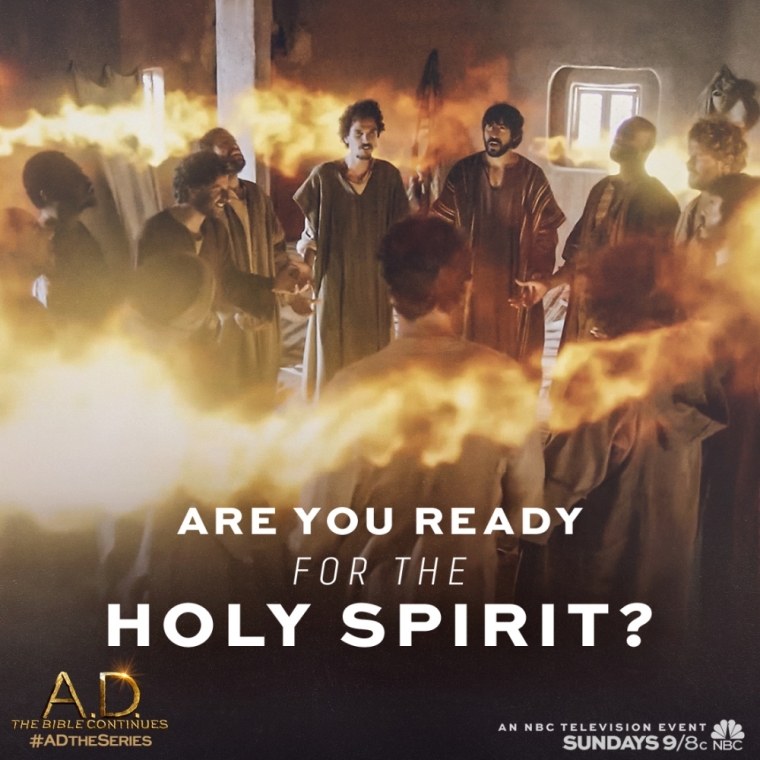 Sunday night's "A.D. The Bible Continues" introduced the character of the Holy Spirit during the celebration of Pentecost, but that was just the beginning of a new chapter for Jesus' disciples.
As the disciples gathered together on the eve of Pentecost, Peter's daughter joined them. Wise beyond her years, she asked a simple question when Peter began questioning what he should do to encourage the Holy Spirit's arrival.
"What would He do?" Maya, the teen, asks.
"Pray," Peter responded with a new zeal. He then went to awaken the disciples and together they prayed "Our Father" repeatedly, and the Holy Spirit did, in fact, arrive.
What was unique is that in this telling, the Holy Spirit not only descends upon the disciples, but mother Mary as well. The Spirit, represented by a fire, encircled the disciples' abode, drawing people to them as the disciples began to speak in different languages. When they emerged, people cheered, and it was clear that Peter and John were prepared to lead a new revolution against the Roman authorities. Peter, of course, performed the first miracle, which only encouraged him to do more.
It was incredibly touching to see the intimate discussions between Peter and Maya, who joined the disciples against her father's wishes. And, of course, it took the faith of a child to show her father where he needed to be and what he needed to be doing. It reminds me of the quote "and a child shall lead them" (Isaiah 11:6). Maya's faith and courage moved her father to act when he had no idea what to do.
I personally enjoyed a delightful trick that Caiaphas played on Pilate … perhaps to spare his life but perhaps to show his own authority. Pilate insists on going to the Temple during Pentecost, despite suggestions from Caiaphas and King Herod that doing so could lead to bloodshed. When Pilate arrives, the people are angered, but Caiaphas tells them, in Hebrew, that Pilate is there to repent of his sins and bow down to God, so they should welcome him, not jeer him. Pilate, of course, has no idea what is being said, which is rather amusing, given what is actually being said of him.
As "A.D." continues, I expect and hope to see more of Maya and the relationship she has with her father as he becomes more authoritative and establishes the church. I also look forward to seeing more of John's actions in the series, as so far he has been relegated to the "sidekick" role.
"A.D." airs Sunday nights on NBC.