'A sad day for Ohio': Pro-lifers, Biden react to defeat of Issue 1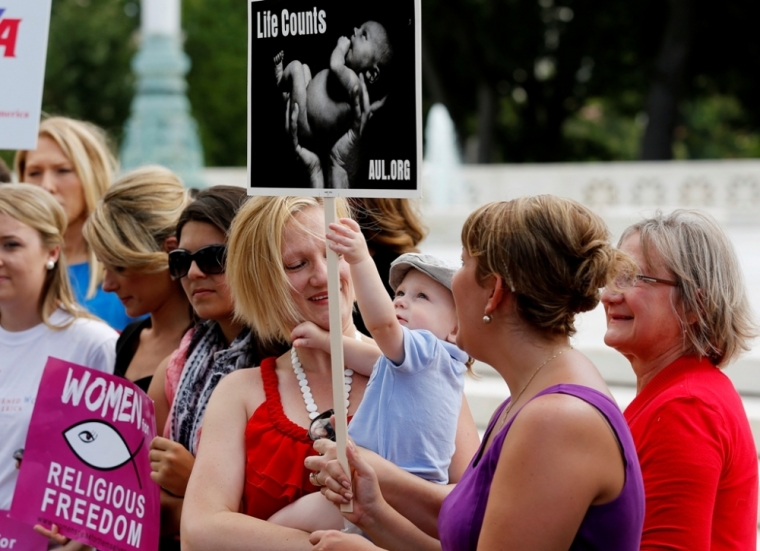 Pro-life advocates are intensifying efforts against an Ohio ballot initiative that would establish a right to abortion in the state's constitution. This comes after Ohio voters defeated a separate referendum aimed at increasing the requirements to pass constitutional amendments.
On Tuesday, Ohio voters rejected Issue 1, which would have required constitutional amendments to receive at least 60% support from voters instead of a simple majority. The unofficial results from Tuesday's election, with 98% of the vote in, show that 57% of voters rejected Issue 1, while 43% supported it.
Pro-life advocacy groups, who supported Issue 1, expressed disappointment with Tuesday's election outcomes. They are concerned about a November ballot measure that aims to establish a right to abortion in the Ohio Constitution.
Susan B. Anthony Pro-Life America President Marjorie Dannenfelser issued a statement describing Tuesday as a "sad day for Ohio" that serves as "a warning for pro-life states across the nation."
"Millions of dollars and liberal dark money flooded Ohio to ensure they have a path to buy their extreme policies in a pro-life state," she said. "Tragically, some sat on the sideline while outsider liberal groups poured millions into Ohio. A broad coalition of passionate pro-life Ohioans came together to fight parental rights opponents and try to take victory from the jaws of defeat. But the silence of the establishment and business community in Ohio left a vacuum too large to overcome."
Dannenfelser lamented that "during this crucial election, progressives funneled in millions from outside groups to mislead the people of Ohio." According to Dannenfelser, "Attacks on state constitutions are now the national playbook of the extreme pro-abortion Left. That is why everyone must take this threat seriously and recognize progressives will win if their opponents are scared into submission by the pro-abortion Left." 
"So long as the Republicans and their supporters take the ostrich strategy and bury their heads in the sand, they will lose again and again," she maintained.
Dannenfelser's use of the term "ostrich strategy" refers to the phrase coined by the advocacy group following the 2022 midterm elections to describe unsuccessful Republican candidates who wound up "burying their heads in the sand and running from the issue [of abortion], allowing their opponents to define them."
As Dannenfelser's remarks suggested, the weeks leading up to the election saw Ohio voters inundated with advertisements featuring hyperbolic rhetoric. For example, one ad from the Progress Action Fund showed an actor playing the role of a Republican lawmaker interrupting a couple as they're about to have sex and taking a condom away from them.
The actor says, "You can't use those. Now that we're in charge, we're banning birth control."
The ad concluded with an on-screen message reading, "Keep Republicans Out of Your Bedroom, Vote No on Aug 8."
National Right to Life President Carol Tobias reacted to the Issue 1 results by declaring that "changing the Ohio constitution should require a higher vote threshold than a simple majority." Noting that "voters rejected raising the threshold," she expressed concern that they "opened the door to outside interest groups coming into Ohio and promoting their dubious values."
"Pro-abortion interest groups were among those who opposed Issue 1. They want to promote unlimited abortion in Ohio and want to change the Ohio Constitution based on their sordid pro-abortion values," she added. "They also want to ensure that Ohio's minor daughters can have abortions without their parents' knowledge."
In a statement shared with The Christian Post, Human Coalition Action Executive Director, the Rev. Dean Nelson, urged pro-lifers to channel their outrage over the defeat of Issue 1 into ensuring that the constitutional amendment to establish a right to abortion in Ohio fails.
"We urge all pro-life advocates to focus on defeating the radical abortion ballot initiative in November — lives are at stake. This extreme proposal would legalize abortion in many cases until birth," Nelson said.
"Out-of-state activists want to undermine the authority given by the people of Ohio to their elected officials, who together with Gov. [Mike] DeWine and his administration have enacted strong pro-life laws that protect the most vulnerable. This measure, if passed, could not only overturn basic protections for children in the womb, but it could also prevent safeguards such as parental consent requirements for abortion or prohibitions on taxpayer funding of abortion."
Nelson stressed that "all pro-life advocates in Ohio must inform their neighbors of what's truly at stake in November, and work to defeat this radical initiative." He predicted that "Ohio voters, if properly informed of how awful this proposal is, will defeat it."
While pro-life advocates condemned the results of Tuesday's vote, President Joe Biden issued a statement praising the result. 
"Today, Ohio voters rejected an effort by Republican lawmakers and special interests to change the state's constitutional amendment process. This measure was a blatant attempt to weaken voters' voices and further erode the freedom of women to make their own healthcare decisions. Ohioans spoke loud and clear, and tonight democracy won."
The effort to establish a right to abortion in the Ohio constitution marks the latest attempt to ensure access to abortion at the state level following the U.S. Supreme Court's June 2022 Dobbs v. Jackson Women's Health Organization decision determining that the U.S. Constitution does not contain a right to abortion. So far, similar amendments have passed in California, Michigan and Vermont.
If passed, November's ballot initiative will nullify pro-life protections in Ohio. Although currently tied up in court, Ohio lawmakers have approved a law banning abortions after six weeks gestation. Ohio is one of 25 states that have passed legislation banning abortions at 15 weeks gestation or sooner.
Ohioans will decide the fate of abortion policy on Election Day this fall. With a simple majority needed to pass, a poll of 500 likely voters conducted from July 9-12 by USA Today and Suffolk University found that 58% of respondents would vote to support an amendment establishing a right to abortion in Ohio while 32% would oppose it.