Aaron McGruder's 'Black Jesus' Blasted as 'Utter Foolishness;' One Million Moms, Christians Demand 'Blasphemous' Show Be Cancelled Before It Even Airs
Creator of 'The Boondocks' Series to Premiere Controversial Live-Action Comedy Show on Adult Swim Aug. 7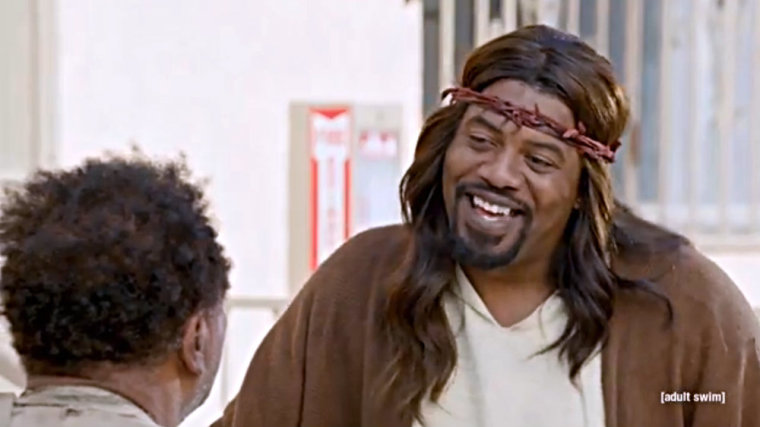 The trailer for Aaron McGruder's upcoming live-action comedy series "Black Jesus" has been making the rounds on the Internet since last Friday, and some Christians are anything but amused by what the Adult Swim network was teasing as "the most anticipated comeback in history." At least one "violently offended" Illinois pastor, in addition to the activist network One Million Moms, has issued a clarion call for Christians to pressure the network to drop "The Boondocks" creator's new program before it even airs next month.
McGruder's "Black Jesus" features Christianity's revered and central figure living in Compton, California, and going about a "daily mission to spread love and kindness throughout the neighborhood with the help of his small but loyal group of downtrodden followers," according to a press release from Adult Swim.
Although two trailers released over the weekend show Jesus (played by Gerald "Slink" Johnson), talking faith and salvation to his neighbors and spearheading efforts for a community garden, "Black Jesus" also shows the faux messiah dropping four-letter expletives and being accused of "smoking all the f------ weed," in addition to being shot at and getting carjacked.
"It is utter foolishness and disrespectful!" writes David A. Rodgers in a draft of a letter slamming "Black Jesus" that was published on his Facebook account. Rodgers, pastor of the House of Prayer for All Nations Ministries in Chicago, Illinois, says he intends to "distribute (the letter) to every church in America."
In his letter addressed to Turner Broadcasting System, the Time Warner company that owns the Adult Swim network, Rodgers writes:
"We, the Christian community are vehemently opposed and violently offended at this upcoming program soon to air on your channel called, 'BLACK JESUS.' The level of disrespect aimed at the depiction of our Lord and Savior is inexcusable. We are hard pressed to find any value in this program, its message or its purpose. As a group of believers, we are prepared to launch a mass campaign and boycott of your channel and any advertisers that are financially profiting from this program. These continued attacks against our Christian values and the degrading imagery of the Lord Jesus Christ, will be met with social media awareness to the entire Christian community and a targeted boycott of your advertisers.
"There is no way that this show would be aimed at the Jewish or Muslim community. We are demanding an IMMEDIATE retraction of this show and a PUBLIC APOLOGY to the Christian community at large. We will continue to make our community aware of your blatant disrespect until there is a redemptive shift in the culture of your channel and programming. Please understand that we will not take this lying down. We will fight this and any other program that seeks to demean our values, our Savior and our beliefs. A draft of this letter is being distributed to every church in America."
Rodgers' letter, published online Monday, July 21, had less than 200 shares by press time.
In its call to action, activist network One Million Moms, run by the American Family Association, takes issue with the show "portraying Jesus as a 'black guy living in the hood.'" In addition, "The show depicts him living in Compton Gardens and makes a mockery of our Lord. The foul language used in the trailer, including using the Lord's name in vain, is disgusting. In addition, there is violence, gunfire and other inappropriate gestures which completely misrepresent Jesus."
According to One Million Moms, "This is blasphemy!"
One Million Moms' organizers could care less that "Black Jesus" airs at 11 p.m. on Adult Swim, insisting that its late-night time slot, scheduled to avoid the eyes of viewers under the age of 18, is "no excuse."
Like Rodgers, One Million Moms is calling on concerned Christians to "send a loud and clear message to Adult Swim, its owner Turner Broadcasting System (a Time Warner Company), and all potential advertisers of 'Black Jesus' that this kind of programming is insulting and completely unacceptable." The group suggests that Adult Swim would not "dream" of mocking Muslims or Muhammad, the revered prophet and founder of Islam.
"If we speak with one voice now, we can keep this program from ever seeing the light of day. Christians must take a stand and not be silent. Networks like Adult Swim continue to mock Christianity, and we will not stand for it. Christians should no longer sit idly by and allow this blasphemy to continue without speaking up in protest. 'Black Jesus' is another attempt to distort the truth about Christianity. There is power in numbers!" adds One Million Moms in its call to action.
Watch the censored trailer of "Black Jesus" in the video player below:
In addition to the ongoing for-or-against debate unfolding on the official "Black Jesus" Facebook page, at least one protester was using the new show's promotional page to draw attention to his cause, a community group titled "Boycott the 'Black Jesus' TV Show." 
The Facebook community group, organized by Anthony Pollard, had more than 600 members. In a post on the community page, Pollard calls for a boycott against "Black Jesus" for "(insulting) the beliefs, traditions, values, and most dearly held truths of the Christian faith," and for "(painting) a totally unbiblical, unrealistic caricature of Jesus of Nazareth."
Another petition demanding that Adult Swim drop "Black Jesus" was started on Change.org, and had less than 200 votes. Organized by James Jones, the petition states, "Using someones [sic] sacred religion in a disrespectful way for entertainment should never be accepted in our society, no matter what religion it may be. The show is also very degrading to the black community."
Despite some Christians expressing offense over "Black Jesus," McGruder's supporters were giddy about the 30-minute show's Aug. 7 premiere. One Adult Swim viewer, defending the controversial new series, insisted that that McGruder's program was satire, just like the celebrated cartoonist's "The Boondocks" series, popular for its acerbic wit and no-holds-barred social commentary on numerous issues.
"The show isn't mocking Jesus, but rather exposing our own hypocrisy regarding Jesus and each other. Most people won't get it but to those who do, I hope this show will have people think twice about how they are living their lives," wrote one of McGruder's supporters.
McGruder, 39, broke onto the public scene in 1999 when "The Boondocks" comic strip was published in more than 160 newspapers nationwide. The unapologetically aggressive series eventually premiered in 2005 as an animated show on Adult Swim and went on to earn McGruder two NAACP Image Awards.
After it was revealed earlier this year that McGruder would not be participating in the fourth season of "The Boondocks" on Adult Swim, the cartoonist informed fans and supporters via his Facebook page that while working on the show, "It was important to offend, but equally important to offend for the right reasons."
"For three seasons I personally navigated this show through the minefields of controversy. It was not perfect. And it definitely was not quick. But it was always done with a keen sense of duty, history, culture, and love. Anything less would have been simply unacceptable," wrote McGruder.
He added, "As for me, I'm finally putting a life of controversy and trouble-making behind me with my upcoming Adult Swim show, 'Black Jesus.'"
McGruder serves as the executive producer of "Black Jesus" through his 5 Mutts Productions along with writer/director Mike Clattenberg ("Trailer Park Boys"), LEG's Norman Aladjem and John Bravakis, according to a network press release. In addition to starring Johnson as Jesus, "Black Jesus" features Charlie Murphy ("The Chapelle Show"), Corey Holcomb ("The Cleveland Show"), John Witherspoon ("The Boondocks"), Valenzia Algarin ("True Blood"), and several others. Watch the extended trailer for "Black Jesus" on Adult Swim's website: http://video.adultswim.com/black-jesus/expanded-trailer.html.