Abortion Activists Call for 'Abortion on Demand' Through Nationwide 'Freedom Ride'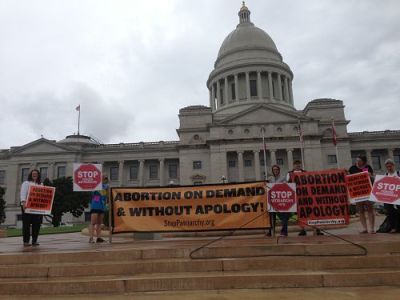 A pro-choice and anti-pornography group has organized a "Freedom Rider" tour that kicked off in New York City and San Francisco last month. End Patriarchy Now launched a month long, cross-country campaign to call for "abortion on demand, and without apology."
Although Stop Patriarchy originally limited itself to fighting pornography, it has since broadened its stance to include advocating for abortion, arguing on its website that "Women are not objects. Women are not things to be used for the sexual pleasure of men nor are they breeders of children."
Alex Petersburg of Stop Patriarchy Now's San Francisco office told US News and World Report that the campaign was particularly focused on states where abortion clinics were rare.
"In many states, there is just one abortion clinic left, and that provider is harassed and stalked. The goal is to create a nationwide movement... against that," she said.
As the tour has progressed, some of Stop Patriarchy Now's tactics have been strongly criticized as being overly-aggressive, even by their allies. The Wichita Eagle highlighted one case recently where about 20 pro-abortion protesters at last week's protests in Wichita marched outside a pro-life pregnancy crisis center. Protestors shouted that pregnancy counselors were liars and handed out literature "indicting" pro-life pregnancy centers for disseminating what they claimed to be false information about abortion and birth control. They also held signs that read "Fake Clinic" and "Stop Forced Motherhood."
Wichita's National Organization for Women chapter declined to participate and distanced itself from the aggressive protesters.
Vickie Stangl, the immediate past president of Wichita NOW, told the Wichita Eagle that while she agreed with the information, she felt uncomfortable with their methods.
"We're not trying to beat people over the head," Stangl said. "We believe in choice, and we truly believe in that word and some of their messaging is obviously more militant."
The Freedom Ride tour, which has made earlier stops in Fargo, North Dakota, and other major cities in the Midwest and South, concludes Saturday with a "Day of Action" planned in Jackson, Mississippi.
Mississippi currently has only one abortion clinic, Jackson Women's Health Organization, which filed a lawsuit last summer claiming that the state's new law would make it shut its doors. The law requires all clinic OB-GYN to obtain privileges to admit patients to the local hospital.