Abortion Approved Where Mother's Life at Risk by Ireland's Parliament, Includes Risk of Suicide
After an all-night debate, Ireland's parliament voted early Friday to approve abortion in the country in cases where doing so could save the life of the mother, including in cases in which the mother is at a high risk of suicide.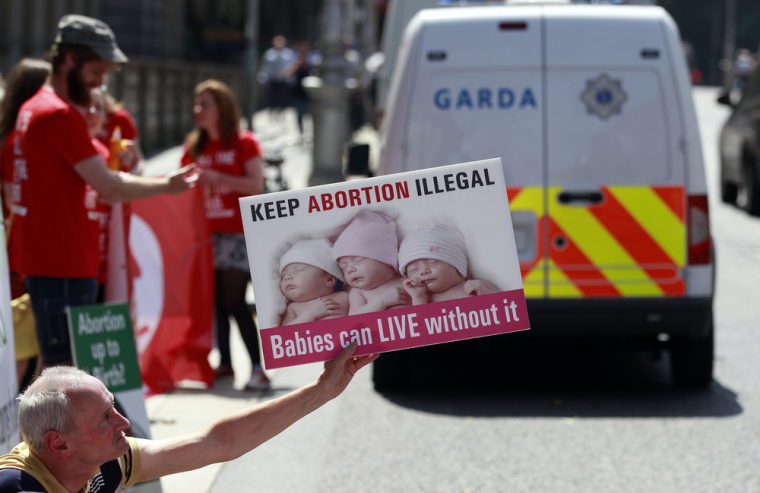 Abortion in the staunchly Catholic country has long been illegal, but the death of Indian dentist Savita Halappanavar in October 2012 when she suffered blood poisoning due to a miscarriage has caused the country to reconsider and clarify its laws banning the practice.
On Friday, the Protection of Life During Pregnancy Bill 2013 passed the country's Dail, or the lower house of parliament, by an overwhelming 127-31 vote.
The bill allows abortions in the country if the mother's life is at risk, including if the mother is at a high risk of committing suicide.
Proponents of the bill also attempted to add an amendment which would allow abortion in the cases of incest or rape, but that was reportedly dropped after it met too much resistance in Thursday evening's all-night debate.
Those opposing the bill, including religious leaders and most conservative politicians, argue that it permits "abortion by request," especially regarding the suicide section.
Although the woman must first be studied by two psychiatrists and an obstetrician to determine if the risk of suicide is "real and substantial," opponents to the bill argue that even if an abortion was granted to a highly-suicidal woman, it would not improve her mental health.
Additionally, pro-life activists argue that the current law regarding abortion already holds a provision for saving the mother's life.
Ireland's Supreme Court ruled 20 years ago that an abortion may be performed if the woman's life is at a substantial risk, but the ruling was never enacted into law, and therefore doctors and patients often have a difficult time discerning when an abortion can be carried out, as seen in Halappanavar's case.
"If it was about saving women's lives, no one would oppose it. Under existing law, every woman is entitled to life-saving medical treatment. But the new Bill allows abortion for a threat of suicide. That's not good medicine. Abortion doesn't prevent suicide. It destroys a child. It increases risks to women's mental health," Ireland's Prolife Campaign said in a leaflet regarding the bill.
"If the Government's abortion Bill becomes law, it will for the first time in our history allow the direct targeting of the life of the unborn child. It is a million miles away from good medicine, from the kind of life-saving intervention which everybody supports," the pro-life organization added.
Those in support of legalizing abortion in the country argue that although the bill is a step forward, they do not believe it does enough to legalize the procedure in the country, including allowing abortions for victims of rape or incest.
According to BBC News, proponents of the bill claimed during Thursday's debate that one in 11 women leave Ireland every day to seek an abortion in Great Britain.
Human Rights Watch said in a statement that the bill achieved "the bare minimum" in accordance to the previous Supreme Court ruling.
"The new law does add clarity, but requiring women to seek multiple approvals from health professionals may delay or defeat access to legal abortions," Gauri van Gulik, women's rights advocate for Human Rights Watch, said in a statement.
"Ultimately it does little to improve the draconian restrictions on abortions," Van Gulik added.
The bill has reportedly created anger among the country's majority Catholic population, including several politicians who oppose the legalization of abortion.
According to Reuters, one politician, Premier Enda Kenny, who pushed for the legalization of abortion in the country, claimed to have received letters written in blood, scapulars, and plastic fetuses sent to his office, and argued that other pro-abortion lawmakers were receiving the same harassment.
Friday's vote comes about after the October 2012 death of 31-year-old Savita Halappanavar, an Indian woman who was denied an abortion at the University Hospital Galway, even though she was undergoing a miscarriage of the 17-week-old fetus.
As The Christian Post previously reported, doctors told Halappanavar that the fetus was not viable, but they could not perform an abortion because it still had a heartbeat.
The young woman died several days later of septicemia, or blood poisoning, which ultimately led to organ failure.
A jury in Western Ireland ruled in April that the hospital where Halappanavar had died had undergone a "medical misadventure" when dealing with the young woman's health.
Friday's bill must now pass Irish Senate, and ultimately be signed into law by President Michael D. Higgins.