Abortion 'Could Be' a Woman's Right, Says Texas Gov. Rick Perry's Wife, But Still Opposes It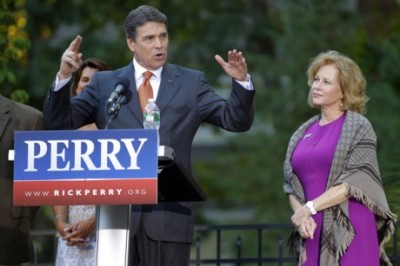 Anita Perry, wife of Texas Governor Rick Perry, said in a recent interview that although abortion "could be" a woman's right, similar to an optional medical procedure for a man, she nonetheless does not support the practice. The comments come at a heated time for abortion in Texas, as Planned Parenthood and two other groups announced Friday they are suing the state for its recently-passed omnibus abortion bill that bans the practice at 20 weeks of pregnancy and requires abortion clinics to meet higher surgical center standards.
Texas' First Lady was speaking with journalist Evan Smith of The Texas Tribune at the newspaper's annual conference, the 2013 Texas Tribune Festival, when the two began discussing the heated topic of abortion in the Lone Star state. The passing of the state's 20-week-abortion ban has caused uproar among pro-abortion activists and made the state the center of the national debate on abortion laws.
When Smith asked Mrs. Perry if she thinks it is right for Texas to pass laws restricting abortion, the state's First Lady replied: "Well, that's really difficult for me Evan, because I see it as a woman's right. If they want to do that, that is their decision. They have to live with that decision."
Smith then sought to clarify Mrs. Perry's remark, asking: "Mrs. Perry I want to be sure that you didn't just inadvertently make news. Are you saying that you believe that abortion is a woman's right - to make that choice?" Mrs. Perry then clarified her previous comment, saying: "It is not mine, it is not something I would say for them."
"I think it goes back to the states and Texas has decided that no that is not what we want in the state."
"I mean, I think that yeah, that could be a woman's right. Just like it's a man's right if he wants to have some kind of procedure. But I don't agree with it, and that's not my view," Mrs. Perry added.
Mrs. Perry's seemingly controversial comments on the issue are largely seen as a miscommunication, because if she had actually said that she believes abortion is a woman's right, she would be completely contradicting her husband's platform to restrict abortion in the state through legislation.
Earlier this summer, Texas' democratic Senator Wendy Davis made national news when she held a 13-hour fillibuster in an attempt to block the state's House Bill 2, an omnibus abortion bill that bans the procedure after 20 weeks of pregnancy and forces abortion facilities to meet the health code standards of ambulatory surgical care centers.
Those supporting the bill argued it helped to ensure safety for women in the state, while those opposing the bill argued the legislation was meant to effectively ban abortion in the state by forcing the closure of the majority of its abortion clinics.
Gov. Rick Perry, who supported the legislation, then called a special session to have the bill passed. He said the bill "[celebrated] and further [cemented] the foundation on which the culture of life in Texas is built."
Last Friday, abortion providers Planned Parenthood, the American Civil Liberties Union of Texas, and the Center for Reproductive Rights announced that they are filing a lawsuit against the state over some of the new abortion law's provisions, including its restriction on abortion medication and its effective shutting down of abortion clinics throughout the state. The lawsuit argues the new law harms instead of helping Texas women and violates the Fourteenth Amendment of the U.S. Constitution.
House Bill 2 will go into effect on October 29 unless it is blocked in court.