Pro-abortion group sues Mississippi over heartbeat abortion ban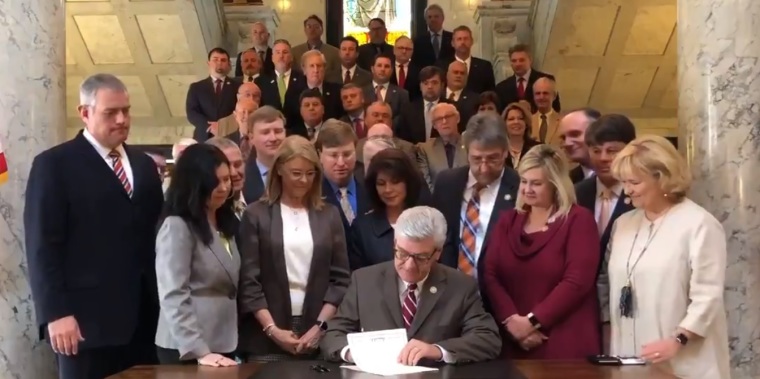 An abortion advocacy group is attempting to prevent a Mississippi law from taking effect that bans abortions when a baby's heartbeat can first be detected. 
Mississippi Gov. Phil Bryant signed Senate Bill 2116 into law on March 21. The law includes an exemption for abortions if it's deemed that a mother's facing a life threatening medical emergency in which the baby cannot be saved. 
The Center for Reproductive Rights has expanded a preexisting lawsuit they had against Mississippi regarding earlier pro-life legislation to include the heartbeat abortion ban.
Nancy Northup, president of the abortion advocacy group, said in a statement released Thursday that she believes the heartbeat abortion ban is "a near total ban on abortion."
"Many women don't even know they're pregnant at six weeks, and this law would force them to carry their pregnancies to term," Northup lamented. 
"Just four months ago, a federal judge told Mississippi they cannot ban abortion after 15 weeks, and now they've banned it even earlier. We will keep taking them to court until they get the message."
In February, Mississippi's legislature passed a pair of bills that would ban most abortions as soon as a heartbeat is detected. The Mississippi-based Clarion Ledger labeled it "one of the most restrictive abortion bans in the U.S."
Bryant applauded the passage of the bills in a statement posted to his Twitter account last month, noting that he planned to sign the legislation into law when it was given to him.
"I've often said I want Mississippi to be the safest place for an unborn child in America. I appreciate the leadership of the MS House and Senate, along with members of the legislature, for passing the fetal heartbeat bills today. I look forward to signing this act upon passage," tweeted Bryant tweeted at the time.
Earlier this year, Polk County District Judge Michael Huppert ruled that an Iowa law banning abortion when a baby's heartbeat can first be detected was unconstitutional.
"The Iowa Supreme Court held that a woman's right to decide whether to terminate a pregnancy is a fundamental right under the Iowa constitution, and that any governmental limits on that right are to be analyzed using strict scrutiny," wrote Huppert in January.
In an interview with EWTN last week regarding the possibility of a lawsuit over the heartbeat law, Bryant welcomed the legal battle.
"We feel very certain there will be a lawsuit filed. That's fine. If we've got to fight over something, an unborn child is worth the struggle and the battle and we intend to wage it," Bryant told EWTN.
"If you cannot invest money to protect an innocent life, what can we invest money for?"