Actress Candace Cameron Bure Defends Bakery That Refused Service to Lesbian Couple; Spars With View Co-Host Raven-Symone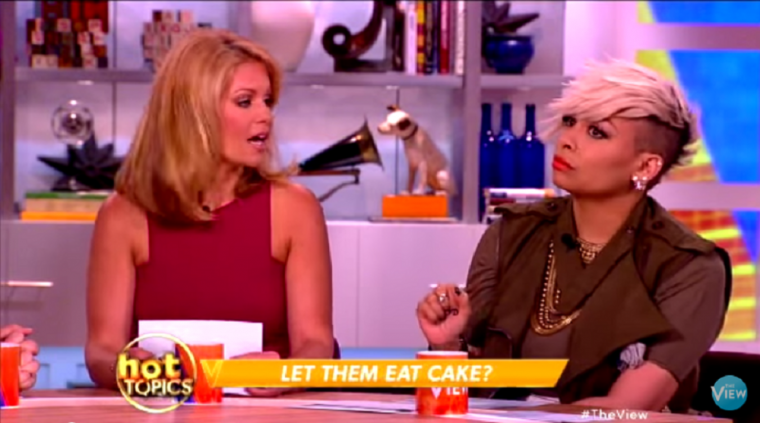 Christian actress Candace Cameron Bure sparred with ABC's "The View" co-host Raven-Symone in an episode Tuesday in which she defended Oregon bakers Aaron and Melissa Klein who were recently ordered to pay $135,000 to a lesbian couple for refusing to bake a cake for the Sapphic couple's wedding.
"I don't think this is discrimination at all. This is about freedom of association," said Cameron Bure, 39, in a clip from the show posted to YouTube. "It's about constitutional rights. It's about First Amendment rights. We do have the right to still choose who we associate with."
"[The bakery] didn't refuse to bake the cake because of [the couple's] sexual orientation," she continued. "In fact, they baked cakes for them previously. They had a problem with the actual ceremony because that — the ceremony — is what conflicted with their religious beliefs. They are saying that they stand for marriage between a man and a woman."
The Oregon Labor Commission ordered the Kleins to pay $135,000 to compensate Rachel and Laurel Bowman-Cryer for the emotional and mental anguish as a result of the Kleins' refusal to make their wedding cake. The Christian couple had already been forced to shut down their bakery, Sweet Cakes by Melissa, after gay activists campaigned against the business when the case attracted national attention.
"The Oregon law bars businesses from discriminating against sexual orientation, race, disability, age or religion," Symone is heard telling Cameron Bure at the start of the clip, "and to me, it's the same exact thing that they did back in the day saying that black people couldn't do certain things because it's my 'religious belief.'"
"I refuse to associate with you right now," said Symone, who is in a relationship with another woman.
Despite the fine, however, the Kleins have refused to back down from their position.
"He wants to silence anyone who opposes his point of view," Aaron Klein told TheBlaze, speaking specifically about Oregon Labor Commissioner Brad Avakian, who launched the case against the couple. "Unfortunately, he's doing this with the wrong Christian, because I fight back."
Klein further warned Americans and business leaders about why he thinks those who share his beliefs need to stand up.
"For years, we've heard same-sex marriage will not affect anybody," he said. "I'm here firsthand to tell everyone in America that it has already impacted people. Christians, get ready to take a stand. Get ready for civil disobedience."