Adoption Shouldn't Be Racialized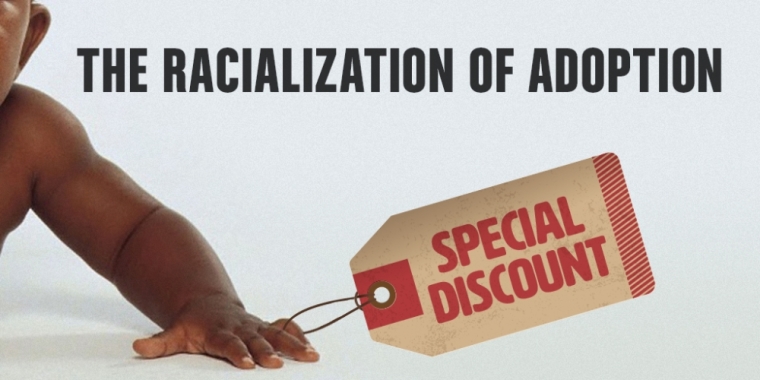 Adoption is a powerful and emotionally potent act, for the birth parent(s), the child and the prospective parents. To place a child for adoption or embrace a child needing a home and family is an incredible act of sacrificial love. We need to foster an environment where people pursue adoption more and the public is educated about the beautiful stories that typify the adoption experience.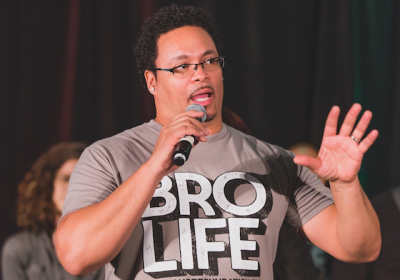 My parents shattered the myth of the unwanted child. I was conceived in rape. Many of my siblings came from desperately, but not hopelessly, broken situations. Each of us were loved like crazy — no matter our stories, no matter the world's expectations of our lives.
My amazing wife, Bethany, and I knew we wanted to adopt before we got married. It kind of runs in my blood. The private adoption of our youngest son amounted to about $13,000. We were blessed to get a tax refund that helped cover some of the costs, but we made many sacrifices to cover the rest. It wasn't easy but worth it all.
Families who are willing to bring a child into their hearts and home through adoption should get more help from a federal government that manages to throw billions at everything else, except at one of the most beautiful ways to build a family. Congress needs to reallocate the money it spends on killing human lives — half a billion taxpayer dollars funneled to Planned Parenthood every year — to life-affirming resources instead and help defray the costs of adoption. While it's currently non-refundable, making the Adoption Tax Credit a fully refundable credit would be a great start.
Christians really need to be more involved. Adoption is the essence of salvation. There is no redemption without it. So, it shouldn't be second nature, but first nature to those of us who claim God as our Father. We're all His adopted children. This is why The Radiance Foundation reaches out to birthparents (typically birthmoms, who are the ones left making these crucial decisions) to turn the unplanned into a loving plan.
Adoption, with the right support, can be a win-win-win situation for all involved: birthmom, child, and adoptive family. Although the expectation isn't that every single parent or married couple should or can adopt, we can all play a role through our financial contributions, by volunteering at pregnancy resource centers, supporting those on an adoption journey, and fighting material and spiritual poverty.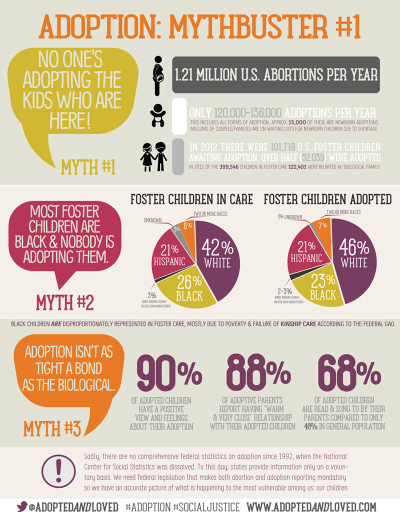 Awareness about adoption is key. There is no typical cost for adoption, for instance. Depending on the race of the child and type of adoption, the costs range from $0 to $40,000. Private adoptions of white infants (and international adoptions) can be quite costly. The variance in cost between African-American babies and other races is quite vast, sometimes costing less by tens of thousands of dollars. There are many black children in foster care that can be adopted through the state at no cost to adoptive parents.
In Georgia, for instance, one of the five factors listed as "Special Needs" adoptions was, up until 2010, being black. (Whether planned, unplanned, able or disabled, we all have special needs — to love and be loved).
According to the Department of Health and Human Services, 24% of those in foster care are black — nearly 7 times more than their 3.6% representation in the population. To compare, white children make up 42% of those in foster care which is 3 times more than their 12.7% representation in the population.
There are a number of factors that influence this. Legislative advocacy from large organizations including the National Association of Black Social Workers (NABSW), Child Welfare League and its subsidiary Black Administrators in Child Welfare focuses on more federal funding for guardianship or kinship care.
These subsidies promote only placement with a black child's relative, who is often financially incapable of providing for the child. According to the Government Accountability Office's 2008 report African American Children in Foster Care, kinship care often fails and is one of the major factors causing black children to remain in foster care at far higher rates
There are other factors, too, that account for longer times in foster care for black children, such as lack of available adoptive parents, poor recruiting efforts and, sadly, race
We are a nation still so uncomfortable with the hue of our skin that we miss out on the ultimate act of racial reconciliation — loving a precious child of another race simply because he or she deserves to be loved.
Transracial adoptions are beautiful. Same-race adoptions are beautiful. We're all part of the same human race so none of it should matter, anyway. Sadly, adoption continues to be racialized.
Pro-abortion activists often falsely assert that "white people won't adopt black children." It's their tragic way of justifying the hugely disproportionate number of black abortions, blaming racism on alleged unwilling parents instead of an industry that profits from killing these precious human beings. According to the Department of Health and Human Services' National Survey of Family Growth, 84% of white adoption seekers would "prefer or accept a black child."
Where there is racial and political resistance to transracial adoption of black children that has been going on for decades, it's mostly from those whose focus is supposedly child welfare. NABSW declared that "black children should never be placed in white homes for any reason" in a 1972 Position Statement, which continues to be held today by the organization.
They also oppose the provision in the 1996 InterEthnic Placement Act that eliminates using race as a factor in adoption and foster care placement. Their advocacy of the prevention of out-of-home placement, including transracial adoption, is not in the best interest of children.
Instead of actively seeking qualified and loving prospective parents (of any race), black children then languish in foster care longer — because some social workers fixate on racial politics instead of the needs of the child. Is culture then preserved, while the child awaits a family? Is ethnic identity more crucial than permanence? Than love?
Ask a child languishing in foster care about what she wants. "Yeah, I'm holding out for some black parents. I'd rather ride this no-home-no-family-no-love thing until they match my skin color" — words that no foster child says, ever.
The leading scholar on this issue, the late Dr. Rita Simon, conducted one of the most cited, in-depth longitudinal studies on the issue. Her research shows that over 80% of transracial adoptees strongly disagree with groups like the National Association of Black Social Workers.
According to Simon's extensive research: "Transracial adoptees do not lose their racial identities — they do not display negative or indifferent racial attitudes about themselves, and their families have as high a success rate as all other adoptees and their families."
The good news is that transracial adoptions from foster care have increased from 17.2% of all adoptions in 1996 to 20.1% in 2003, but the racial disparities in placement outcomes continue. But that can change. As an adoptive parent in an interracial marriage with four children — two of whom are adopted — I want to encourage you to adopt. Be the hope these precious children need.
Too often, adoption and foster care are racialized to the detriment of the child, when these children simply need a place to call home and someone to love them. That someone might just be you.
Reprinted with permission from Bound4LIFE.
Ryan Bomberger is an adoptee and adoptive father. He is also the Co-founder of The Radiance Foundation, which launched the first public billboard/web ad campaign (www.TooManyAborted.com) exposing abortion's hugely disproportionate impact in the black community.