Adrian Peterson Indefinitely Suspended by Vikings as Businesses Pull Support and Endorsements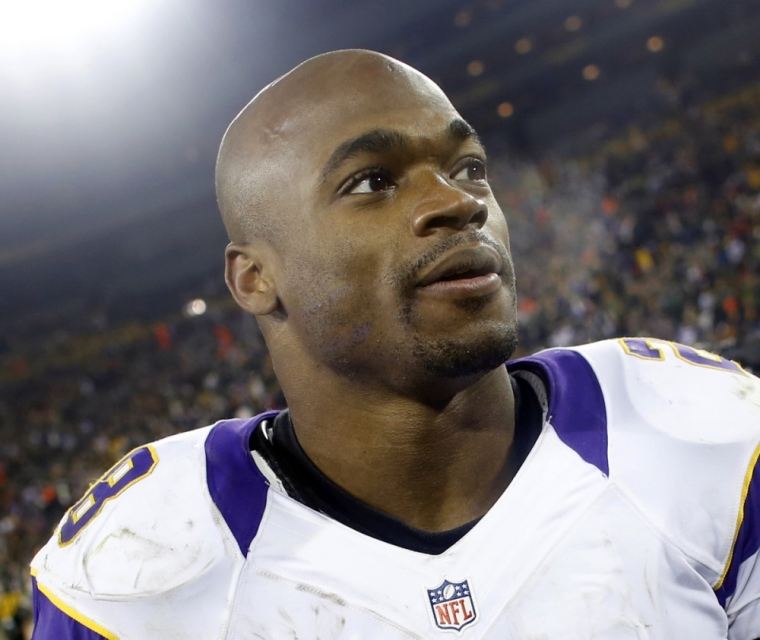 NFL star Adrian Peterson has been indefinitely banned from the game and attending or participating in any Vikings games; Peterson has also lost endorsements from several sponsors.
The Vikings originally allowed Peterson to participate in games and practices while his child abuse case in Texas continued. However, the team came under intense scrutiny for that decision by fans and sponsors, who threatened to pull support for the entire franchise if Peterson was allowed to continue playing. Now, though, the Vikings have changed their minds and decided to bench Peterson indefinitely while the case continues.
"While we were trying to make a balanced decision yesterday, after further reflection we have concluded that this resolution is best for the Vikings and Adrian," Vikings owners Zygi and Mark Wilf said in a statement. "We want to be clear: we have a strong stance regarding the protection and welfare of children, and we want to be sure we get this right. At the same time we want to express our support for Adrian and acknowledge his seven-plus years of outstanding commitment to this organization and this community."
The NFL has come under severe scrutiny for its handling of domestic abuse within the organization. After video of Ray Rice abusing his wife came to light, the organization seemingly scrambled to retain its good image by indefinitely banning Rice from the league. He has appealed the decision.
Meanwhile, Peterson faces child abuse charges in Texas after admitting that he struck his four-year-old son with a switch. The young boy was left with bruises and cuts; Peterson said that he never intended to physically harm his son but merely punish him. He has received support and criticism from fellow teammates and other NFL stars.
"I am not a perfect parent, but I am not a child abuser. I am someone that disciplined his child and did not intend to cause him injury," Peterson said in a statement.
Castrol Motor Oil, Special Olympics Minnesota, and Mylan Inc. all severed their endorsement ties with Peterson. Nike stores in the Twin Cities have pulled his jersey from their shelves; Peterson's attorney said that he "understands the gravity of the situation and this [benching] enables him to take care of his personal situation."
Peterson is due in court on Oct. 8.