After Apology for Church's 'Grave Sins,' Pope Francis Dedicates Mass to Women in Paraguay
After Apology for Church's 'Grave Sins,' Pope Francis Dedicates Mass to Women in Paraguay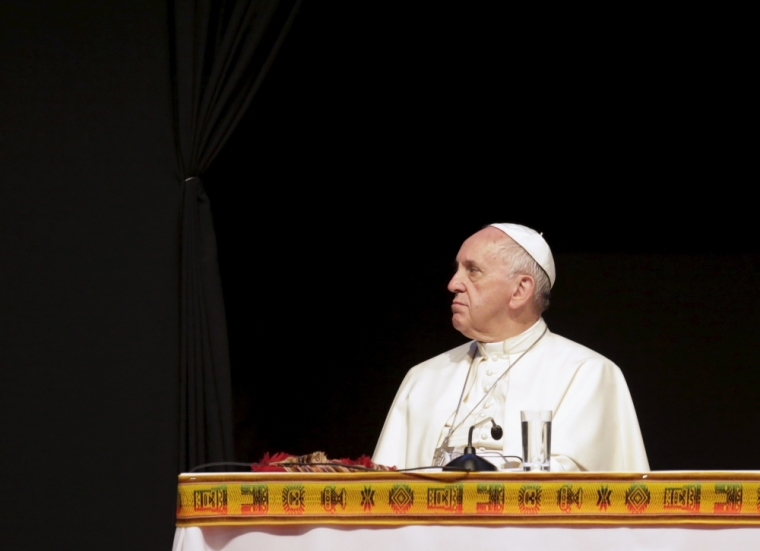 Pope Francis, who was in Paraguay Saturday for the last leg of his three-nation tour of Latin America, dedicated his trip's first mass to the women of that country, days after he apologized for the "many grave sins" committed by the Catholic Church against indigenous peoples in both North and South America.
"Here I would like especially to mention you, the women, wives and mothers of Paraguay, who at great cost and sacrifice were able to lift up a country defeated, devastated and laid low by war," the pope said as he celebrated Mass at Paraguay's most popular shrine of Our Lady of Miracles of Caacupe on Saturday.
"You are keepers of the memory, the lifeblood of those who rebuilt the life, faith and dignity of your people," said Francis in front of tens of thousands of people, according to Vatican Radio.
The pontiff was referring to the 19th century war against Brazil, Argentina and Uruguay, which killed almost the entire male Paraguayan population.
The shrine, where the mass was held, is just 25 miles from the Argentinian border. Tens of thousands of Argentinians crossed the border and gathered for the mass, waving Argentina's flag and cheering out loud.
"Thanks for making me feel at home," the pope responded.
In Bolivia on Thursday, Pope Francis apologized to the native peoples of the Americas for the Catholic Church's sins during the conquest of the continents.
"I humbly ask forgiveness, not only for the offenses of the church herself, but also for crimes committed against the native peoples during the so-called conquest of America," he said, speaking to a group of around 5,000 social workers of the church.
"I also want for us to remember the thousands and thousands of priests who strongly opposed the logic of the sword with the power of the cross. There was sin, and it was plentiful," he continued in his off-script remarks, according to the Independent newspaper. "But we never apologized, so I now ask for forgiveness. But where there was sin, and there was plenty of sin, there was also an abundant grace increased by the men who defended indigenous peoples."
It was a clear departure from his predecessor Benedict XVI, who during his 2007 visited to the continent said the natives of Latin America had been "silently longing" to become Catholics before they were forcefully converted.
Pope Francis has focused on poverty and inequality during his Latin America tour.
Francis has said he wants a "Poor Church for the Poor." And this is reflected also in his choice of countries he has visited. For example, he visited Albania and Bosnia in Europe before going to wealthier countries in the region.
Francis did not include Argentina in his South American tour, perhaps due to the forthcoming presidential election there. But he plans to travel to his native country next year.
In September, the pope will visit the United States.