After Gay Marriage, Is Polygamy Next?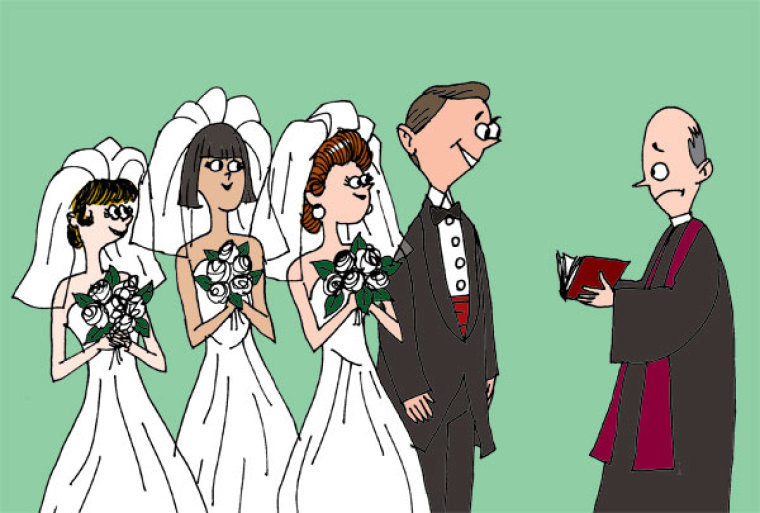 After the U.S. Supreme Court ruled last Friday that same-sex couples have the constitutional right to get married, Chief Justice John Roberts and many others have argued that the reasoning used by the court to justify the right to same-sex marriage gives "no reason" why plural unions should be banned.
Although the ideas of people legally marrying more than one partner and married couples adding other love interests to their state-recognized marriages might seem far-fetched, Roberts' gay marriage dissent makes the case that the majority's opinion in Obergefell v. Hodges, written by Justice Anthony Kennedy, all but sets a precedent that could lead the nation down the slippery slope to the legalization of polygamy, also known as polyamory.
"Although the majority randomly inserts the adjective 'two' in various places, it offers no reason at all why the two-person element of the core definition of marriage may be preserved while the man-woman element may not," Roberts wrote. "Indeed, from the standpoint of history and tradition,a leap from opposite-sex marriage to same-sex marriage is much greater than one from a two-person union to plural unions, which have deep roots in some cultures around the world. If the majority is willing to take the big leap, it is hard to see how it can say no to the shorter one."
In the wake the Supreme Court's decision there have been numerous op-eds stating either that the gay marriage ruling could lead to legalizing polygamy, arguing that the Supreme Court ruling won't lead to polygamy and some even calling for the outright legalization of polygamy.
Whatever the outcome for polygamy in America, the polygamist's right to multiple recognized marriages, which has been termed the "next horizon of social liberalism" by liberal political commentator Fredrik deBoer in op-ed for Politico, is something that individuals are already attempting to achieve in the aftermath of the Supreme Court's ruling.
On Tuesday, Nathan Collier, a former Mormon in Helena, Montana who was excommunicated for polygamy, submitted an application to the Yellowstone County Courthouse so that he can be legally married to his "two wives," Victoria and Christine.
Although Montana, like the other 49 states, bans polygamy, Collier, who was inspired by the high court's ruling, said he plans to sue the state if his application is denied. Officials at the county clerk's office initially denied Collier's request but later said they need to take it up with an attorney before approving or denying his application.
"It's about marriage equality," Collier told The Associated Press. "You can't have this without polygamy."
It's not just Collier that is advocating for the government to recognize polygamous marriages. In his op-ed entitled "It's Time To Legalize Polygamy," deBoer argues that "polygamy is a fact" and those engaging in polygamy have the right to cultivate their multiple loves into state-recognized marriages.
"People are living in group relationships today," deBoer explained. "The question is not whether they will continue on in those relationships. The question is whether we will grant to them the same basic recognition we grant to other adults: that love makes marriage, and that the right to marry is exactly that, a right."
Citing Roberts,' deBoer states that majority opinion applies to polygamists just as much as it does to same-sex couples to show the political future that the polygamy movement has in the United States.
"Given that many of us have argued, to great effect, that deference to tradition is not a legitimate reason to restrict marriage rights to groups that want them, the next step seems clear," deBoer states. "We should turn our efforts towards the legal recognition of marriages between more than two partners. It's time to legalize polygamy."
Conservative author Jonah Goldberg contends in an op-ed for The Stream that as social conservatives constantly warned that the legalization of gay marriage could lead to polygamy throughout the debates over gay marriage, liberals conveniently called those claims absurd in order to further the LGBT agenda.
But as soon as the tide of public opinion shifted along with the president's views to favor gay marriage, Goldberg points out that liberal news sites started calling for the legalization of polygamy.
"A deeper and more poisonous problem is the breakdown in trust. Again and again, progressives insist that their goals are reasonable and limited. Proponents of gay marriage insisted that they merely wanted the same rights to marry as everyone else. They mocked, scorned and belittled anyone who suggested that polygamy would be next on their agenda," Goldberg wrote.
"Until they started winning. In 2013, a headline in Slate declared, 'Legalize Polygamy!' and a writer at the Economist editorialized, 'And now on to polygamy.' The Atlantic ran a fawning piece on Diana Adams and her quest for a polyamorous 'alternative to marriage.'"
Although some on the left may already be pushing for recognized polygamous marriages and some conservatives feel that the majority's opinion opens the door for polygamy, that doesn't mean the government or courts will be compelled to use the Supreme Court's gay marriage ruling as a precedent to justify polygamy.
In another Politico op-ed, author Jonathan Rauch rebuts Roberts' argument and states that there are stark differences between same-sex marriages and polygamous marriages that compel governments to prevent the legalization of polygamy.
Unlike same-sex marriage, Rauch states, polygamy has an ancient history and most civilized western societies have banned such marriages because of the ill that it has caused on societies where it exists, such as unequal marriage opportunities for low-status men due to high-status men "hoarding wives."
"With all due respect to the Chief Justice, if reducing rather than expanding marriage opportunity and destabilizing rather than stabilizing society aren't 'relevant differences' between polygamy and same-sex marriage, I don't know what would be," Rauch asserted. "Now, people who want to take issue with the theoretical and empirical literature on polygamy should feel free to do so. What they should not do is what Chief Justice Roberts and Fredrik deBoer do, which is to ignore the literature altogether."
"Blandly asserting that there's no good reason to oppose polygamy once gay couples can marry makes no more sense than saying there's no reason to oppose date rape or securities fraud once gay couples can marry," Rauch continued. "It doesn't follow, and it isn't true, and the intellectual laziness implicit in asserting it is epic."
Along with the fact that polygamy, especially Islamic societies, leads to abuse of women and women being treated like second-class citizens, Rauch states that studies show that monogamous marriage "results in significant improvements in child welfare, including lower rates of child neglect, abuse, accidental death, homicide and intra-household conflict."
Racuh's op-ed included a map which shows that the 25 percent of the world's countries that allow polygamy tend to be dangerous and less stabilized countries across Africa, the Middle East and South East Asia.
"By abolishing polygamy as a legal form of marriage, western societies took a step without which modern liberal democracy and egalitarian social structures might have been impossible: they democratized the opportunity to marry," Rauch wrote. "It's no coincidence that no liberal democracy allows polygamy."