Airstrikes Alone Cannot Defeat ISIS; Christians in Syria Facing Possible Genocide, Warns American Professor and Author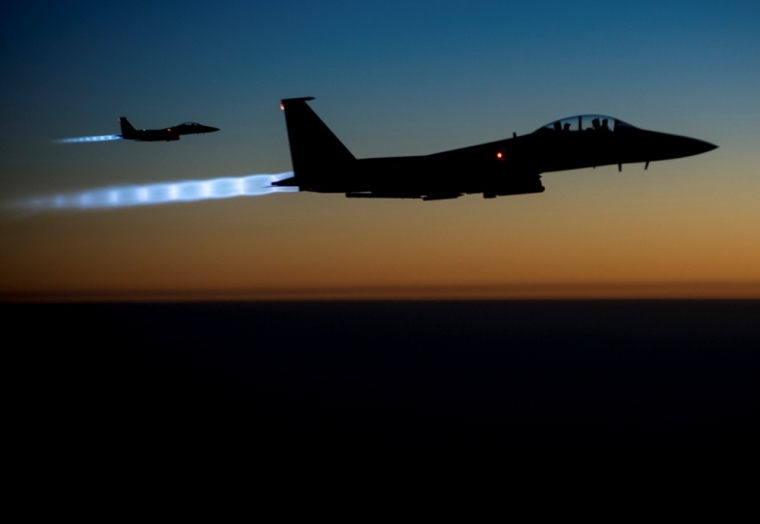 A retired American professor and author has said that terror group ISIS cannot be defeated by airstrikes alone, and that Christians in Syria are facing genocide if Sunni groups take over. William Relf, who has a PhD in international relations, shared his views on a number of complex ethical, political and strategic dilemmas facing U.S. forces in the Middle East.
Relf, who has taught strategy, international management, and entrepreneurship at institutions such as California State University, the Peter Drucker School of Management at Claremont Graduate University, and Nanyang Technological University of Singapore, has led a business seminar in Iran, and authored novels such as The Iranian Connection.
Speaking with The Christian Post in a phone interview on Tuesday, Relf offered his thoughts on President Barack Obama's strategy of hitting ISIS targets throughout Iraq and Syria with airstrikes, but without committing any official ground troops. He said that an air strategy alone cannot be enough to stop the Islamic militants.
"The reason I say no is because they [ISIS] mix in with the civilians. I think we make a mistake when we bomb areas where they kill civilians. It's just like Hamas in Gaza, when the Israelis bombed them, they couldn't avoid killing civilians because they [the Hamas militants] put the rockets in schools and hospitals. We can't stop them just by air," Relf told CP.
He clarified, however, that he is not advocating for placing American troops on the ground.
The author stated that it is important to always ask what is the next step with any decision taken.
"The decision has been made to bomb ISIS. What's the next decision?" he asked. "I don't have the answer to this question, but it is certainly one that needs to be asked."
Relf continued: "Let's assume that they are successful at diminishing ISIS significantly. Now, what's the next decision? You have a territory there that is close to anarchy."
The author elaborated on the contentious history and in-fighting in the Middle East, and stated that it is a "geopolitical principal that nation-states as a rule have a tendency or drive to expand."
Giving examples from the territorial expansions of the U.S., Russia, and Germany, he said that states are often driven by the need to expand in order to control resources, and for security.
On the subject of the three-year Syrian civil war, waged between various rebel groups and the government of President Bashar al-Assad, Relf noted that Christians could be facing genocide if Assad is toppled and Sunni Islam groups take over.
Back in September, CP interviewed Pastor Mouner Ajji of Aleppo Baptist Church, Syria, who spoke out against Obama's plans to arm moderate rebel groups, and argued that all such factions seek to establish Islamic rule over the country.
"You need to be on ground to know this, there is no such [thing] as moderate rebel groups, all rebel groups are very Islamic ones. All of them want to establish an Islamic state," Ajji said.
"He's confirming what I thought," Relf said about the pastor's comments. "Almost any Sunni group that took over, there would be a genocide against Christians. Whereas I think the Shiite are a little more tolerant. I think that Assad was somewhat protective of the Christians. At least he was politically, saying, 'I don't want them against me, there is no reason for me to go after them.'"
The U.S. is facing a dilemma in terms of who to support in Syria, where ISIS is also trying to gain power. The hopes are that by backing what are seen as moderate rebel groups, the government can avoid aiding ISIS or the government of Assad, who in 2013 was accused of using chemical weapons on his own people.
Relf offered that this may not turn out to be the wisest strategy, however.
"I would criticize Obama for drawing that red line on chemical weapons. I don't think publicly he should have said that, or said that Assad should go. That took away options that we might have had. Even if we don't like Assad, maybe he's better than having ISIS in there?" he said.
"You could end up with two choices — either Assad, or the Islamic State. What do the Americans do? Go in and take out both of them? Will we stay out, and let [them] fight?" he asked.
"And if what we call the 'moderate' rebels [won the conflict], can they really govern? I think we're putting our hopes not on a very good horse, so to speak."
The retired university professor also offered his thoughts on the question of Iran's role in the conflict. President Hassan Rouhani has publicly opposed ISIS, stating that based on Islamic tenets and culture, the terror group's murderous acts "equal the killing of the whole humanity."
Rouahani added in an interview last month: "And therefore, the killing and beheading of innocent people, in fact, is a matter of shame for them and it's the matter of concern and sorrow for all the human and all the mankind."
Israeli Prime Minister Benjamin Netanyahu spoke before the United Nations last week and said that Iran's stance against ISIS is a lie, however, and warned that Iran's nuclear capabilities pose an even greater danger for the world than the terror group.
"Make no mistake: ISIS must be defeated. But to defeat ISIS and leave Iran as a threshold nuclear power is to win the battle and lose the war," Netanyahu proclaimed.
Relf said that he respects where Netanyahu is coming from, but noted that whether Iran really does pose a greater threat than ISIS remains a difficult question.
"Netanyahu is most concerned about Iran, and with good reason," the author said.
"If the Islamic state expanded sufficiently, it might be a big threat. Is the Islamic State likely to [commit] terrorist acts in this country [the U.S.] — I would say yes. Are the Iranians going to [commit] terrorist acts in this country? Not unless we attack them. It depends on how you look at the threat. Iran is a bigger country, so they would be a much bigger threat, absolutely."