Al Sharpton cried then praised God for Derek Chauvin's conviction for George Floyd's murder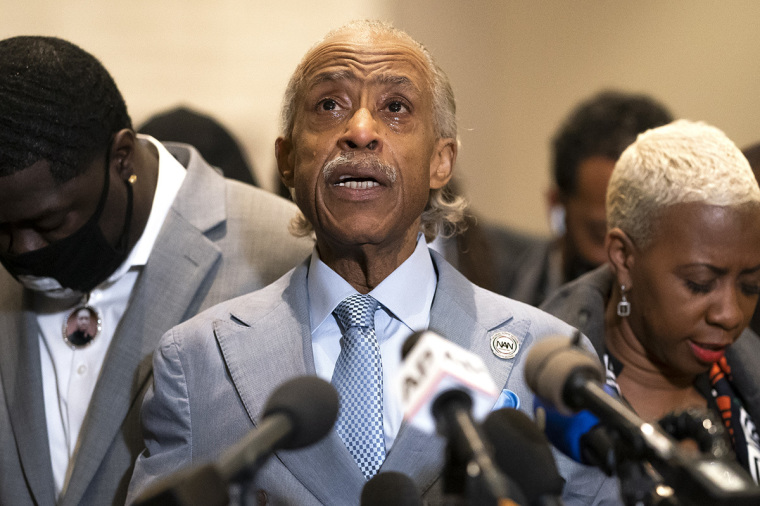 Surrounded by family, friends and colleagues like the Rev. Jesse Jackson Sr. and Pastor Jamal Bryant, longtime civil rights leader, the Rev. Al Sharpton, praised God and revealed that he broke down in tears moments after former Minneapolis police offer Derek Chauvin was found guilty of the murder of George Floyd Tuesday.
"We want to pray and thank God. Somehow God made a way. He had mercy. We believe in a God that can even get through the cracks of the jury room and bring conscience and bring truth," Sharpton said shortly after a jury found Chauvin guilty of second-degree murder, third-degree murder and second-degree manslaughter for Floyd's death.
Floyd, a 46-year-old African American man, died in police custody on May 25, 2020, after he was restrained for several minutes by Minneapolis Police Department officers. Chauvin was caught on video kneeling into Floyd's neck as he begged for his life until he stopped breathing.
The Minneapolis Police Department said in a statement that officers had responded to a call about a man suspected of forgery. Authorities were told someone tried to pay with a fake $20 bill at Cup Foods. The video of Floyd's death sparked international protests and calls for justice from many Christian leaders including Sharpton, who has for decades marched and pushed a racial justice agenda through his National Action Network.
Sharpton called Chauvin's conviction in Minnesota, which comes less than a year after Floyd's death, historic.
"This is the first time in the history of this state that a white police officer has been convicted, less known, convicted of a murder. This is the first time in a long ring of fights that we've seen three counts, guilty on all three. We don't find pleasure in this. We don't celebrate a man going to jail. We would have rather George be alive," he said as Floyd's family and friends shouted "amen!"
"We celebrate because we, because young people, white and black, some castigated, many that are here tonight, marched and kept marching and kept going. Many of them looked down on, but they kept marching and wouldn't let this die," Sharpton continued.
"This is an assurance to them, that if we don't give up, that we can win some rounds," he said, noting that they will fight until The George Floyd Justice in Policing Act becomes law.
The George Floyd Justice in Policing Act would overhaul policing and eliminate qualified immunity for all local, state and federal law enforcement officers. Qualified immunity shields police officers performing discretionary functions from civil liability.
Sharpton, who eulogized Floyd at his funeral last year, is set to eulogize another man, Daunte Wright, 20, who is mixed-race on Thursday. Wright was shot dead by Kimberly Potter, a white Brooklyn Center police officer on April 11 after she mistook her gun for a Taser. 
Wright was pulled over for expired license plates and resisted arrested and jumped back into his car when an officer attempted to handcuff him. He had an open warrant for his arrest for a misdemeanor firearms offense for aggravated robbery in 2019 in which he'd choked a woman and threatened to shoot her if she didn't hand over $820 she had stuffed in her bra to pay for rent. 
Potter subsequently resigned on April 14 and was formally charged on that same day with second-degree manslaughter following days of protests and riots.
Speaking Tuesday about the Chauvin verdict, Sharpton added, "We're going to have to deal with the funeral of Daunte Wright in this same county. This same area. We still have cases to fight but this gives us the energy to fight on." 
He also praised the jury for allowing God to use them in Chauvin's trial.
"For the jury, we want to thank them for letting God give them the strength. Wherever they are tonight. We want them to know we broke down in tears when we heard the verdict. We had to hold each other and hug in tears because too many nights we cried, many of us for decades. It's been nights in jail but today we can wipe our tears away and fight on for another day," he said.
Bryant who was with Sharpton, Jackson and the Floyd family in Minneapolis, shared a video on Instagram Wednesday showing an emotional Sharpton and Jackson.
"Sometimes you cry not out of pain or grief but out of relief.... this has been a long journey! Supremacist[s] paint us as savages, evangelicals as heathens, racist police as suspects but we are God's children and we are human! @real_sharpton @revjjackson I didn't have the strength to cry from feeling drained, shocked and numb. It's a reminder that you can't be so use[d] to fighting that you lose capacity to feel," he said.