Alabama Gov. Robert Bentley Denies Affair After Explicit Recordings Surface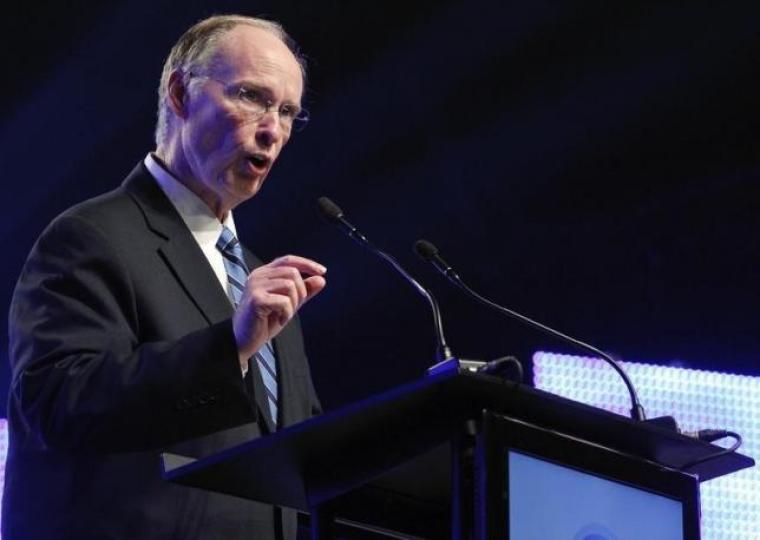 Alabama Gov. Robert Bentley denied at a news conference Wednesday that he had an affair with one of his top aides, but admitted he had made inappropriate remarks in phone recordings that have been made public.
"At times in the past, have I said things that I should not have said? Absolutely, that's what I'm saying today," Bentley said during a news conference at the state capitol where he apologized for "any conversations and behavior that was inappropriate."
Bentley, who was elected governor of Alabama in 2011, acknowledged that he made the explicit comments to Rebekah Mason, his top political adviser, after former Alabama Law Enforcement Secretary Spencer Collier accused him of having an affair with her.
Collier said he is willing to swear on the Bible to the allegations but Bentley has denied having a physical relationship with Mason.
Recordings of the explicit comments were purportedly created by members of the Bentley family in 2014 as they tried to ascertain whether he was involved in a relationship, according to AL.com. In portions highlighted by the news outlet Bentley describes his love for Mason.
"You know I just I worry about sometimes I love so you much," Bentley reportedly tells a woman he calls Rebekah in the conversation." I worry about loving you so much."
At Wednesday's press conference, he said he loved all of his staff.
"You know what?" he's heard asking in the recording. "When I stand behind you, and I put my arms around you, and I put my hands on your breasts, and I put my hands (unintelligible) and just pull you real close. I love that too. "
When asked about that portion of the recording, Bentley reiterated that the relationship was not sexual.
Other excerpts, however, suggest a less than platonic relationship.
"Baby, let me know what I am going to do when I start locking the door. If we are going to do what we did the other day, we are going to have to start locking the door," Bentley is heard saying.
"Baby, I love you. I know we are in a difficult situation. Unless I make things as normal as possible here, it is going to be hell. ... I miss you. I wish you were here with [me] right now. I wish I could hold you. I wish I could kiss you. ... I wish that, I do," he said.
The public revelation comes nearly seven months after Dianne Bentley, to whom he was married for 50 years, filed for divorce. In court records she charged that "their marriage has suffered an irretrievable breakdown." The couple, both 72 at the time, were married in 1965 and have four sons.
Addressing his Christian faith in 2011 as Alabama's newly elected governor, Bentley created a firestorm following a speech at the historic Dexter Avenue King Memorial Baptist Church in Montgomery where he suggested that only Christians with the Holy Spirit living inside them were his brothers and sisters.
"If you have been adopted in God's family like I have, and like you have if you're a Christian and if you're saved, and the Holy Spirit lives within you just like the Holy Spirit lives within me, then you know what that makes?" Bentley said. "It makes you and me brothers.
''Now I will have to say that, if we don't have the same daddy, we're not brothers and sisters. So anybody here today who has not accepted Jesus Christ as their savior, I'm telling you, you're not my brother and you're not my sister, and I want to be your brother," Bentley added.
It was Mason, then his new communications director, who helped him put out the fire. ''He is the governor of all the people, Christians, non-Christians alike," she assured media.