Alabama Quarterback Prayed, Spoke in Tongues to Keep Calm During National Championship Game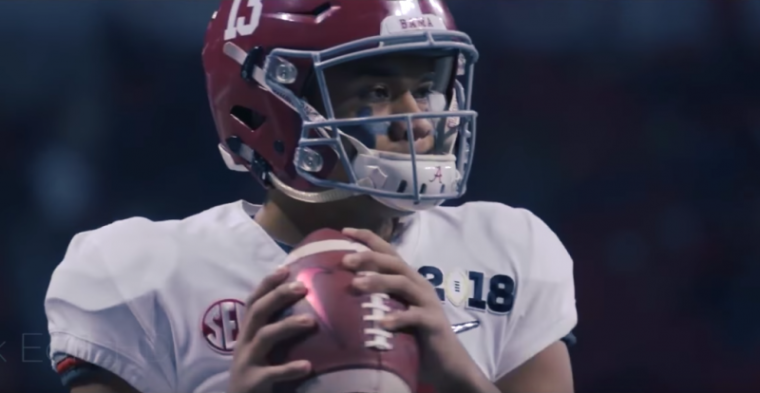 American Quarterback Tua Tagovailoa made headlines this week after he claimed he was speaking in the heavenly languages of tongues as he played in the National Championship Game and led his team, Alabama Crimson Tide, to victory.
Alabama Crimson Tide beat their rivals, Georgia Bulldogs, on the football field Monday night with a 26-23 win in the College Football Playoff National Championship game. As the game went into overtime, Tagovailoa burst onto the field with an incredible second-half performance at Mercedes-Benz Stadium.
The young athlete completed 14 of 24 passes for 166 yards with 3 touchdowns and 1 interception. His remarkable playing led his team back after two 13-point deficits. Tagovailoa capped off his performance by throwing the game-winning 41-yard touchdown pass to his teammate, DeVonta Smith.
While speaking to Yahoo Sports' Pat Forde after the victory, Tagovailoa revealed that he spoke in tongues throughout the entire game to keep calm during a high-pressure second half against the Bulldogs.
"I was praying," Tagovailoa said. "I was speaking in tongues. It kept me calm."
He reportedly prayed before and after possessions. The believer prayed as he passed the ball and scrambled his way out of defeat.
"I would say my poise comes from my faith," Tagovailoa said. "I just pray for peace."
Alabama news publication Seccountry.com picked up the story and publicized Tagovailoa's bold stance to speak in tongues while playing the game.
"He might pray for peace, but Tua unleashed mayhem on the final play Monday night. Merriam-Webster defines 'speaking in tongues' as 'to say strange words that no one can understand, especially as part of a religious experience.' It definitely worked. Tagovailoa created some kind of experience for Alabama fans Monday, that's for sure," the publication reported.
As reported in a prior Christian Post article, both teams going head to head Monday night had players that are not ashamed to openly talk about their Christian faith. In the annual college football profile edition of FCA Magazine, a number of football players went on record to speak about their passion for Christ.
Just to name a few, Georgia tight end Jeb Blazevich told FCA about the importance of spending quality time with Jesus.
"I pursue a relationship with Christ through spending quality time with Him," he said. "Without spending time every day with Jesus, listening and talking to Him, I can't be the man I want to be."
Alabama defensive back Minkah Fitzpatrick added that reading his Bible helps his relationship with God.
"I pursue a relationship with God by spending time in His Word and being in His presence," he maintained. "He is a relational God, so forming a relationship with Him is most important to me."
Tagovailoa likewise shared his faith with ESPN after the game.
"First and foremost, I'd just like to thank my Lord and Savior, Jesus Christ. With Him, all things are possible," he declared. "That's what happened tonight."