Alabama Town Deifies Atheists' Threat by Displaying Nativity Scene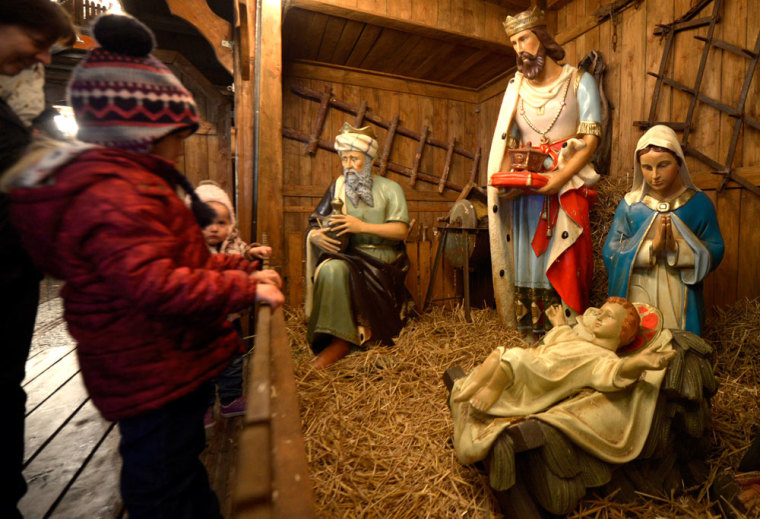 A Rainbow City community in Alabama says it will host a Nativity scene at City Hall despite objections raised by the Wisconsin-based atheist group Freedom for Religion Foundation, which claims the Christmas event will amount to an endorsement of one religion.
Alabama Rep. Mack Butler has announced that Rainbow City community leaders will host a "Night at the Nativity" on Dec. 23 at Rainbow City Hall.
"This is not sponsored by our local government as they cannot endorse religion," yellowhammernews.com quoted Butler as saying. "However, 'We the People' can."
Last year, FFRF, on behalf of a "concerned local resident," sent a letter to the city mayor objecting to the erection and maintenance of a Nativity scene on public property.
"It is our understanding that the town of Rainbow City owns and erects a nativity in front of Rainbow City Municipal Building," the letter stated, according to Gadsden Times. "We understand that the nativity is the lone holiday display. The scene depicts Mary, Joseph, and a baby Jesus, each with a halo around their head," the letter states. "The nativity appears to be constructed of tube lights and stands alone on the city hall lawn."
The letter claimed it's "unlawful for the town to maintain, erect or host a holiday display that consists solely of a nativity scene, thus singling out, showing preference for, and endorsing one religion." It added, "Displaying an inherently Christian message on government property unmistakably sends the message that Rainbow City endorses the religious beliefs embodied in the display."
Following the letter, the community had to remove the Nativity scene for a brief period of time, after which they re-erected it. This year, the Rainbow City community is determined to hold the Christmas event, defying the atheist group for a second year.
Butler said he has met in person and by phone several local pastors who are helping with this event. "Many of the local churches are moving their service to city hall this night. We will sing Christmas carols and have cookies and hot chocolate as we celebrate as a community the best gift of all, Jesus Christ."
Earlier this year, the city of Glencoe in Alabama had to remove a Christian flag from government property following a complaint by the FFRF.
The Christian flag had been put on the grounds of a police department. Tashia Blackerby, spokeswoman for city of Glencoe, told The Christian Post in July that the FFRF complaint was tied to previous issues the atheist group had with her city. "We received letters from the [FFRF]. First of all, it was on our manger scene. We had a manger scene at Christmas time," said Blackerby. "And then it was back-to-back with the Christian flag that we had flying out here in front of the police department."