Alfie Evans' Parents 'Heartbroken' Over Son's Death Days After Hospital Turned Off Life Support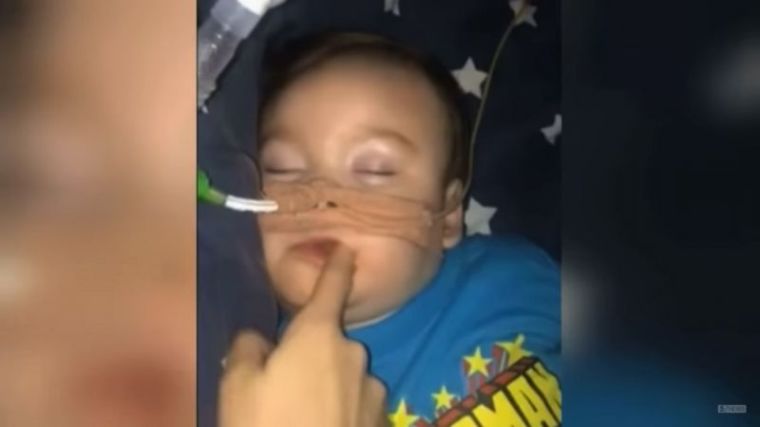 British toddler Alfie Evans died in the early hours of Saturday morning, his father announced in a message on Facebook, five days after his life support was switched off. 
Tom Evans and Kate James had lost their legal fight with British and EU courts to continue treatment for their 23-month-old son, who had a degenerative neurological condition. They were also barred from taking their son home or having him transported to a hospital in Rome where he would have received further treatment. 
In a message posted on Facebook, Alfie's father said: "My gladiator lay down his shield and gained his wings at 02:30 absolutely heartbroken. I LOVE YOU MY GUY."
Speaking outside Alder Hey Hospital before his son's death Saturday morning, Evans said, "It's come to a point when his mum's actually asleep next to him so she can go to sleep, she feels comfortable with him."
After Alfie's life support was removed Monday night, his father said on Tuesday morning that doctors were "gobsmacked" that his son was breathing nine hours after his life support ended.
Earlier this week, discussions had been underway to allow Alfie to go home, but that request was subsequently denied. His case — much like that of British baby Charlie Gard who died last year under similar circumstances — has garnered international attention and raised concerns over parental rights in the U.K. and Europe.
On Thursday, Father Don Gabriele Brusco, an Italian priest who was sent to minister to Alfie and his parents on April 16, was removed from the toddler's bedside by hospital staff, according to a report from the Italian newspaper La Nuova Bussola. 
Brusco reportedly told staff that God was watching what they were doing and would judge them for not continuing Alfie's life-saving treatment. The priest was subsequently removed from the hospital by Liverpool Archbishop Malcolm McMahon. 
The BBC reported that following Wednesday's Appels Court ruling that barred Alfie from being transported to Rome for ongoing treatment, despite Italy granting the toddler citizenship, his father said the family would then "start asking [for Alfie to be allowed] to go home."
Speaking to reporters outside the Liverpool hospital on Thursday, Evans said, "We got rejected yesterday to go to Italy unfortunately. We could take it further but would that be the right thing to do, would there be more criticism?"
Evans said the hospital had also denied Alfie basic sustenance and nutrition. Alfie had been in the care of Alder Hey Hospital since December 2016 where he was reportedly in a semi-vegetative state for more than a year. 
Like Charlie Gard, Alfie's plight generated protests and reinvigorated debate about parents' rights and the National Health Service.
Steven Woolfe, a member of the European Parliament for Northwest England, is spearheading a campaign to pass "Alfie's Law," which would give parents of terminally-ill children more say in end-of-life hospital care.
Woolfe observed that the previous case of Charlie Gard and now Alfie Evans "show a dangerous trend of public bodies depriving parents and families of the right to make decisions they believe are in the best interests of their children."
"Parents' rights should neither be ignored nor dismissed as irrelevant by hospitals and courts, who believe they know best and have the power, money and resources to overwhelm families who simply want to save their child," he said.
"We demand a change in the law to restore the rights of parents in such decisions."
Echoing those concerns across the Atlantic, Charles C. Camosy, a theology professor at Fordham University in New York City, wrote in the Christian journal First Things Wednesday that a critical distinction exists regarding Alfie Evans and the hospital's move to discontinue care against the wishes of his parents. The West, he said, is now at a "crossroads." 
"Let us not mince words. As with Charlie Gard before him, Alfie Evans' death is being aimed by the very people whose vocation it is to help and protect him," he said.
"The difference in Alfie's case is that, because he has continued to breathe, the pretense of 'removal of burdensome treatment' is patently absurd. In a situation that was no doubt distressing to those who hoped he would die, Alfie's continuing to breathe has clarified the true object of the act of removing his ventilator."
He concluded: "Enough with the deference to the medical and legal establishment and its judgements about which lives are worth living. Now is a time for choosing. The most vulnerable require our clear and uncompromising support."