AME Church leader was in dark about Jamal Bryant's decision to take job at New Birth until days ago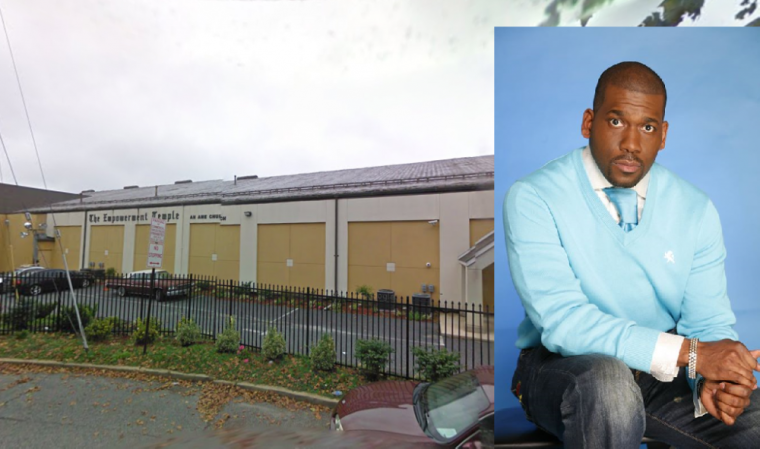 Like many in his congregation at Empowerment Temple, controversial megachurch pastor Jamal Bryant said Bishop James Levert Davis, who leads the Second District of The African Methodist Episcopal Church which oversees his church, knew nothing about his decision to resign from his church until just days ago.
In an extended video statement on Facebook Live on Wednesday, Bryant thanked Davis for giving his blessing even though he "had no idea about this transition, about this shift, or this change until I called him this weekend to let him know that the call has been made from this new station."
"He sighed with shock and with disappointment but said 'Let me pray on it.' He prayed on it and said 'if this is what God is calling you to do, then I am standing with you and I'm going to support you," Bryant said.
In an earlier interview with the Atlanta Journal-Constitution, Bryant revealed that he only told his parishioners at the 10,000-member Empowerment Temple in Baltimore that he was resigning on Sunday but did not tell them it was to take over as senior pastor at New Birth Missionary Baptist Church in Georgia, once led by his former benefactor, Eddie Long.
He noted that people were not very happy about the shock announcement made by New Birth publicly on Monday but insisted on Wednesday that his decision was made by God.
"I am mindful that many of those of you who have been privileged to serve and to lead for 18 years are disillusioned and dizzy, frustrated, upset, many of you are angry, I want you to know that this was not my choice, not my decision but this is what it is that God has dictated over my life.  And because I've always followed God into the realms of the ridiculous, the unseemly, this is no different than that," Bryant told his supporters.
He also explained that he first began hearing from God that it was time for him to leave Empowerment Temple about a year ago.
"About a year ago, started feeling a pull from God that was unsettling and unnerving that was tapping me saying 'your season is coming to an end.' And it made absolutely no sense to me because we were about to become the first black megachurch in the country to go completely green. Made absolutely no sense ...," Bryant explained while citing a host of other projects his church was involved in.
"In the middle of that, God tapped me on my shoulder and says, 'your season is coming to an end' almost like Hezekiah. Get your affairs in order. Almost reminiscent of Abraham. He didn't tell me where I was going, what I was going to do or where I would be. Then a few months ago, God shifted something. He said I'm getting ready to take you to a place outside of what Alice Walker calls 'the temple of your familiar' to go away from the city in which you were raised, the denomination in which you've always been a part of three generations in," he continued.
Bryant said he was challenged by God to see "whether you can trust me" and be obedient "even when it's inconvenient."
Bryant's ministry at Empowerment Temple was almost destroyed after he admitted to an extramarital affair while he was married to now ex-wife Gizelle Bryant, who stars on Bravo TV's "Real Housewives of Potomac." Since his divorce, he was also alleged to have fathered a child with Latoya Shawntee Odom. His ministry remained intact and he thanked his church for supporting him.
"Through all of that, Empowerment Temple saw me get married, saw me go through divorce, saw me live through embarrassment, through shame, through depression, through all of that, Empowerment stuck with me. They loved me not just as a pastor but even as a … shepherd. [They] said in spite of your frailty, in spite of your brokenness, we still see the God in you," he said.
"With all of your transitions, with all of the shifts, with all of the changes, all of the shame, all of the demonic attacks, all of the negative press, Empowerment stood with me. We have the anointing of the phoenix and we kept rising through the ashes," he continued.  "If I live a thousand years, I wouldn't be able to thank Empowerment Temple enough and the people of Empowerment Temple."
Bryant said in helping to make the decision to move to New Birth Missionary Baptist Church, he consulted his father, John Richard Bryant, a retired presiding bishop in the AME Church, who advised him that when God called him to preach "he didn't call you to a denomination, he called you to service."
"That meant the world to me as a third-generation AME," Bryant said, according to the Atlanta Journal-Constitution.
The Baltimore preacher said even though he is moving to lead a church which is part of a different denomination, he wasn't "abandoning the AME church" or leaving Empowerment Temple completely until his successor has been found.
"I am not abandoning the AME church. It is the oldest black Christian denomination in this country. They have supported me, invested in me, prayed for me and pushed me. So the  larger AME church, know that while it is I am shifting locations, demographics and construct, as long as there is breath in my body, I honor the AME Church and my denomination. There's absolutely nothing that I've attempted to do in innovative ministry that the AME Church has stifled," Bryant said.