America Is Helping: Iraqi Christians Thank US for Helping Them Rebuild After ISIS Destruction
Sponsored by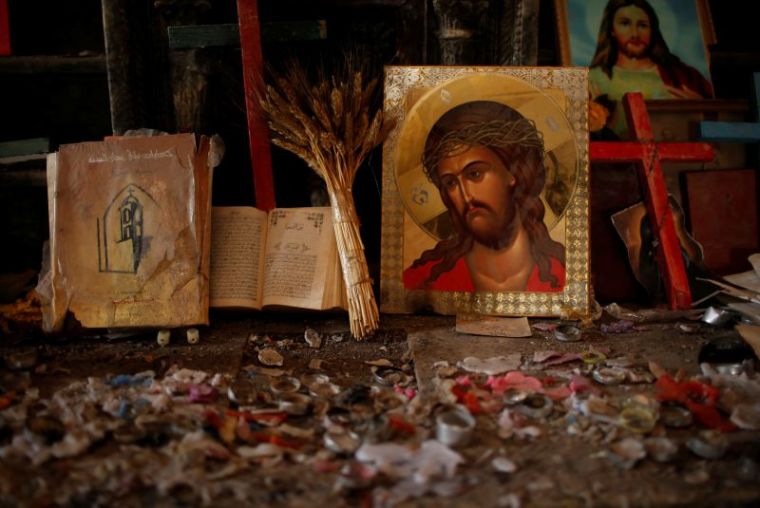 Iraqi Christian leaders expressed their gratitude to the United States for fulfilling its promise to aid them following years of devastation at the hands of the Islamic State terror group.
"Our hopes are high now that this delegation will bring some changes. We especially appreciate the efforts of Vice President [Mike] Pence and USAID to have them deeply involved in this situation," Archbishop Bashar Warda of Irbil told Catholic News Service.
Warda hailed the U.S. delegation that visited the town of Qaraqosh and other areas that were left decimated by IS.
"The message they sent was important: 'We do care.' The American government and the Americans do care about the fate of the Christians, Yazidis and the minorities and want to help," Warda added.
USAID has provided $10 million to various charities, including Catholic Relief Services and Heartland Alliance, to help Christians and Yazidis rebuild their homes, after multitudes were killed or driven out by IS in 2014 and subsequent years. Another $25 million has been pledged for the future.
The aid comes after complaints that U.S. support had still not reached the devastated communities months after Vice President Mike Pence first declared in October that the U.S. government would bypass the United Nations and provide direct humanitarian assistance to persecuted Christians and other religious minorities that faced genocide at the hands of the Islamic State. 
Pence assured last month that the Trump administration was still following through on its promise, noting that they have "already devoted $110 million to this effort."
Although IS has now largely been driven out of the territory it had captured in Iraq and Syria, Christians have been reminding the world that unless they receive serious help, they will not be able to return.
"The time should be now and the help should be immediate and effective. Foremost, is the need to rebuild houses so there is a community to go back to and be there," Warda explained.
Mowfakk Musa, a father of a family of seven who is being helped by CRS, said that Christians who were forced out of Bashiqa on the Ninevah Plains returned home to find shocking levels of devastation.
Homes were burned and crosses and pictures of Jesus were broken and scattered on the floor.
Kevin Hartigan, CRS regional director for Europe and the Middle East, said that the U.S. aid is helping families like Musa's rebuild their homes.
Hartigan said that the funds will "support the peaceful and successful return of minorities in Ninevah, by providing livelihood opportunities to youth from diverse returnee communities and mobilizing faith leaders to promote tolerance and reconciliation."
"Along with the vital support we get from the Catholic community in the United States, the generous, constant and flexible funding we receive from the U.S. government has enabled CRS and Caritas Iraq to provide education and trauma healing for children, shelter and financial assistance to Iraqis of all faiths, on a large scale," he added.
Warda previously warned in February while speaking at Georgetown University in Washington, D.C., that although Iraqi Christians "have endured persecution in patience and faith for 1,400 years," they now face an "existential struggle" to survive.
"So few of us are left, some estimate 200,000 Christians or less," he said, noting that in 2003, there were 1.5 million in the country.
Warda added that despite everything the Christians have suffered, they are open to forgiving the Islamic radicals.
"We forgive those who murdered us, who tortured us, who raped us, who sought to destroy everything about us. We forgive them in the name of Christ," Warda stated.