Americans Evenly Split on Legalizing Gay Marriage in States, Midterm Exit Polls Show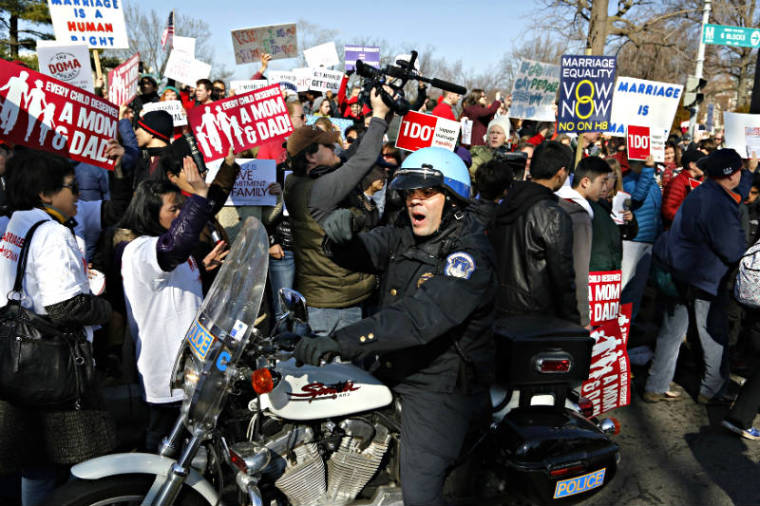 Although Gallup polling from May indicates that American public opinion strongly favors legally recognizing same-sex marriage, 2014 midterm election exit polls found that voters were evenly divided on the issue of gay marriage.
According to NBC exit polling results, just 48 percent of those who voted in November's elections said they think same-sex marriage should be legally recognized in their home state, while the same amount of voters said they are opposed to legally recognizing gay marriage in their state.
The numbers show a significant decline in the percentage of Americans that support same-sex marriage, as compared to the results from a Gallup poll in May that found 55 percent of Americans feel that same-sex marriage should be "valid" and just 42 percent thought that same-sex marriage "should not be valid."
Critics of the validity of the midterm exit polls say the results are not a fair depiction of the true American public opinion because of the lack in voter turnout among minorities, youth and other Democratic bases.
Although midterm exit polling showed a drop in gay marriage support compared to the Gallup poll, the exit poll's result is similar to the result yielded in the 2012 election exit polling.
Compared to 2012 exit polling, support for same-sex marriage dropped by just 1 percent, while opposition for same-sex marriage climbed by 2 percent.
RealClearPolitics senior elections analyst Sean Trende told The Christian Post via email on Tuesday that exit polling results could have been skewed by the strong Republican and elderly turnout in the 2014 midterm election.
"The electorate was more Republican and, more importantly, older than the country as a whole," Trende said. "The 'older' factor is important even beyond partisanship because older [Democrats] are less fond of [same-sex marriage] and younger [Republicans] are more favorably inclined toward it."
Although the results from the last two elections' exit polls show a slight decline in support for same-sex marriage, this May's Gallup poll showed a 2 percentage point increase in favoring same-sex marriage validity compared to the results from November 2012. Meanwhile, opposition to same-sex marriage in the Gallup poll decreased by 4 percentage points.
As The Washington Post's Chris Cillizza points out, discrepancies in polling results can often times be attributed to how different polling agencies word their survey questions.
Although the exit polls and Gallup polls are attempting to uncover the public opinion around the same issue, the way each poll asked respondents how they viewed same-sex marriage was different.
The NBC exit polls directly asked voters "should gay marriage be legally recognized in your state?" while the Gallup poll asked voters whether or not "marriages between same-sex couples should or should not be recognized by the law as valid."
Trende agrees with Cillizza's notion that wording truly affect polling results.
"The other point about question wording is crucially important, but maddeningly difficult to quantify, as we know it makes a difference, but we can't really know how much of a difference it makes," Trende wrote.
A Fox News poll conducted in June 2013, a month after Gallup found that 53 percent of Americans favored making same-sex marriage "valid" under law, asked respondents: "Would you approve or disapprove of changing the definition of the word marriage to also include same-sex couples?"
With very deliberate wording, the Fox News poll found that just 39 percent approved of changing the definition of the word marriage to include same-sex couples, while 56 percent disapproved.