Americans Shouldn't Have to Fear Gov't for Working by Their Faith; Indiana's Religious Freedom Law Won't Work, Says Christian Sweet Cakes Owner Fined $135K for Refusing to Bake Gay Wedding Cake (Interview)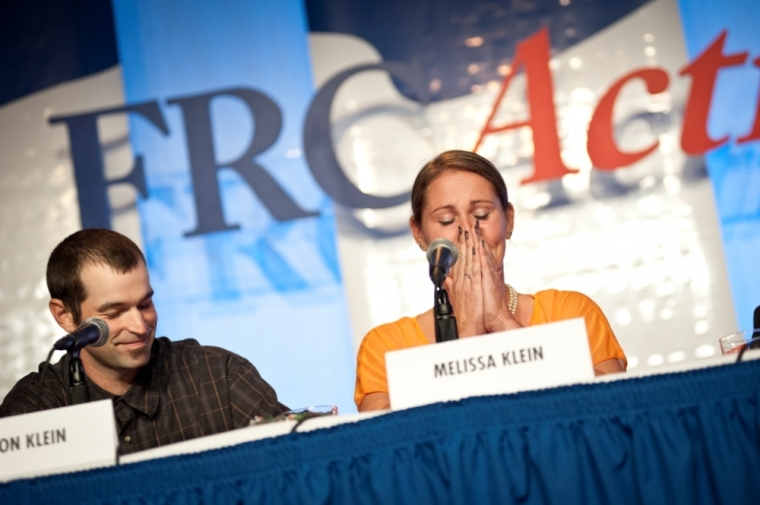 Melissa and Aaron Klein, the Christian couple from Oregon who are being fined $135,000 for refusing to bake a wedding cake for a lesbian couple, are standing by their faith and pushing for laws that protect Christian business owners in the United States.
In 2013, the Kleins of Grasham, Oregon, were named in a civil rights complaint filed by Rachel Cryer and Laurel Bowman who were turned away at Sweet Cakes by Melissa on grounds of the bakery owners' religious views of same-sex marriage. On Friday, the Oregon Bureau of Labor and Industries issued a 110-page proposed order recommending that the owners of the now-closed bakery pay $135,000 to Cryer and Bowman for "emotional, mental and physical suffering." Just days later, Aaron Klein spoke to The Christian Post about the case, starting with his own message for Americans.
"I would say, on a personal note, don't be afraid to stand up for the Bible, for God's truth, for the sake of Jesus Christ ... that is something that is near and dear to my heart," Klein began. "From a political standpoint, I would say this: every American should be free to live and work by their faith without being afraid that the government will punish them for doing so."
While Klein supports a change in legislature that protects Christians, the former bakery owner admitted that a law resembling Indiana's Religious Freedom Restoration Act is not the answer, especially as it applies to his own case.
"Indiana's religious freedom law turned into an anti-discrimination law, that is not a law that will work," he told CP. "The Religious Freedom Restoration Act is a shield, not a sword, it's just something that makes burden of proof a lot harder on the government to compel somebody to violate their religious beliefs. It is not specifically designed for a situation like this."
Klein, who believes his case is being used for political purposes, also maintained that his actions did not stem from any desire to take a stance or make a statement. Rather, the Oregon native said his decision to refuse the lesbian couple was the direct result of simply living by Colossians 3 in the Bible.
"My church life has been: this is the Gospel, we believe it to be true, we believe that the Bible is God's inerrant Word, and we're to live by it," he explained. "That's what we try to do. I believe in the Bible when it says let everything you do be an act of worship to God in Colossians, so that's how we try to live our lives."
Furthermore, referring to recent statistics that named Portland, Oregon, the No. 1 most unchurched, Godless city in the U.S., Klein said he and his wife "did not survive the storm."
"I am hoping that something comes out of this, maybe some good case law," the former Sweet Cakes owner told CP before referencing other recent cases involving Christian business owners.
"I had no hopes that I would win in this court," Klein added. "Judges are just rogue, they don't answer to the constitution that binds them, they are rewriting [laws] from the bench."
Meanwhile, the recommended penalty of $135,000 is not final, and the amount could be raised or lowered by Oregon State Labor Commissioner Brad Avakian in the next 40 days. Shortly after BOLI's order on Friday, a GoFundMe account for the Kleins raised $109,000 in just eight hours. However, the fundraising website closed the account, claiming it violated GoFundMe's terms and conditions.
"That's their right, that's what's going on in this country, that's what we are fighting for, the right to not be associated," Klein said of GoFundMe's decision.
In response to both the $135,000 fine and GoFundMe, Franklin Graham's ministry Samaritan's Purse extended support to the Kleins, raising funds on their behalf.
"I called Franklin, and he said, 'Don't be discouraged, God will use this, He will work in it, there are a lot of people behind you,'" Aaron told CP of his recent conversation with evangelist Billy Graham's son. "I felt blessed by that in and of itself. He took the time to do that (and) he's a busy guy."
While the future is uncertain for Christian business owners, Klein has more faith in God than ever before.
"Your faith grows as you watch God work," he concluded.