Amnesty International Releases Report Claiming Human Rights Abuses Committed in Ferguson Riots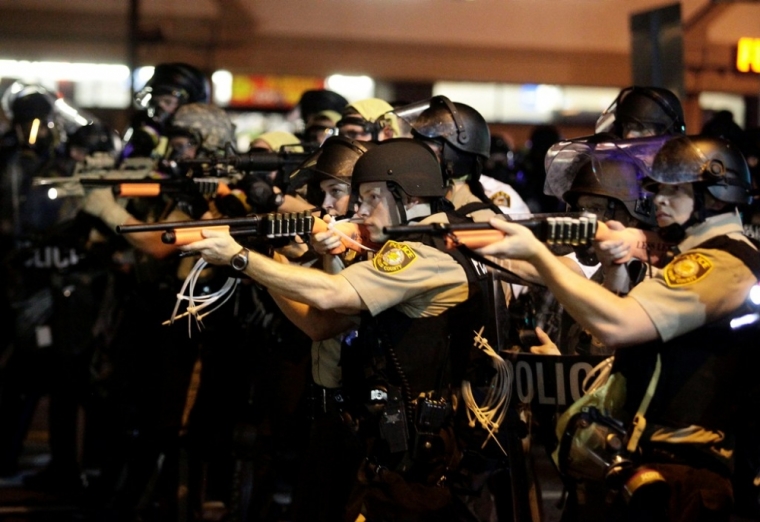 Amnesty International has released a report claiming that human rights abuses were committed during the Ferguson, Missouri, riots earlier this year, which stemmed from the police shooting of Michael Brown.
"Brown's death set off protests which, as of this publication, are ongoing, as well as a long-overdue conversation on race, policing and justice," the report states.
"The events in Ferguson have also raised a range of human rights concerns, including the right to life, the use of lethal force by law enforcement, the right to freedom from discrimination, and the rights to freedom of expression and assembly."
Amnesty notes that it still remains unclear what happened between Brown and Police Officer Darren Wilson that led to the teenager's death on Aug. 9. Police statements have said that a physical confrontation between Wilson and Brown ended with the officer shooting the teenager. The human rights group has said that regardless of the specific conditions, international standards dictate that police officers should only use force proportionate to the threat encountered.
"Irrespective of whether there was some sort of physical confrontation between Michael Brown and the police officer, Michael Brown was unarmed and thus unlikely to have presented a serious threat to the life of the police officer. As such, this calls into question whether the use of lethal force was justified, and the circumstances of the killing must be urgently clarified," Amnesty stated.
The Christian Post reported earlier this week that a newly released autopsy appears to support Wilson's claim of self defense in the shooting death of Brown.
On Tuesday, a St. Louis Post-Dispatch analysis of Brown's official county autopsy revealed that on Aug. 9 the unarmed teen was shot in the hand at close range. This finding appears to support Wilson's claim that Brown reached for his gun during a struggle in his police car.
Brown's death sparked riots across Ferguson with protesters demanding justice for the slain teenager, which led to police clashes and arrests over several nights.
Amnesty condemned the police response, which it said led to excessive violence. It stated that "the rights of peaceful assembly, freedom of association and freedom of expression are basic human rights."
The organization noted that the vast majority of people who protested in Ferguson conducted themselves peacefully, which has been supported by President Barack Obama's office, the governor of Missouri and attorney general along with the Missouri Highway Patrol.
"However, the responses by state officials and law enforcement to the violent actions of a limited number of protesters have impacted the rights of all participating in peaceful protests," it said.
Navi Pillay, the United Nation's High Commissioner for Human Rights, has also spoken out against the police force used in Ferguson, and said that "these scenes are familiar to me, and privately I was thinking that there are many parts of the United States where apartheid is flourishing," referring to the past system of racial segregation enforced in South Africa.
Amnesty outlined a number of incidents between police and protesters in August where it claims that the rights of citizens to peaceful assembly were restricted.
"Though not directly witnessed by members of Amnesty International's delegation, law enforcement often resorted to the use of tear gas and the firing of rubber bullets at protesters in Ferguson," the report added, and said that police dispersal tactics often did not communicate clear orders for protesters to disperse, but instead acted upon a five-second rule.
"Several times when Amnesty International delegates witnessed actions taken by police officers they requested the name of the officer or attempted to determine which law enforcement agency the officer belonged to when affecting an arrest or issuing an order to protesters. However those requests and questions often went unanswered by law enforcement personnel."
Reuters noted that a grand jury in St. Louis County is still deliberating whether to charge Wilson with Brown's death, something which Amnesty has called for.
The Justice Department is also reportedly investigating Brown's killing and the response by the Ferguson Police Department.