Andrew Palau, Andy Mineo, Gungor, Hezekiah Walker and Other Top Artists to Fete NYC With Good Music and the Gospel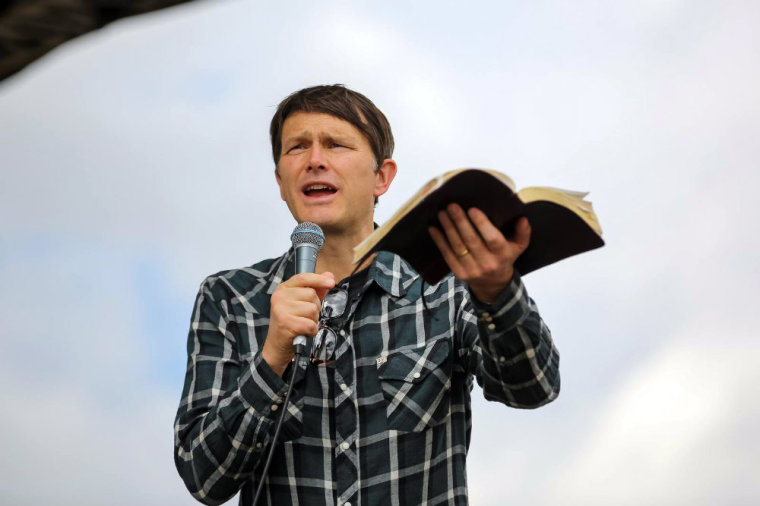 International evangelist Andrew Palau will be preaching the Good News, while popular local artists and other top-selling Christian singers provide good vibes in NYC's historic Harlem neighborhood this weekend.
Palau, who works with his father Luis Palau's ministry and is more frequently seen on the global stage, expressed excitement about the opportunity to deliver a Christian message twice in one day in the city known as the world's melting pot.
"We are so excited to share the Good News in the city in every neighborhood, in every borough, in every community," said Andrew Palau in a press release shared with The Christian Post. "This Saturday, we'll be in front of an incredibly diverse group of New Yorkers in Harlem and again in Manhattan, with all roads leading up to the July festival on the Great Lawn of Central Park.""
Bishop Hezekiah Walker, Grammy-nominated gospel singer-songwriter VaShawn Mitchell and hip-hop artist Andy Mineo will join Palau at Marcus Garvey Park in Harlem. Gungor, Matt Maher, Tercer Cielo, Redimi2 and Marisol will join Palau, and Mineo again, later in the day at Central Park's Rumsey Playfield. Both events are free and open to the general public, although only the Harlem event will feature a health and family services fair ahead of the festivities.
The Gospel and music gatherings in NYC this weekend are tied to the NY CityServe initiative launched last fall by the Luis Palau Association in partnership with more than 1,000 congregations and organizations. CityFest is the celebratory aspect of the partnership, while CityServe encourages long-term outreach activities in communities carried out by 1,400 local churches and organizations spanning the New York metropolitan area (which also includes New Jersey and Connecticut).
The centerpiece of the NY CityFest is the July 11 celebration in Central Park featuring long-time evangelist Luis Palau, and guests Grammy award-winning artists Mandisa, Toby Mac, Marcos Witt, Israel Houghton, Matt Redman, and Hezekiah Walker. Retired New York Yankees pitcher Mariano Rivera, whose wife pastors a local church, was also expected to attend while journalist Myrka Dellanos is listed as the emcee for the event.
As The Christian Post previously reported, there were about 100 planned regional events leading up to Palau's major NY CityFest celebration in Central Park. Some of those preliminary events included concerts, outreach activities, women's dinners, basketball tournaments, and more, encompassing all five boroughs of New York City, as well as locations in Connecticut and New Jersey.
Get details about the times and locations for the Harlem and Central Park events this weekend at NYCityFest.org.