Angelina Jolie, Brad Pitt in Australia: Couple Bonds With Kids at Zoo (PHOTOS)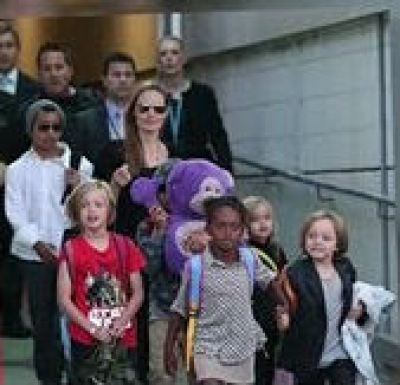 Angelina Jolie and Brad Pitt were photographed enjoying a zoo outing with their brood in Australia on Thursday.
The Hollywood couple appeared happy and relaxed while accompanying Maddox, 12, Pax, 10, Zahara, 8, Shiloh, 7, and twins Knox and Vivienne, 5, on a trip to Currumbin Wildlife Sanctuary in Queensland. At one point during the Boxing day outing, Jolie, 38, and Pitt, 50, were spotted having a group hug with their daughter Zahara.
TO SEE PHOTOS OF ANGELINA AND BRAD IN AUSTRALIA CLICK HERE
Jolie, who is currently in Sydney directing her second feature film "Unbroken," was characteristically dressed in head-to-toe black while her fiancé opted for a grey t-shirt paired with grey knee-length shorts. Pitt took time out from filming his latest movie "Fury" in London to join his family for the holidays.
"They're used to celebrating wherever they're working," an insider told Us magazine.
The kids enjoyed their time taking in the sites of the Gold Coast Zoo, particularly Pax, who was seen cradling a baby Kangaroo wrapped in a pink blanket.
"They're great. They're still so little, but they do [have their own personalities]," Jolie once said of her six children according to People.com. "They're at that [stage] where their personality really starts to shine."
The Academy award-winning actress is believed to have rented a luxury estate in Sydney for her family's extended stay Down Under. The mansion reportedly belongs to MotoGP champ Mick Doohan.
The Jolie-Pitts have been photographed enjoying several outings in Australia, namely on Dec. 23 when they went on a boat ride around the Coomera River in Queensland. Weeks prior they rented the Ghost II luxury yacht to sail around Sydney.
Jolie appears to be healthy and happy after undergoing a preventive double mastectomy in February.
Reports claim the actress and Pitt, who got engaged in 2012, may walk down the aisle in the near future.