'One single can': Anheuser-Busch dismisses Dylan Mulvaney campaign backlash; no apology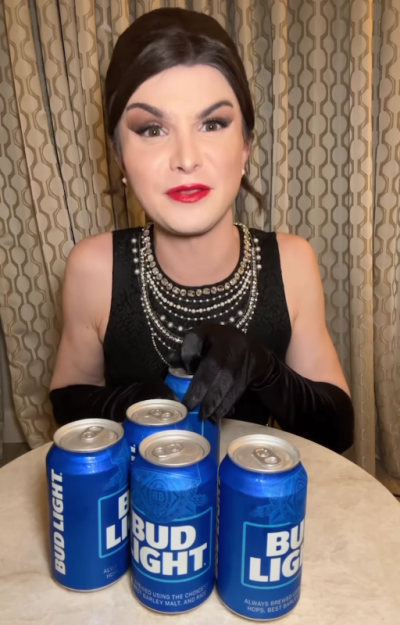 Anheuser-Busch is maintaining that its collaboration with trans-identified influencer Dylan Mulvaney does not amount to a campaign as the collaboration continues to draw pushback from the American public.
In a letter to retailers distributed to bars and restaurants in the vicinity of St. Louis, Missouri, that serve the company's products, Anheuser-Busch, the parent company of Bud Light, attempted to address the backlash it received over the beer brand's partnership with Mulvaney. The letter, obtained by the St. Louis Post-Dispatch, asserted that "this was one single can given to a social media influencer."
"It was not made for production or sale to the general public," the letter added, reiterating a point they made last month. "This can is not a formal campaign or advertisement."
Grey Eagle, which distributes Anheuser-Busch products to St. Louis-area businesses, included a cover letter of its own when sending the message from the corporation to its partners. Insisting that "Anheuser-Busch did not intend to create controversy or make a political statement," Grey Eagle wrote that "the Bud Light campaign posted by a social media influencer that sparked all the conversation was provided by an outside agency without Anheuser-Busch management awareness or approval."
As indicated in the letters from Anheuser-Busch, Bud Light's partnership with Mulvaney, a man who has been documenting his social transition to a woman in a series called "Days of Girlhood," has generated significant backlash from consumers. In addition to witnessing a decline in sales, it led to the creation of Ultra Right Beer, an alternative beer brand marketed as "100% Woke-Free Beer."
Seth Weathers, the brainchild of the new product, cited his fatigue from the "woke mind virus" as the reason for taking action to establish a competitor to Bud Light. "The last place we want it is in our beer," he said in an ad announcing Ultra Right Beer. Weathers views his venture as a way to provide consumers with an opportunity to "stop giving money to woke corporations that hate our values."
Deriding Bud Light as a company "that doesn't even know which restroom to use," alluding to the promotion of gender confusion implied by a partnership with Mulvaney, Weathers destroyed a Bud Light can in the ad by hitting it with a baseball bat, causing it to explode. Weathers' launch of Ultra Right Beer came after prominent musicians used their platforms to express outrage over Bud Light sending Mulvaney a Bud Light package featuring the influencer's face as he celebrated his 365th "day of Girlhood" on April 1.
Country star John Rich took to social media to ask his fans what he should replace Bud Light with at Redneck Riviera, the Nashville, Tennessee-based bar the singer owns. Travis Tritt, another country musician, indicated that he intended to remove all Anheuser-Busch products from his tour hospitality rider while fellow singer Kid Rock fired an assault rifle at cases of Bud Light spread out across a field as he declared "F*** Bud Light" and "F*** Anheuser-Busch."
Additionally, video footage from a recent Boston Red Sox game shows a very long line for the concession stand at Bostons Fenway Park while the line for Bud Light was empty. 
In its letter to the businesses it provides Anheuser-Busch products to, Grey Eagle assured the establishments that "the lack of oversight and control over marketing decisions has been addressed and a new VP of Bud Light marketing has been announced." Beer Business Daily reported on April 21 that Alissa Heinerscheid, who served in that position at the time that the Mulvaney controversy first erupted, had decided to take a leave of absence from the company.
A petition launched by CitizenGO, which describes itself as a "community of active citizens who work together" to formulate petitions and action alerts "to defend and promote life, family, and liberty," calls on Bud Light to "ditch Dylan Mulvaney" while urging Americans to "boycott Bud Light and support brands that love America and truth." As of Friday, nearly a month after the petition launched, more than 9,200 people have signed it.
Bud Light is not the only major brand to face calls for a boycott due to its collaboration with Mulvaney. As outlined in an op-ed titled "Drop brands that pay Dylan Mulvaney to mock women," originally published by The Washington Stand and republished by The Christian Post, the trans-identified influencer has also secured a partnership with Nike.
More recently, Mulvaney has joined forces with the makeup brand Maybelline, which prompted the mobile application PublicSq. to release an ad featuring a woman throwing her Maybelline in the trash as she said "Bye, Maybelline." PublicSq., which characterizes itself as the "largest values-aligned marketplace of pro-America businesses and consumers," urged those outraged about the Maybelline-Mulvaney collaboration to use its product to "find cosmetic brands that value women."