Anna Hayford, Wife of Former Church on the Way Pastor Jack Hayford, Dies From Cancer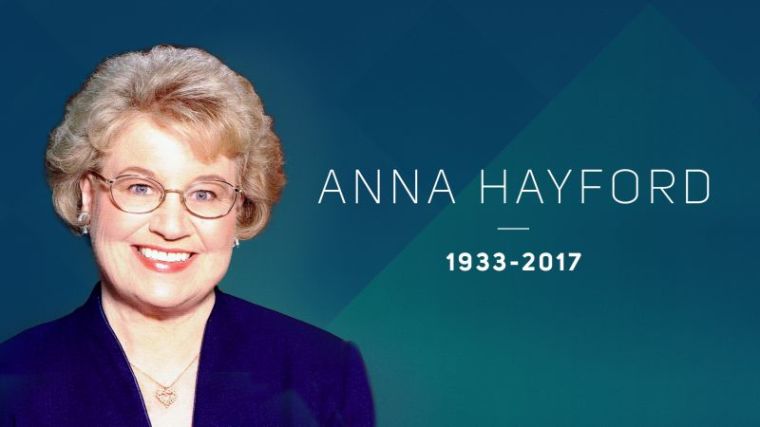 Anna Hayford, wife of former senior pastor of The Church on the Way Jack Hayford, has died. She died peacefully at home last Wednesday after battling stage four pancreatic cancer, according to the church. She was 83.
"Anna Hayford is with the Lord. Early in the morning on Wednesday, March 8, 2017 Anna Hayford peacefully stepped into the presence of the Lord while her husband, Jack Hayford, sat by her side," the Van Nuys, California, church announced.
"Nearly a year ago, as Anna was diagnosed with stage four pancreatic cancer, the family began seeking the Lord for His direction for treatment. Believing and contending for healing, while pursuing the best of medical care, Anna has lived this last year without pain, and in peace that her future — her eternity — was fully in the Lord's hands. Today the family stands at peace that her healing was accomplished through the shed blood of our Savior, Jesus Christ, as He took hold of Anna's hand and ushered her into eternity."
The late Hayford was a licensed Foursquare minister who served alongside her husband for 60 years. She pastored at The Church on the Way with her husband for 31 years as it grew to a membership of 10,000.
"Anna, who is a strong woman in her faith, was gracious and hospitable, and loved and admired by everyone. Often referred to as a gentle strength alongside her husband, she was a formidable leader in her own right with a ministry that touched the lives of thousands," the church said.
She is survived by her husband of 62 years, Pastor Jack Hayford, and her four children, Rebecca Bauer, Jack III, Mark, and Christa Andersen, along with 11 grandchildren, 19 great-grandchildren, and four more on the way.
Anna's husband, Jack, is also widely known for his past involvement in the Promise Keepers movement as well as being a prolific author and songwriter, with over 600 hymns and choruses in his catalog. He is the author of the popular 1978 hymn "Majesty," which is rated as one of the top 100 contemporary hymns. He is also founder and chancellor of The King's University in Texas.
Since the announcement of Anna's death, many longtime members of the church have taken to social media to share their memories and condolences.
"So sad to hear of her passing, I first began attending The Church on the Way back in the early 1980's and I met Pastor Anna on my first time there. Special memories of being part of that Church Family for so many years, look forward to seeing her again one day in heaven. My condolences to the Hayford family, I know your hearts are hurting without her. Love to you all," wrote Sharon Walsh on the church's Facebook page.
A viewing for Hayford will be held on Thursday, March 16 from 5–9 p.m. at Forest Lawn, Hollywood Hills located at 6300 Forest Lawn Drive, Los Angeles, California 90068.
Her memorial service will be held on Saturday, March 18 at 1 p.m. at The Church on the Way in The Living Room, located at 14300 Sherman Way, Van Nuys, California 91405.
"We are all, family and friends alike, grateful to God for the time He has allowed us to enjoy the wonderful gift of Anna Hayford. Living under the sovereign timing of God allows us to experience His unfathomable mercy and enjoy the rich rewards of His immeasurable grace. Anna's life verse brings comfort to all during this time," the church said.