Televangelist Benny Hinn Released from Hospital After Health Scare; 'God Is Faithful, My Heart Is Strong,' He Says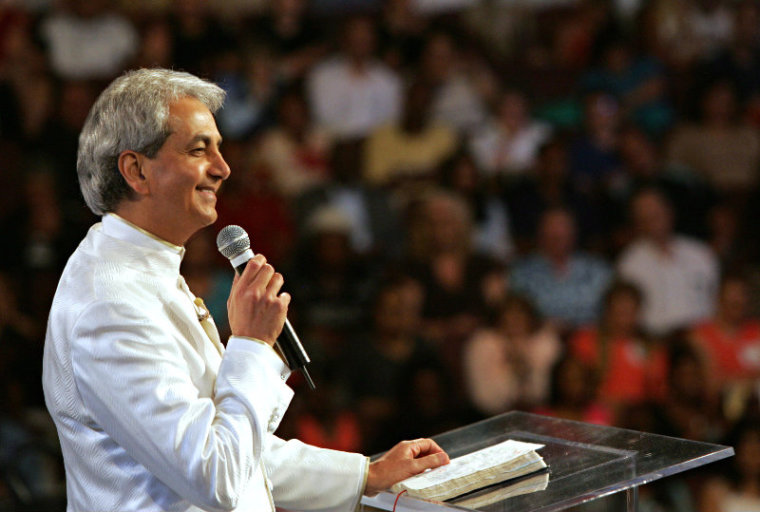 A week after he was admitted to Orange County Medical Center in California with heart trouble, popular televangelist and faith healer Benny Hinn has been released and his says "God is faithful, my heart is strong."
"I've seen the hand of God at work, both through prayer and the physicians," said Hinn Friday in a release to The Christian Post.
"God is faithful. My heart is strong. I have no heart damage. My arteries are not blocked. There is no arterial damage. The AFib is being treated effectively, and my rapid heart rate has reduced considerably. I'm feeling stronger every day. The prognosis is good for a speedy and complete recuperation, and I am so glad to be heading home," he added.
Hinn's handlers revealed this week that he has been battling atrial fibrillation, the most common type of arrhythmia, which refers to a problem with the rate or rhythm of the heartbeat, for more than 20 years. The condition can result in the heart beating too fast, too slow or just irregularly altogether. If the problem goes unnoticed it unfortunately can lead to increased risk of stroke, chest pain or heart failure.
He expressed thanks to several other prominent televangelists, friends and supporters who prayed for him as he recovered in the hospital.
"I've been literally overwhelmed with all the outpouring of love from around the globe. People around the world began praying very quickly after I was admitted to the hospital. Shortly after I arrived at the center, dear friends such as Reinhard Bonnke and Kenneth Copeland flew here to pray over me. During my short stay at the hospital," he said.
"Leaders such as Dr. Pat Robertson, Morris Cerullo, Tommy Barnett, Jack Hayford, Jan Crouch, Rod Parsley, Pastors Dennis and Eunice John, and Steve Munsey sent and phoned such warm greetings and kind words. Dr. Paul Dhinakaran from India, who has prayer centers around the world, called to let us know that all of his people were interceding for me. There are so many more than I can't name them all. I appreciate their love and prayer," he continued.
Hinn's daughter, Jessica Hinn Koulianos, first revealed her father's heart troubles in a message on the Benny Hinn Ministries website late Monday evening.