Is It Right to 'Anoint' Presidential Candidates?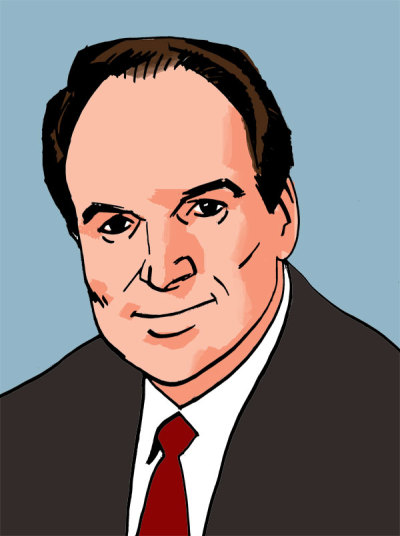 "Ted is the anointed one"... Holy Ghost video revealed ... Dad speaking in tongues ... Supporters "lay hands" on Cruz at rally...
So screamed headlines leading the Drudge Report on March 11. One story said that Rafael Cruz — Ted Cruz' father — announced at a Texas church on August 26, 2012, that his son is "anointed to bring the spoils of war to the priests." In another incident included in the Drudge cluster of stories, evangelist Kenneth Copeland says Cruz is called and anointed for his mission. Video links showed Christian leaders laying hands on Cruz.
Full disclosure: I have laid hands on political candidates and prayed for them. However, when pastors do so believing and sometimes declaring they are passing on an "anointing" for a particular candidate to be placed in office directly by God Himself it borders on a collapse into heretical Medievalism.
In the old days of "divine right" bishops laid hands on kings and emperors, thereby supposedly transferring to them the authority of God Himself to rule on earth. Some recipients of those ecclesiastical commissions were among the cruelest despots in history. They persecuted people by claiming God's authorization.
When it comes to laying hands on political candidates in contemporary times it would do well to heed Paul's admonition in 1 Timothy 5:22: "Do not lay hands upon anyone too hastily and thereby share responsibility for the sins of others..."
The Drudge Report's March 11 collection of reports about Cruz actually did not go far enough. It piled on him but left out other candidates whose passionate followers have laid on hands, and prayed and prophesied over them.
Michael Brown, in a February 10 column, noted that a group of black pastors — mainly male — prayed over Hillary Clinton. "Until He comes again, Secretary Clinton and President-to-be-Clinton, we decree and declare from the crown of your head to the soles of your feet that the favor of the Lord will surround you like a shield, in Jesus' name," bespoke the pastors, according to Brown's column.
Then there was the recent case of pastor-evangelist Paula White's assembling of a group of ministers to pray and prophesy over Donald Trump. Kenneth Copeland was present in that meeting, and prayed, "we thank You for a bold man, a strong man, and an obedient man." Paula White revealed that Billy Graham had written a "prophetic" message to Trump in a gift Bible signed by Graham. That claim was later denied by Billy Graham's staff.
The Drudge Report neglected to recall a 2008 St. Louis meeting of the African Methodist Episcopal Church. "The prayer for Obama that went around the world," headlined an August 15, 2008 report on the conference. It included a photo of AME bishops laying hands on Obama, who is at the center of the group — much like those photos of church leaders praying over Cruz more recently.
Actually, we need prayer for all the candidates because religion and spiritual concerns are at the heart of the critical issues of our time. Among the greatest challenges for America domestically is the loss of the Judeo-Christian worldview that shaped our constitutional system and gave us our freedoms.
Long ago Supreme Court Justice Hugo Black opined that humanism is a religion. Justice Potter Stewart, In his lone dissent of the 1963 rulings restricting prayer and the Bible in schools, said that the result would be the de facto establishment of a new state religion — secularism. Religious worldviews are thus at the core of domestic policy concerns now threatening First Amendment rights for millions of Americans.
On the international scene religious jihadism is the major challenge of our age as Nazism and Communism were in others. Also, a day after its headlines about Cruz' "anointing" the Drudge Report carried a story headlined, "Calls for Mass Exorcism as Mexico Swept By Wave of Satanic Killings..."
Clearly, we need national leaders who understand the religious nuances of current threats, and have indeed been well prayed over. The best are those who have personal faith themselves, and can understand those who, wrong or right, see their actions as driven and blessed by God.
What we don't need is pastors, bishops, evangelists, and others who mistake themselves for Pope Leo III, who, on December 25, 800, crowned Charlemagne as Emperor of the Holy Roman Empire.
Those who pray or have prayed for candidates publicly — and I include myself here — need to reflect on Jesus' warning about casting "treasures" before those who do not understand and appreciate them. We also need to remember Jesus' condemnation of the Pharisee who prayed conspicuously on the street corners, and Jesus' blessing of the humble man praying in his closet.
The Internet is the "street corner" of our age. Too many of us love to wrap ourselves in our spiritual Sunday (or Friday or Saturday)-best, and get out there to be heard and seen in what really ought to be a personal and intimate moment with God.
To put it another way, there is behavior that is appropriate for the living room, but the bedroom is most appropriate place for the deepest expressions of intimacy, and we should not forget the distinction.
There is indeed a place for "living room" prayer — public prayer. But intercessions that might be misunderstood by those not familiar with the Bible should be reserved for the place of prayer-intimacy, Jesus identified as the "closet".
That's why what happens in the prayer closet ought to stay in the prayer closet.
Having said all this I would much prefer hearing Kenneth Copeland call down God's blessings on America than Obama's former pastor Jeremiah Wright invoking God's damnation on the nation.
Wallace Henley, a former Birmingham News staff writer, was an aide in the Nixon White House, and congressional chief of staff. He is a teaching pastor at Second Baptist Church, Houston, Texas. He is a regular contributor to The Christian Post.