Archaeology Discovery: 1,100-Y-O Cross in Denmark Could 'Change History'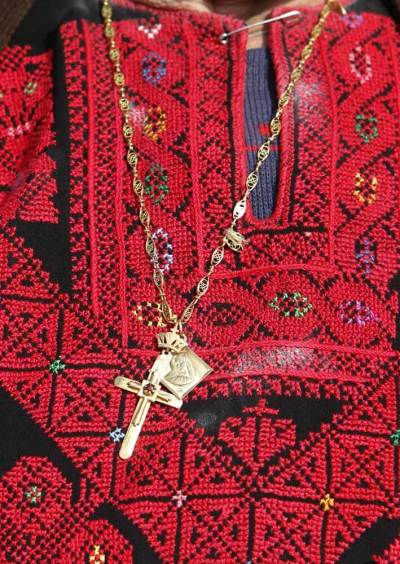 A 1,100-year-old cross necklace recently discovered in Denmark could "change history," an archaeologist says.
The small crucifix pendant was discovered earlier this month by amateur archaeologist Dennis Fabricius Holm in the town of Anslev, Østfyn.
Holm wrote on his Facebook page that he had got off of work early one day and decided to go exploring in Anslev with his metal detector when he stumbled upon the small figure, which is tiny enough to fit in the palm of his hand.
The cross includes an intricate design of gold beading and was likely worn by a Viking woman who had converted to Christianity, historians say.
"I've hardly slept!" Holm told the local TV2/Fyn of his discovery, adding that the experience "has been very overwhelming. I have not yet grasped that find's influence on Denmark's history."
"It is hard to comprehend," he added.
Archaeologists have said that this tiny discovery could change the history of Christianity in the region, as it likely dates back 15 years earlier than what was previously believed to be the start of Christianity in Denmark in 965.
As International Business Times reports, the oldest Christian symbols to be discovered in Denmark are two large carved stones in the city of Jelling dating back to the 10th Century, with one of the rocks showing a carving of Jesus Christ.
"In recent years there has been more and more signs that Christianity was widespread earlier than previously thought — and here the clearest evidence so far," Malene Refshauge Beck, the archaeologist of Østfyn's museum said in a statement, adding that such a discovery could "change history" for the country.
Beck went on to describe the cross as "a sensational find that dates from the first half of the 10th century BCE," saying that "there is a near identical figure, found in Sweden, which has been dated to this period."
Beck added that the recent discovery might lead archaeologists to reconsider the birth of Christianity in Denmark.
"This figure may therefore result in us reconsidering the date Danes are believed to have become Christian," Beck said. "The person who wore it would undoubtedly have adhered to the Christian faith."