Are Christian Reality Shows Doing More Harm Than Good?
Are Christian Reality Shows Doing More Harm Than Good?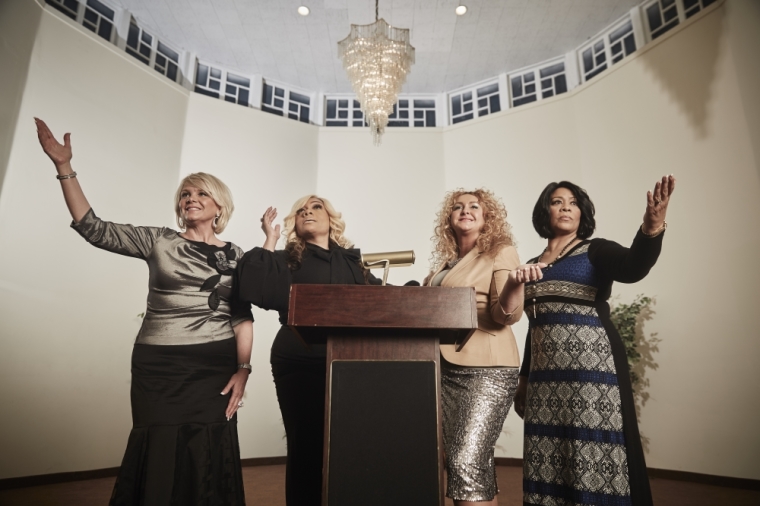 With a growing number of reality-based programs being marketed to Christians on television to meet a strong demand for faith-based programming, some critics are now questioning whether these shows are doing more harm than good.
When Lifetime network decided to air the recently canceled controversial new show "Preach" which is centered around four prophetesses, many questioned the wisdom behind it.
"Cameras do NOT belong in the church filming the 'spiritual' things that society as a whole does not understand," wrote critic Tachina Carter in a change.org petition to cancel the show that attracted nearly 15,000 signatures prior to Lifetime axing it. "By airing this show it will cause more harm than good to the Christian community who (sic) already has a difficult time in sharing 'The Good News' of Jesus Christ to the masses."
After just two of the six "Preach" episodes slated to be released were aired, Lifetime canceled the show. Sources close to Lifetime told The Christian Post that the petition was not the reason for its cancellation, stating, "it wasn't performing in this current time period."
Still, it's hard to ignore the thousands of people who thought the show should be banned. Phil Thornton, executive producer of "R&B Divas" who also helped bring faith-based programs like "It's a Mann's World," "Mary Mary," and "The Sheards" to the small screen, believes showcasing four prophetesses on television could be seen as crossing sacred boundaries.
"I wouldn't even be a part of something like that. I feel like that's so sacred and so private, I wouldn't want to exploit it in any way," Thornton told CP. "I still don't know how you would tell that story without making a mockery. I don't think it would be the best idea."
Each of the four prophetesses featured on the show, however, told CP they believed God called them to appear on the series. For Belinda Scott, a Cleveland Heights, Ohio-based prophetess, no sacred boundaries were crossed because she and her "Preach" co-stars were doing the work of Jesus Christ.
"We are sacred, we are full of the Holy Spirit. We are taking a piece of what I believe is the work of Jesus Christ with us," Scott told CP. "I feel it is necessary for us to (do) whether people like reality TV or not because I don't know any Christian in America that doesn't watch some type of television."
Despite the failure of "Preach," in the last seven years television networks have been seeing the value in marketing shows to faith-driven consumers which has resulted in wildly successful reality shows featuring conservative stars such the Robertson family on A&E's "Duck Dynasty," which has aired for five seasons; Lifetime's "Preachers' Daughters," which has aired for three seasons; Oxygen's "Preachers Of L.A." and TLC's "19 Kids and Counting," which averages 3.5 million viewers an episode.
According to a New York Times report, before "19 Kids and Counting" was canceled, the metrics measurement firm iSpot.tv estimated that the show attracted $25 million in advertising from television this year alone.
While each successful show has been met with its share of backlash, some faith-based reality shows like "Preach" has missed the mark entirely with widespread disapproval from audiences who worried they would portray Christians in a negative light.
After just one season, TLC had to scrap their controversial show about pastors' wives called, "The Sisterhood" in 2013. Pastor and gospel singer Donnie McClurklin was one of many who spoke out against the program and how it could negatively impact the church.
"Why do we support such things like TLC's 'SISTERHOOD' showing the underbelly of 1st ladies, hurting the church image, giving God a bad name," McClurkin asked in a tweet to more than 100,000 Twitter followers in 2013. "I really wish ALL of Christiandom [sic] would do the same and boycott it. We have to defend the image of the KINGDOM! SPREAD THIS WORD."
Still, a 2014 Faith Driven Consumer survey recently revealed that there's still a strong demand for faith-driven television programming. According to the survey, some 55 percent of faith-driven consumers feel there are not enough options in the marketplace, while 62 percent of faith-driven consumers said they would watch at least three additional hours of television or movies if there were more faith friendly options.
It continued: "71 percent of faith-driven consumers feel that the current entertainment industry of movies and television doesn't adequately acknowledge, welcome, and provide for them as Christians, and 92 percent would like to see the marketplace do more; 63 percent say a lot more."
Wendy Douglas, an executive producer at TLC, previously weighed in on the debate on Christian programming on television in an earlier interview with The Christian Post and she explained that while the network sees the Christian market as a very vibrant one they are still working to better understand it.
"It's a culture (and) group of people (and) areas that we haven't seen very much reality programming on, so we wanted to tap into this world and get to know and understand it more," Douglas told CP. "It's also a very vibrant space that's entertaining and inspirational."