Are Conservatives to Blame for Rise of 'No-Fault Divorce' in America?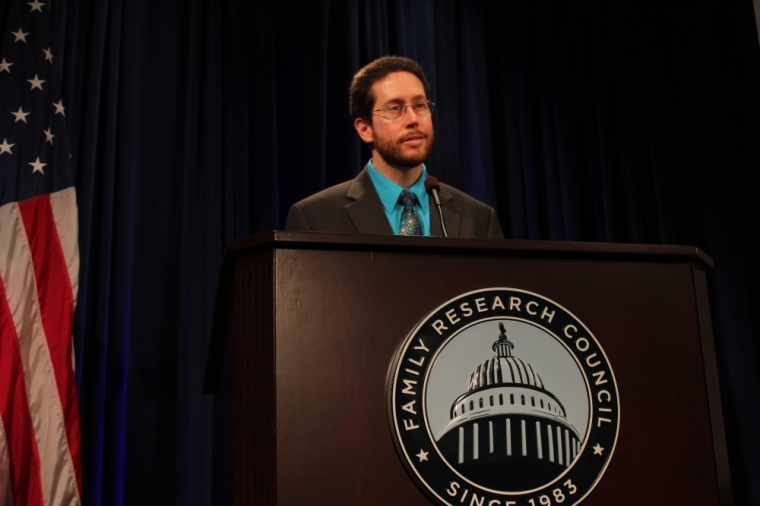 WASHINGTON — Religious and political conservatives are complicit in the rise of the "no-fault" divorce policies in the United States, which has led to the dissolution of countless families in America in the last 40-plus years, a prominent conservative author asserted Friday.
While speaking on a panel discussion at the Family Research Council, Ryan MacPherson, author of the book Rediscovering the American Republic and The Culture of Life: Ten Essential Principles for Christian Bioethics, stated that conservatives deserve some share of the blame for allowing America to accept divorce laws that make it possible for married individuals to be granted a divorce without having to claim any wrongdoing of their spouses.
MacPherson, who is the history department chair at Bethany Lutheran College in Minnesota, explained that "liberal theologians" and "progressive lawyers and state legislatures" are responsible for initially advocating and passing America's first no-fault divorce legislation in California.
However, the California legislation was sponsored by a prominent conservative state senator and was signed into law in 1970 by the state's then-governor, conservative Ronald Reagan, who was later elected president and was divorced and remarried. MacPherson stated that Reagan's authorization of the legislation brought California's divorce laws to closely mirror that of the communist Soviet Union.
As the rise of no-fault divorce occurred predominantly during the 1970's and 1980's, both conservative and liberal states started to enact similar no-fault divorce legislation. By 1980, 37 states had enacted no-fault divorce laws. By 2010, every state in the country had such a law.
MacPherson believes these laws have caused more women and children to enter into poverty, more men to lose custody of their children, and more children to experience depression and other emotional issues, which have had an adverse effect on American society.
MacPherson explained that these laws have remained intact because they have been "justified" by both sides of the political spectrum due to conservative's inability to petition against them in their advocacy for pro-traditional family policies.
"Where were the conservatives?" MacPherson asked. "No-fault reform has retained its status as the law of the land, in part, because it derives its justification from both sides of the political spectrum, even if initially engineered by aloof lawyers and judges, not grassroots, partisan reformers. No-fault divorce has strong champions on both the political left and right."
"Remarkably the no-fault revolution of the 1970's and the 1980's enjoyed bipartisan support despite an undercurrent of disagreement that culminated into a culture war during the 1990's, as conservatives and liberals were in a fierce debate over other moral issues but not concerning divorce," he added.
When Reagan ran for president and was elected to office in 1980, he was backed by a coalition of religious traditionalists led by an organization called the Moral Majority, which strongly advocated for strong social conservative family principles, except on the divorce issue.
"Funded by the television evangelist Jerry Falwell in 1979, the Moral Majority listed third among its founding principles that 'We are pro-traditional family,'" MacPherson said. "Translated into action, this meant campaigning against abortion, pornography, homosexuality, and the Equal Rights Amendment, while seeking to restore school prayer. Strangely, the Moral Majority was virtually silent about divorce."
After famous televangelist Pat Robertson lost in the Republican presidential primary in the 1988 election, his supporters organized a political action group called the Christian Coalition. That coalition was also silent on the divorce issue.
"As with the Moral Majority, however, the Christian Coalition seldom addressed divorce. These are but a few of the pro-life, pro-family organizations that highlighted the benefits of marriage but rarely mentioned divorce," MacPherson said. "The fact that the divorce rate is higher in red states than in blue states, may have something to do with the inability of conservative organizations both political and religious to gain traction for repeal of no-fault divorce. If not crusaders for no-fault divorce, conservatives at least have become complicit in accepting no-fault divorce."
MacPherson also said that Robertson, as recently as 2011, explained his justification for why people married to terminally, mentally-ill spouses should be able to seek divorce.
"It is increasingly difficult to determine which sides conservatives favor in what remains of the debate," MacPherson said. "Pat Robertson, for example, suggested in 2011 to 700 Club viewers that the spouse of someone with Alzheimer's disease may seek a divorce. He said a severe mental illness is a kind of death that satisfied the marital vow 'til death do we part.'"
There is still an opportunity, MacPherson said, for the next generation of leaders, who have experienced the harm that no-fault divorce policies have caused, to advocate for their own reform of the today's divorce laws.
"In listening to these voices, young men and women now have the opportunity to evaluate the decisions of those who have traveled the road before them, decisions by conservatives and liberals alike, decisions by theologians, by specialists and by lay people, decisions by a broad segment of Americans, who either by action or by acquiescence, participated in the no-fault revolution," he explained. "Despite the challenges from the inherited from the 1960s, today's young people still have reason to hope as they have been equipped with the tools for forgiveness and reconciliation."