Ashton Kutcher's Anti Sex-Trafficking Organization Helped Identify 5,791 Children Trapped in Slavery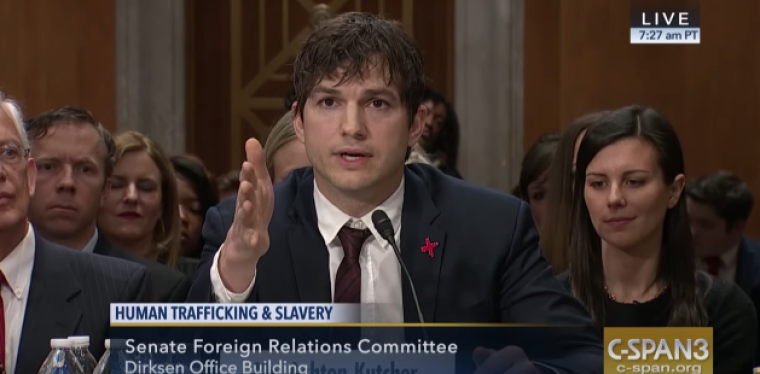 Hollywood actor Ashton Kutcher joined the fight against sex-trafficking and his non-profit organization reports that it identified 5,791 victims in 2017.
Thorn: Digital Defenders of Children helps fight child sex abuse and human trafficking using software to bring sex traffickers to justice by providing law enforcement with information on suspected sex slavery networks and their victims.
"With the help of Thorn's tools, law enforcement and investigators have been able to identify 5,791 child sex trafficking victims and rescue 103 children from situations where their sexual abuse was recorded and distributed. We're building tools to stand up the toughest environments and empowering the frontlines to stop abuse before it happens," the organization revealed in its 2017 impact report.
Kutcher founded Thorn in 2009. The NGO selected its name in 2012 and has since focused heavily on building mobile and Web-based tools to help further its efforts. It also partners with major tech firms and government agencies to expand the impact of its work.
The organization is not only looking to defend victims of sex abuse, however. Unlike similar anti-trafficking organizations, Thorn also provides resources to change the behavior of the perpetrators.
"We communicate directly with people searching for child sexual abuse material, disrupting their sense of anonymity, aiming to change their behavior and increase their accountability. Our child sexual abuse deterrence program has seen over 2.6 million visitors and 140,000+ instances where individuals went on to actively seek further help," the report says.
Their efforts in working directly with law enforcement to investigate global sex abuse has helped speed up investigation time by as much as 65%.
Last year, the "That's 70 Show" star testified before the Senate Foreign Relations Committee about the fight against sex slavery in the United States.
"As part of my anti-trafficking work, I've met victims in Russia. I've met victims in India, I've met victims that have been trafficked from Mexico. Victims from New York and New Jersey and all across our country. I've been on FBI raids where I've seen things that no person should ever see," Kutcher explained.
Showing no sign of slowing down, last month, Kutcher further told the CBS News crime series "48 Hours" that his organization is expanding as it's becoming more effective.
"You can roll up your sleeve and go try to be like a hero and save one person, or you can build a tool that allows one person to save a lot of people," he said in the episode. "And our algorithms are getting better. We're getting smarter. We're getting the tool in more people's hands."
To read the full report or for more information on the NGO visit their website.
Follow Jeannie Law on Twitter:
@jlawcp